Milestone power unit reached by IST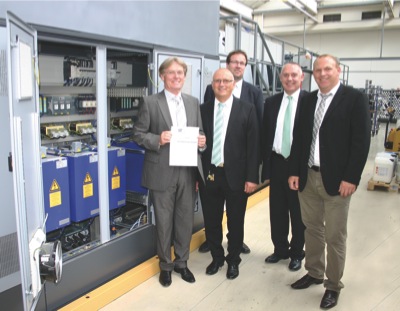 (L-R) Werner Michael Seidel, Carl Edelmann GmbH, Dietmar Kaiser, Holger Kühn, Dirk Jägers, IST Metz GmbH and Oliver Sattel, Carl Edelmann GmbH, at the presentation of the 10,000th ELC
The 10,000th electronic power supply unit for UV systems manufactured by IST Metz has been presented to Carl Edelmann GmbH. 
The electronic devices are part of the equipment of a UV system, and since 1998, these devices have been manufactured by eta plus electronic GmbH, a subsidiary of IST Metz. 
The ELC range of power supply units have been developed specifically to operate UV lamps and are highly efficient with low energy consumption. They reduce electrical peaks, which improves production quality.
The units also extend the range of adjustment of the UV lamp as the optimal lamp output can be set between 30% and 100% depending on the production speed.
Fifteen years after the first device had been produced, the 10,000th ELC was symbolically handed over to Carl Edelmann GmbH. It has been installed into a printing press at the company's headquarters in Heidenheim, Germany.
Carl Edelmann GmbH is a leading provider of high class innovative packaging solutions. In 12 production sites worldwide, the enterprise founded in 1913 develops and produces folding cartons, packaging inserts and system solutions, primarily for the health and beauty markets.