ThermoFlexX shows imager technology at Ipex
Visitors to Ipex 2014 will be able to see demonstrations of a ThermoFlexX 30 imager online to Hybrid Software's new Cloudflow, a 'workspace' concept.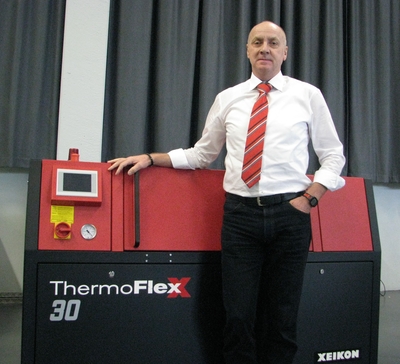 Christophe Lievens, director sales and marketing for ThermoFlexX
'Ipex provides the ideal venue to show how combining leading software and hardware in this way has resulted in a unique opportunity for flexographic printers and trade houses to handle their pre-press needs with a degree of quality, versatility and output that is unrivalled,' said Christophe Lievens, director sales and marketing. 'Our agreement with Hybrid Software to sell its Cloudflow suite, which also includes the new PACKZ editing software for packaging and labels, provides our customers with enormous flexibility in the way that they can edit and process digital files prior to imaging the plate.'
The ThermoFlexX 30, with a maximum plate size of 635 mm x 500 mm, is aimed at the label and folding carton sectors. The imager comes as standard with resolutions of 2,400 dpi and 2,540 dpi and there is the option to have 4,000 dpi, 4,800 dpi or even 5,080 dpi, which allows extremely fine quality print with excellent detail. By selecting the most suitable resolution users can tailor plate output precisely to the work being produced. 
There are six imagers within the series, ranging from the 508 mm x 420 mm model designed for tags and label applications, to the recently launched 1,270 mm x 2,032 mm ThermoFlexX 80 for the flexible and corrugated packaging and folding carton sectors. Several features are common to all models, including the superb build quality, ease of use and resolution options. 
'The next twelve months are poised to be both highly significant and exciting,' said Mr Lievens. 'As well as the new agreement with Hybrid Software we are expanding our distributor network and have recently appointed companies in North America and India. The launch last autumn of our largest imager, the ThermoFlexX 80, attracted huge attention from the flexo industry and there are already machines on the high seas making their way to customer sites around the world. In the coming weeks we'll be announcing more details on these 'firsts' as well as news about further equipment updates. At the moment it's very much a case of watch this space!' 
You can read more about the agreement between ThermoFlexX and Hybrid Software here.