Harden Packaging installs Flexo F4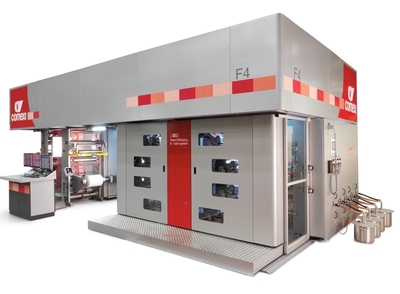 The Comexi Group installed a Flexo F4 flexographic press and a Nexus SL2 laminating machine at Harden Packaging's plant in Melbourne, Australia.
The decision to extend its fleet of machinery was made so that it can offer its clients top quality products in as short a time as possible. 'We decided to purchase Comexi again after having such a good experience with our Flexo FW1508. In seven plus years we have only had very minimal down time due to machine faults, but any minor problems we have had were dealt with swiftly either by the 24 hour Comexi help service or the local electronics service AGS. We are also more than happy with the print quality we are achieving on a day to day basis', said Harry Young, CEO.
'I would add the local agent APT have been very professional in their initial sales and after sales service. As a footnote the solventless laminator is installed and running smoothly much to our delight. Summing up I would say that purchasing Comexi gives us great value for money invested,' Mr Young added.
Responding to the trend of shorter runs, the Flexo F4 is a flexographic printing press designed print top quality short runs within the flexible packaging sector. The eight colour machine is available in widths of 670 mm and 870 mm, with print repeats of up to 600 mm. The Flexo F4 can print on various substrates including plastic film, paper and laminates and has an easy job changeover method.
The Nexus SL2 is a new laminating machine for working with solventless adhesives, and it is designed to provide reliability and simple operating. The new model is the evolution of the Nexus Evo; a laminating machine capable of working at a maximum speed of 450 m/min with an available width of 1330-1530 mm. Due to the design of its metering sleeve, its overall ergonomic design and greater productivity, job changeover times can be dramatically improved. The laminating unit, made up of three rollers, the machine's robustness and its fully motorised laminating rollers provide perfectly even and transparent laminating, free of any air bubbles.