Vetaphone unit fitted on Tresu's new Concept flexo line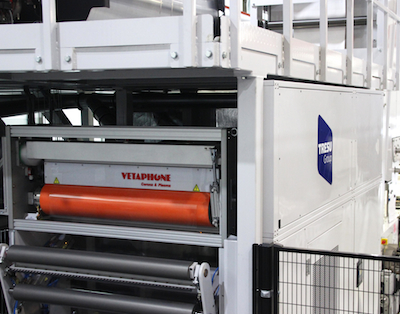 Vetaphone have fitted a VE1C unit to TRESU's new Concept flexo line at the company's demo centre.
Tresu has fitted a Vetaphone corona treatment unit to the first of its new Concept flexo presses, ready for the opening of its new demonstration and technical centre at Bjert in Denmark.
The unit, model VE1C, is designed to complement the custom configured mid-web flexo press and multi process finishing line that is capable of printing folding carton, film, laminate, metallic and paper substrates.
The new 1100 mm wide press, it's available in four web widths from 670 mm to 1400 mm and is designed to print roll-to-roll or roll-to-sheet at speeds up to 400 m/min. 
Vice president, Kim Krintel commented, 'The standalone Vetaphone unit has a treatment width of 1000 mm to offer customers the maximum flexibility. It was Vetaphone's long history and extensive knowledge of surface treatment, coupled with our own experience of using their technology on digital lines, that made the choice of manufacturer an easy one.'
The company intends to run with water-based inks at high speed on foil and other testing substrates on the new Concept line.
Ronni Nielsen, project manager at Vetaphone who has been responsible for the installation said, 'Our VE1C unit is very versatile and extremely flexible in its application so was the ideal one to specify for a demo facility press. It can be fitted with ceramic or aluminium electrodes and is considered by the industry to be the classic model for converting applications.'