Low migration UV LED inks launched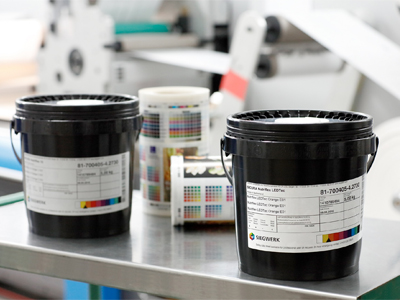 The low migration inks from Siegwerk
Siegwerk has launched UV LED printing inks for food and pharmaceutical packaging.
By launching its latest series of inks, the company has expanded its low migation UV printing ink portfolio. Expectations of UV printing inks are very high, particularly in the food and pharmaceutical packaging segment. Users want the highest level of product safety at minimal migration risk coupled with optimal efficiency and short production time.
Seven years ago the company's ink specialists demonstrated the use of inks, which had been matched to the specific radiation spectrum of UV LED light, on a Gallus EM 280 at Labelexpo 2009 in Brussels. The company has now launched low migration UV LED inks for food and pharmaceutical packaging as well as label applications following a series of extensive production tests. 
The new Sicura Flex LEDTec ink range is based on the Sicura Nutriflex 10 series. 'Siegwerk regards UV LED curing as one of the growth drivers in the market. Overall we anticipate a volume related switch from conventional UV to low migration UV inks in the printing market in 2016,' said Rolf Montag, product manager, narrow web business unit at Siegwerk Switzerland AG. 'A further expansion of applications will enable printers to use UV LED inks for their full range of print jobs.'