Rotoflex performs for Dan Labels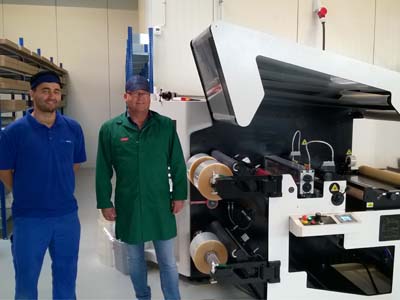 Jakob Abildgård, production manager of  Dan Labels and Mads Iversen, consultant at RR Print with the Rotoflex VLI
Dan Labels in Denmark has installed a new Rotoflex VLI 600 for offline finishing of unsupported film. 
Critical criteria to Dan Labels was reliable slitting of 600 mm wide rolls of PP and PE material with a variety of thicknesses, and at high speed for long runs. 
'Rotoflex was one of few manufacturers that offer a 600 mm wide finishing machine as standard, and after seeing it perform in Poland, [via a live demo at the Mark Andy regional demonstration facility] we were convinced it was the best solution,' explained Jakob Abildgård, production manager of Dan Labels.
'In just two days our new VLI was up and running unsupported film, and impressed us with its high speed at over 600 m/min,' he added. 'It has already outperformed our expectations.' 
The Rotoflex was sold by RR Print, distributor of printing products and machinery based near Copenhagen.