Apex International collaborates with DewaFlex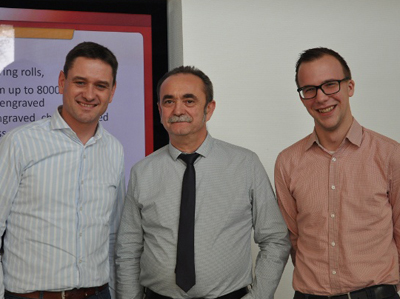 (L-R) Pieter Dewaele, DewaFlex, José Moreira, area manager, France, Apex International, and Niels Soenen, DewaFlex
To enhance market support in France and Belgium, Apex International has entered into a collaboration with DewaFlex.  
The agreement will see DewaFlex focus on the offset/label markets in France and label market in Belgium, while the Apex technical sales team will focus efforts in the flexible packaging and corrugated industries in France and Belgium, also responsible for offset business.
In addition to a range of reputable flexo and offset products, DewaFlex also provides a comprehensive cleaning and maintenance program for anilox rollers.
The DewaFlex team dedicated to the France and Belgium markets for Apex customers consists of Niels Soenen (sales), Pieter Dewaele (owner) and Diederik Van Hove (customer service).
Bas van der Poel, technical sales director EMEA at Apex, commented, 'With the anilox roller as the heart of the printing process, the key to maintaining high quality and customer satisfaction is providing superior local technical support and services. Through our collaboration with DewaFlex, we now offer printers in France and Belgium additional expertise.'
'Like DewaFlex, Apex focuses on partnering with printing companies with the goal to improve their overall printing performance and end results,' commented Mr Soenen.