Controlling glue application on corrugated with MLT-STA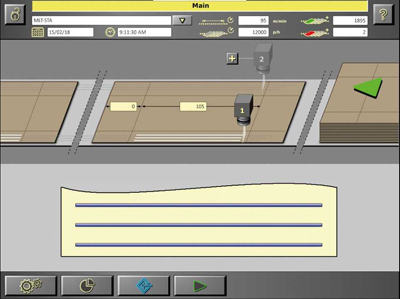 The MLT-STA is easy and convenient to set up and operate via touch screen
MLT-STA is a new system from Baumer hhs for cost-efficiently controlling glue detection on flexo folder gluers.
Based on proven technology and available as a stand-alone detection system, it was engineered specifically for manufacturers of corrugated box packaging who until now have gone without monitoring glue application. The MLT-STA works in combination with any existing glue extrusion system available on the market.
The low-cost detection system is easy and convenient to set up and operate via touch screen. With integrated optical MLT-40 multi-bead cold glue sensors from Baumer hhs, it can check up to three glue beads on one or two sides.
The sensor checks in fractions of a second whether glue was applied in the right spots on the glue flaps and that glue beads are not extended. If the MLT-40 detects any deviations from target specifications, it immediately sounds an alarm, alerting the machine operator with both acoustic and visual signals. The MLT-STA then automatically marks faulty corrugated boxes with a UV liquid, making it easy for machine operators to identify and remove them at the ejecting unit of the flexo folder gluer.
'In view of the rising global demands on the quality of corrugated boxes, we have developed an economical solution that can be retrofitted in flexo folder gluers without any major expense or effort. Because our MLT-40 is an optical sensor, it is impervious to fluctuating moisture content in the sheets of corrugated board,' said Andreas Schneiders, technical sales manager corrugated at Baumer hhs.
The MLT-STA generates reports in PDF format for every job, which corrugated board processors can use to document the quality of their production systems to their customers. What is more, measured values can be exported to Excel in CSV files to conduct statistical analyses and optimise the productivity of a flexo folder gluer.