OPM invests with Martin Automatic to refine productivity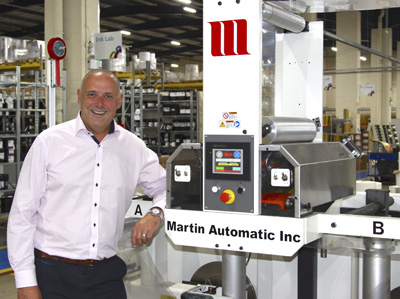 Chris Ellison, co-owner OPM – 'Martin's automation has enhanced our business agility'
Based on the performance of its previously existing Martin machinery, OPM has installed a third MBS and a second LRD turret rewinder. 
The company's first MLS, Martin's non-stop, compact unit for continuous full-speed unwinding of laminate and foil rolls, was mounted on its Nilpeter rail system. In March 2018, another order was confirmed for two further MBS unwind splicers and another LRD, due for installation in summer 2018. 
The initial order for Martin equipment, in 2016, was two MBSF automatic unwind butt splicers and an LRD turret rewinder, fitted to one of OPM's Nilpeter presses. According to Jamie Hyde, technical manager, 'there was an immediate improvement in productivity of around 25%.'
The company has a broad portfolio of self-adhesive labels and flexible packaging, delivered to more than 700 customers worldwide in sectors ranging from pharmaceutical, health and beauty, home care, automotive, beverage and food. Printing is carried out on a variety of Nilpeter and MPS presses. 
Chris Ellison, co-owner of OPM, said, 'We need consistency and reliability to serve our customers, and that's exactly what [Martin Automatic] and their technology provides – no more, no less!' 
'We are constantly looking for new technology that will allow us to be innovative. Martin's automation has enhanced our business agility, creating efficiencies that save time freeing us to innovate, automate and grow our business,' concluded Mr Ellison.