Geostick Group acquires new Nilpeter FA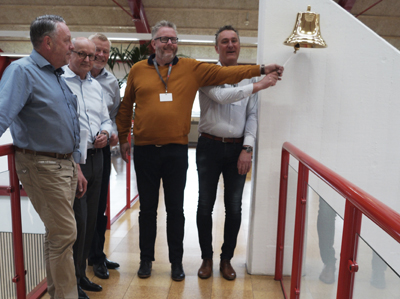 Geostick Group rings the bell at Nilpeter Headquarters in Slagelse, Denmark
Leader in self-adhesive labels, Geostick Group, has acquired a new Nilpeter FA to future-proof production and add capabilities in flexible packaging, special tags and self-adhesive labels.
The company has a long-standing relationship with Nilpeter, and the new FA complements its existing line-up totalling five Nilpeter FA-4 presses at locations in Utihoorn and The Hague, Holland.
Cees Schouten, operations director, said, 'We simply had to upgrade technology, shorten set-up times, decrease waste and ease operations for our printers. We have done all this with the new FA. In our Geostick Labels & Tags division, we also produce labels for healthcare, where perfect print quality and very accurate registering is a must, which the FA also enables.'
With the investment the company will upgrade and improve its production of self-adhesive labels and flexible packaging.
'The new FA allows us to become more flexible. We will also have the possibility to serve our tag clients with more opportunities in multiple colours. With this new FA, we are ready for the future,' Mr Schouten concluded.