Commitment to anilox excellence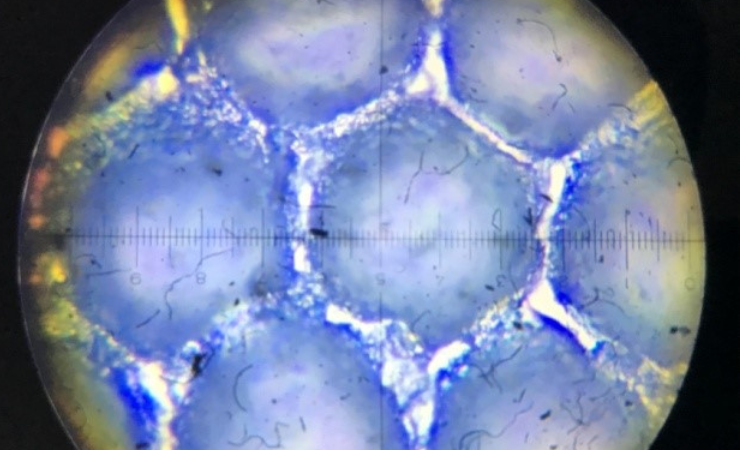 High powered magnification of an anilox roller with good cell structure (image supplied by ALT)
Anilox inspection performs a critical role in maintaining high print quality for flexo printers. Andy Knaggs looks at the importance of getting both the technological solution and the cultural commitment right.
Every printer wants to produce high quality work. The question has always been, how far are they prepared to go in pursuit of that aim? What measures will they take to ensure that process control is consistent, and that the quality of output is maintained? It is as much a cultural commitment as a technological one.
In flexo printing, the anilox roller is really the key, and within each anilox roller, it is the ink carrying capacity, or volume, that is vital in achieving the desired print result. A minor change in anilox volume can make a big colour shift. The ink volume is related to the minute cell patterns and structures on the surface of the anilox. The degree of fine engineering required today to manufacture an anilox roller lends itself to easy hyperbole. Best, then, to leave it to an expert to put it factually.
'The line/screen counts on anilox rolls have continued to increase to ensure better graphic reproduction of printed images, and this has resulted in, typically, anilox rolls containing well over half a million cells, and in some cases in excess of one million cells, within one square inch,' says Ade Morton, sales director at Anilox Laser Technology (ALT). 'The size and structure of these cells is impossible to view without the correct inspection equipment.'
We will come back to inspection equipment shortly, but it is worth pointing out that these highly engineered components of a flexo printing press will inevitably suffer degradation with usage. Though hopefully pristine when new, issues such as the accumulation of residue in the cells, or damage or wear to the anilox cells from the doctor blade, will start to affect the ink volume that the anilox cells are delivering to the press.
'Reduced cell volume compromises ink transfer, leading to duller prints,' said Joris Cabri, VP for sales in Europe and Africa for Apex International. 'A less vigilant facility might ramp up the ink volume or even venture into reformulating the ink to regain the desired opacity. Although such actions might rectify the print problem momentarily, they come with a hefty price tag due to escalated ink consumption.'
Commitment
The case for anilox inspection is therefore made, but the message that follows deserves amplification because it is directly pertinent to the question asked in the opening paragraph: how far is the printer prepared to go to ensure best practice in process control leading to continuous high print quality? Those that go the furthest will do so armed with both cutting-edge anilox inspection technology and an unshakeable commitment to using it frequently and regularly.
'For businesses to truly harness the benefits of anilox inspections, it's crucial to instill a culture where these inspections are second nature,' said Mr Cabri.
'The optimal frequency of anilox inspections largely hinges on the production volume and the type of prints undertaken by a facility. For high-volume printers, it's advisable to conduct inspections weekly or even after significant print runs. This ensures that any wear, residue accumulation, or engraving inconsistencies are promptly identified and rectified. On the other hand, for moderate to low-volume printers, a bi-weekly or monthly inspection might suffice. However, it's vital to note that after any maintenance, cleaning, or re-engraving, an immediate inspection is recommended to verify the roll's condition and readiness for subsequent print jobs.'
It must become part of the routine to clean, to inspect and to measure, with the importance of anilox inspection integrated in standard operations. Instilling this culture also requires an investment in training and skill development to ensure that staff are equipped to understand the intricacies of anilox measurement. 'A well-trained operator can discern the subtle nuances in the data, pre-emptively identifying potential issues,' said Mr Cabri.
Cheshire Anilox Technology's managing director Sonia Arcos adds to this, 'The key to ensuring maximum performance from anilox rolls is implementing a preventative maintenance program. This means not only ensuring rollers are thoroughly cleaned after each use but also tracking their essential data points.
'For example, before a job even starts, converters need to know if their anilox rollers meet the criteria they logged the last time that job was successfully produced. This includes measuring the volume of the anilox roll using equipment like Capatch strips, ink drawdown tests, high powered microscopes or interferometric cameras.
'It is imperative that when an anilox roll is returned to storage that any chips or scoring lines have been documented. The volume should be measured, and the data should be captured so the prepress department knows that roller is 100% ready to run the next job.'
Consistency
Inspection of the anilox should start from the day that a new anilox roller arrives at the factory. It should be measured using the print company's inspection device of choice, and the data recorded and stored, since there is, it seems, little direct standardisation between the microscopic and interferometric devices used in the industry, and there may be differences in the readings provided by the manufacturer if it has used a different device.
Stuart Mitchell, director of OEM and global sales support at Sandon Global, explains, 'Most flexo printers nowadays have some sort of volumetric measuring device. Although these devices are a great step forward, they do not calibrate to one another, and this can often lead to confusion when taking volume readings. It is therefore important to take a datum reference volume reading on your incoming anilox if you use a different inspection system to the manufacturer. When using the same system, it is also important you follow the same standard operating procedure, ensuring that the same lens and number of cells are correctly positioned in the field of view.'
Erik Burckle, senior marketing director at Pamarco, says, 'Maintenance should begin from the anilox's arrival. It's important to note the serial number, inspect the roller, and read the supplier's cleaning instructions. Then printers should maintain a performance baseline by inspecting and recording roller specs, as well as performing formal audits twice a year or when needed.'
ALT's Ade Morton argues that today's printers should have a high-powered method of looking at the condition of their anilox rollers, but he emphasises the need to consider the overall condition of the anilox roller, before undertaking close-up inspection of cell structures and land areas.
Rollers should always be inspected after they have a deep clean, he emphasises, and the following aspects of the overall condition of the roller should be considered:
Is the ceramic free from stains?
Are score lines visible?
Are the edges of the roll/sleeve chipped?
If it is a sleeve, are the inner walls intact or is the inner wall delaminating?
Are there any visible areas of damage (scratches/scuffs/dents)?
Is the roll or sleeve shiny?
How does the roller print?
Once these checks have been made, the roller is ready for microscopic inspection.
'At ALT, we work with high powered magnification – typically 400 to 800 times magnification – as this allows us to take an overview at the lower magnification, for example, if we were looking for a score line or looking at a scuffed area. For much closer cell inspection and depth readings we would then use a higher magnification.'
Inspecting aniloxes in this way generates data, and this should be analysed and utilised, not just collected, says Joris Cabri of Apex. 'Given the considerable investment that anilox rollers represent, businesses must objectively evaluate their performance and longevity. A state-of-the-art inspection system with a comprehensive database is an invaluable tool in this endeavour. Facilities can meticulously track roller wear, measure maintenance intervals, and discern patterns in ink build-up. Such detailed tracking can spotlight rollers that demand frequent cleaning or underperform, offering an opportunity to refine the inventory and prioritize top-performing rollers.
'The end goal? A stellar print output, optimised operational time, and maximised anilox ROI.'
Under the microscope
Anilox inspection is carried out using technology – typically referred to as 2D and 3D scanning microscopes or interferometers – that continues to increase in sophistication. Troika Systems claims to be the industry leader, with more 2150 printers and converters around the world using the AniCAM system. Troika says its AniCAM with Anilox QC has evolved from the demands of major packaging converters for anilox measurement and inventory management, requiring performance criteria such as accuracy of ±0.1 cm³/m² (or ±0.06 BCM) for process aniloxes, repeatable measurements of ±0.1 cm³/m² or ±0.06 BCM, interoperability enabling different operators to get the same readings, ease of use with data archiving for anilox inventory management, and no time loss in production due to measurement times.
The company suggests that when printers are managing their anilox inventory and ensuring that out of specification rollers are refurbished or re-engraved, they can save a minimum of 15% in set up waste and an hour of production time per press, per day.
The latest version of the AniCAM is AniCAM HD Plus, which Troika says brings further technically advanced developments through 'rugged build quality, simplified mobility with low weight, efficient workflow, and incredibly fast objective change' using its patented quick-lens release system. This ensures that the planar lenses are sited in the same position every time. Troika adds that accompanying software and its patented magnetic leg system means the AniCAM HD Plus is 'easy to operate and ideal for use in both production and quality control areas'.
There is potentially some competition in the offing from MicroDynamics' new Veritas inspection system, however, which is being distributed in Europe by Sibress. This would appear to get a nod of approval from Apex International, which says it 'epitomises the efficiency modern technology brings; its rapid scanning capability captures an exhaustive array of data points, setting a new benchmark for inspection standards'.
The speed of scanning and obtaining results is certainly highlighted by MicroDynamics, achieved it says through 'advanced mathematics and military-grade computing algorithms'. Brent Zurcher, director of operations at MicroDynamics, comments, 'Current anilox inspection systems traditionally take about 40 seconds to one minute to properly scan and present anilox cell measurement results. These existing systems extend downtime and QC processes tremendously and make anilox inspection a long, drawn-out task that many printers choose to forego. With the new Veritas inspection system, printers receive incredibly accurate results in less than 10 seconds.'
Mr Zurcher also claims that Veritas bridges a gap between accuracy and accessibility for printers, stating that previous options for anilox inspection have generally been either cheap and easy to use but inconsistent or inaccurate, or were highly accurate and consistent but expensive and complicated. Veritas is 'easy on the budget', according to MicroDynamics while offering ± 1% volume measurement accuracy.
This will no doubt be an interesting field to watch develop going forward.
In closing, the importance of anilox inspection should not be discounted. It is often said that 'quality is a given' in the print industry. That makes it harder and harder to standout, and to do so, flexo print businesses are going to have to go the extra mile in many different regards.
Joris Cabri of Apex International believes that anilox roll inspection can be transformative for the industry, when integrated into regular operations, adding, 'Embracing advanced inspection systems, understanding the importance of frequency, and instilling an anilox-centric culture can lead to enhanced print quality, reduced waste and significant financial savings.'