The future of flexo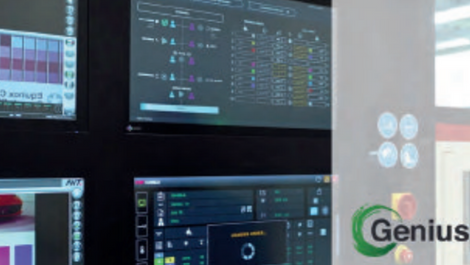 Comexi's F2 Origin CI press will feature what the company calls GeniusTech
In this article Sean Smyth casts his eye over recent developments within the flexo market and asks what the future might have in store.
Flexo technology is continuing to improve. There are incremental developments occasionally interspersed with major shifts and changes in press and supporting technologies. Inks, aniloxes, plates and platemaking are improving but it is the press control, and the methods of operating presses that is the biggest change.
The management and culture of flexo printers has changed, with Lean Manufacturing in more and more plants. There will be more improvements going forward with press improvements, in prepress and plates, anilox construction, inks and drying technology as well as in administration and workflow. These developments are necessary for companies using flexo as they seek to serve their customers better as their businesses change.
The focus is largely on improving the quality and agility of flexography, driven by the desire to take share from gravure while developing tools to compete against increasingly productive digital systems. A sector of the industry is incorporating digital printing into flexo machines, the hybrid or "All-in-One" approach that is well-established in the narrow web sector with companies like MPS, Gallus, Mark Andy and Bobst being joined by other formats such as the Kento Digital corrugated post print machine. These systems have to offer the best of both technologies to be successful, and flexo benefits from greater control and standard process printing allowing fast changeover.
Some of these developments are now offered in the pure flexo machines. The two key focusses in 2023 will be aimed at improving the overall sustainability of the process, while pushing automation and ease of use to reduce cost. These are targeting two of the most important pressures faced by flexo users, to reduce their environmental impact and to boost the productivity of skilled employees who are becoming rarer as experienced press minders retire and companies find it difficult to attract new staff, developments in ink management, drying and press control with automation and monitoring.
The aim is to improve efficiency and printing quality, while lowering operator dependency. The developments are GeniusDry – a high performance intercolor hot air drier featuring tunnel nozzles that allow superior drying capacity with less total air in circulation. This has greater efficiency, less noise and an upper platform with access to tunnel and drying circuits for easier maintenance. The inking system is GeniusFlow, optimising the circulation to reduce the amount of ink and solvent in the chamber, using a pump system to reduce maintenance as well as air consumption, with pipeless doctor blades for easy change and GeniusDoctoring for minimal dot gain. Press control is through GeniusPrint, a set of automated change over routines at the push of a button.
GeniusTronic is robotic sleeve change-over without operator intervention. Controlling all of this is GeniusBoard, a system that calculates the most efficient actions to produce a job and provides guidance for operators. Each member of the crew has the indicated operations on screen, ordering the tasks in the most efficient manner, helping minimise set-up time and waste.
According to Jordi Puig, technical sales manager of Comexi: 'One hour of planning can save you ten hours of execution, but good planning without a good job is useless. To maximize your machine's usage and to avoid wasting time during job changes, wise preparation is the best.' While one job is being printed the tool guides operators on the best changeover routine for the next job ahead of time. The various components are uploaded onto the system, and the operator is able to inspect anything that is necessary, such as inks, anilox and doctor blades, and identifying the type of washing, dependent on which colours need to be changed as spot colours continue to be used.
Narrow web UV label inkmaker Pulse Roll Label believes its Fixed Anilox Printing will help to simplify and standardise printing. This is a range of high strength single-pigment inks, with colour mixing database to match spot colours to a ΔE <2, from one anilox. This means a fixed anilox set can be used on press, eliminating the need to change between jobs. Gary Seward, MD at Pulse Roll Label is a fan, saying, 'We see competitors' inks requiring multiple aniloxes, and many anilox changes, to achieve consistent print performance because inks vary in strength. Changeovers are eating up capacity and cost unnecessarily. Fixed Anilox Printing removes variables from the print process so one anilox, one set of inks and lines can run.
With high speed make ready, up to a 30% reduction in ink consumption, increased uptime and reduced overall capex in buying rollers, Fixed Anilox Printing changes the game.' Windmöller & Hölscher has upgraded its flagship Vistaflex machine. It features W&H Vision, a fully-integrated web monitoring and defect detection system. This gives the operator full, real-time oversight and control of the job on press. Vision Zoom monitors the web with matrix cameras while Vision Full uses high resolution line cameras to detect printing defects while Vision Check helps determine the causes of print defects, and provides troubleshooting advice.
The Vistaflex II is a common impression cylinder design, delivering enhanced performance, improved print quality and easier job changeovers. Version 1 was launched in 2008, aimed at high volume runs 24/7 at speeds of up to 800m/min. Users could prepare and store four additional jobs while the press was running, then execute fully automated changeover, using two high-speed robots. Vistaflex II, launched late in 2022 builds on this performance, with an improved bearing system to increase stability, boosting cleaning and control systems. It can directly link to an MIS, job data can be sent for automated smart job queueing and optimised workflow through the use of Vista-Port, a storage station linked to the press where cylinders and sleeves are loaded. The system then organizes the integrated cylinder magazine automatically, and prepares the necessary robotic changes. This concept is designed as a step toward fully autonomous printing, together with a non-stop, high-performance winder, available with an integrated slitting module.
With greater automation new flexo presses are becoming more comparable to digital presses for the operator, even on wide-web machines. Most new presses will be linked to the company MIS, providing real time information for the operator and management. Production planners can react more quickly through the dashboard, while managers have a performance overview of the press and some suppliers will provide benchmarking services with other presses or plants.
These approaches are available from other wide- and narrow-web press manufacturers, with some increasing the degree of autonomy of the press.
At the Bobst narrow web centre of excellence in Firenze earlier this year I performed a make-ready on a Master M5 medium web machine, changing the material, six colours and in-line die-cutting in less than a minute, wasting under 30m of stock while the press did not stop. To be fair the press crew had pre-loaded the new plates and die, but I pressed the button on the control panel to initiate the switch. Allowing me to be a flexo printer shows how the process is being simplified, helping companies manage the operator skills. These are developments that flexo converters should take advantage of as they look to boost their business.