Inks for packaging: It's a food contact sport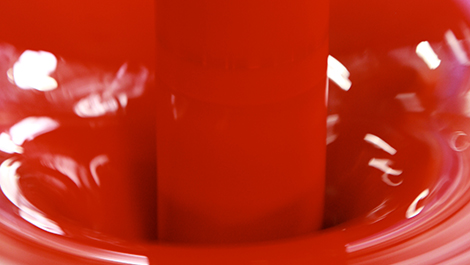 Paragon has seen a rising demand for its inks
A great deal of labelling and packaging revolves around food products but it is up to the converter to know the regulations for choosing and handling inks. By Nessan Cleary
One of the major issues with UV inks is to ensure that they have cured properly. This is particularly important for packaging used with food products as uncured elements from the inks, particularly the smaller molecules of some photo initiators used to kickstart the curing process, could contaminate the food, and no brand wants to risk the health of its customers. This in turn has led to the development of low migration inks, designed to limit the risk of the UV elements migrating to the food content. This principle remains the same, though most vendors are now moving away from the 'low migration' label and adopting a new term, 'food contact materials' or FCMs, albeit that there is some variation in the naming convention between the different ink manufacturers.
Despite the 'food contact' name, these inks are also suitable for other products such as beverages, tobacco, pharma, cosmetics that all also have similar regulatory requirements. Amanda Jones, business development and marketing director for Paragon inks, said that these types of inks are here to stay, 'We have seen a definite increase in the demand for the Aura (FPC) range of inks and coatings in the last 12 months, and more interestingly not just from the food and beverage markets, but the health and beauty and pharmaceutical too.'
Migration patterns
There are several ways in which migration could happen, including elements penetrating through the substrate from the printed side, as well as set-off, which is when the prints are stored in a stack or roll so that the ink from the printed side of one substrate migrates to the non-printed side of another print. But migration can also occur as a result of ambient conditions causing evaporation or leading to condensation or even through cooking or boiling frozen products in their original packaging. There is also the risk of contamination from elsewhere in the print process, such as food packaging coming into contact with rollers where conventional inks have been used.
The extent that the ink elements can migrate from the package to the food product is usually measured using gas or liquid chromatography with mass spectroscopy equipment. This can vary depending on the foodstuff, storage conditions, and package design and is usually expressed in parts per billion (ppb) over a defined surface area and as a general rule, anything less than 10ppb is not detectable.
Rules and regs
The Swiss Ordinance on Materials and Articles in Contact with Food as well as the EuPIA (Association of European Ink Manufacturers) list materials to be avoided, which is constantly updated so that it is up to printers to check the latest status. Mrs Jones said, 'If glass or metal of a certain thickness is being used, then the packaging can be classed as an absolute barrier, so one can question if an FPC ink or coating is needed. With regards to any other form of packaging, nothing can be assumed from a suitability prospective unless testing can show it is a 'functional barrier' and it is up to the printer and converter to demonstrate this aspect.'
Steve Wakefield, marketing manager for Fujifilm Speciality Ink Systems, added, 'The compliance of the ink is only one part of the whole story. Using a compliant ink does not mean a compliant food packaging. There is a lot of focus on ink, but in fact every process and material used in the process has an impact on the final product and its conformance.'
This means that any printer or converter working with labels and packaging for food products should be familiar with the European Union Good Manufacturing Practice (GMP) regulation, which sets out the requirements for selecting materials and working conditions, including quality control and traceability. Mr Wakefield added, 'There is definitely a danger of contamination and GMP is needed in all stages of printing and converting and further down the supply chain. If there was a contamination issue it would be difficult to trace or show conformity if there are a number of areas where contamination could occur. For this reason, relevant testing at specific stages is essential.'
Hit the coffers
Inevitably, food compliant inks do cost more than standard UV flexo inks. Continuing shortages of raw materials has affected flexo inks, forcing many vendors to push up prices on their inks. This also includes the low migration products, which have more stringent
requirements in terms of raw materials to meet the various standards. Also, there is more testing involved to ensure that these inks have met the relevant standards.
Naturally, nobody wants to choose between complying with food contact requirements and performance on press. So most ink vendors claim similar performance between their conventional and food compliant inks to make it easier for customers to switch over. Mrs Jones explained, 'It must be highlighted that the Aura range offers lower taint and odour performance to that of its Luna relation and in some circumstances the Aura system gives superior adhesion and flexibility performance on unsupported substrates and packaging applications.'
It is also worth noting that continuing changes in regulations are forcing many vendors to reformulate these inks more frequently than with the conventional inks. Simon Windle, R&D chemist for Pulse Roll Label Products, said, 'Last year, we reformulated both our PureTone and PureTone FPC process inks and mixing bases to substitute the raw materials that had been reclassified.'
Darren Gillespie, key account and project manager for Pulse Roll Label Products, said that the company embraced the opportunity to go further, 'Not only are these inks EuPIA GMP compliant, but we have also made marked improvements to the ink rheology, flow and ink transfer. It is well-recognised throughout the industry that it is difficult to match bright and clean Rhodamine, Pinks, Violets and Purples with inks formulated to comply with food packaging regulations. This is important when colour matching as the colour gamut achievable can be reduced. However, our new HR (high resistant) Rhodamine and HR Violet, which both form part of the PureTone FPC mixing base scheme, have been formulated to achieve even cleaner and brighter shades.'
Full colour range
Flint Group makes the Ancora range of narrow-web inks for food contact applications. There are several variations, including Flexocure Ankora, which is for self-adhesive and wrap around labels as well as pouches. This ink is available in a four-colour process set and an opaque white as well as a full range of Pantone, both basic and high resistant colours. They are said to offer good colour strength and good chemical resistance whist adhering to a wide range of materials. Flint has also developed a version suitable for use with LED curing, EkoCure Ancora, which allows the use of heat-sensitive films.
Zeller+Gmelin produces the Uvaflex FCM Y81 series of inks, designed specifically for printing labels and packaging for food contents as well as cosmetics and pharmaceuticals. These inks are formulated without bisphenol A based raw materials (BPA-NI). They are suitable for flexible packaging, self adhesive labels, shrink sleeves and wrap arounds and allow for over varnishing, hot foiling, laser
printing and thermal transfer process. They are available for CMYK as well as Pantone base colours and Z base colours.
Fujifilm has a new range of UV curing indirect food packaging compliant Inks for the narrowweb flexo market based on its existing UV flexo inks and the knowledge it has gained from its food packaging compliant inks in the digital inkjet market.
It is inevitable that regulations concerning the use of flexo inks with packaging for food products will continue to tighten and that brands will expect their printers to be able to demonstrate good manufacturing practices to cope with this. The choice of ink is a critical part of this, as well as the associated coatings and varnishes. Fortunately, a growing number of ink suppliers now offer these types of inks with similar performance on-press to standard flexo inks. But the ink is only part of the equation and the way it interacts with the substrates and processes also have to be tested, all of which is down to the converter, though you can reasonably expect some support from the ink suppliers.