The knives are out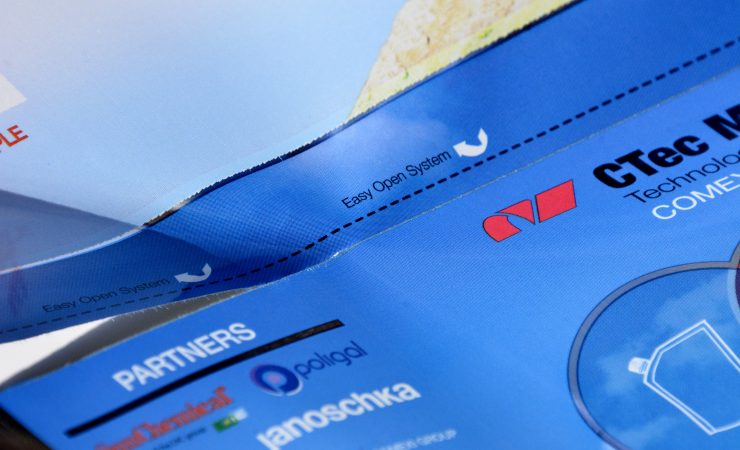 Comexi's laser technology can create easy openings without adding an extra process
The conversion process takes a beautifully decorated substrate and forms it into a piece of functional packaging. Today pressures from the market mean packaging is required to be converted in many different ways. Michal Lodej reports.
The way that consumers interact with their packaging comes down to the way it is converted. Society itself will shape how packaging design changes, with trends today moving packaging towards being shareable within a group, for example sharing crisps with family or friends, while at the same time popularity for single serving packaging is also increasing.
Albert Torrent, Comexi's brand manager, BU slitting, said, 'With the use of slitting, we can adapt to flexible packaging trends that allow us to differentiate ourselves from competitors. These product improvements do not refer to the printing process but connect to the needs of the end customer. There are two aspects which attract customers to slitting: offering products with new features and/or better prices.
'In 2060 one out of every three Europeans will be over the age of 65. Members of this so-called silver economy will have an important influence on purchasing, particularly when it comes to usability. This added value can be achieved by way of finishing processes being integrated online into the slitters. Our laser technology can create lasered easy openings without adding an extra process. Developments such as triple-opening lines or the possibility of placing the laser lines in the middle of the packaging and transforming the package into a bowl to be used for eating, are now easily done.
'Additionally, the end consumer likes to see the content within the packaging. This conveys the idea that the product is more natural, has been made in a more homemade manner, and that the brand is more honest. Many brands have used the laser to communicate this idea by creating a clear plastic film window on a laminated paper pouch.'
The next generation
Some sources indicate that in 2025 millennials will represent 75% of the American workforce. In regard to eating habits, 50% of millennials do not have a set schedule for meals, and 62% of this group snack throughout the day. As a consequence of their lifestyle, they demand on-the-go products. In regard to this, laser can create an economical resealable solution, which is the perfect answer for people who want to eat anywhere.
Recent studies suggest that approximately 30% of food is disposed of due to spoilage, particularly fruits and vegetables. The Flexible Packaging Association has recently published studies that indicate it is possible to extend of shelf-life as a result of suitable flexible packaging. With modified atmosphere packaging (MAP): the shelf-life of green beans improves from 7 to 19 days and grapes from 7 to 70 days. The creation of MAP pertains to micro perforation, a solution that is also created with the laser integrated in the slitter.
On the run
One of the greatest challenges of the converter is the constant increase of SKUs with shorter runs. Mr Torrent continued, 'For our clients, we know that within the last 10 years, the number of changes in the slitting area has quadrupled in some cases. In order to improve the Overall Equipment Effectiveness, it is necessary to reduce downtime. As a consequence, there is a clear trend to use double turret machines instead of dual shaft machines. To further improve the percentage of use, machines can be equipped to provide operators with more time, enabling them to increase the speed of the system (automatic positioning of blades, cores, taping, etc.). Therefore, these options together with double turret configurations ensure the reversal of the traditional machine ratio achieved by dual the shaft slitter, 70% stopped and 30% working.
'Finishing procedures, such as transportation, labelling, weighting, bagging and palletising, add minutes and reduce the effectiveness of the company. Connecting the slitters with these processes with customised automated solutions can be a huge success. We have examples where companies are able to finish jobs in two shifts that previously were done in three and on top of this, with 33% less personnel. Furthermore, they drastically reduce human error and injuries.'
Inspection in the mix
GM's newest slitter inspection rewinder is the SR350 which has been designed for a wide range of self-adhesive labels on paper and plastic liners including the UPM PP30 and AD PET 23micron liners, booklet, tube laminate, Alufoil, Tyvek, cardboard and multilaminate.
The modular open concept of the SR350 allows for upgrades with options such as 100% inspection cameras, scanner barcode readers, Domino inkjet systems for printing codes, register die-cutters, automatic slitting units and waste vacuum ejectors. Quick set-up routines with the built in job-recall system ensures all systems are ready to run simultaneously, making it faster to change jobs.
The company's IR330 has been designed in accordance with the new line and built on a new modern electronic platform. The machine is fully configurable and retrofittable. With a short inspection table the machine has a small footprint and saves space. It stops precisely and accurately for label inspection after detecting any errors.
The IR330 can function as an inspection unit or a slitter/rewinder depending on the configuration. The unit can work offline as a separate machine or inline with a dancer arm. In inline mode, it is typically connected to a digital press. Moreover, it implements web path cleaning, utilising a purge liner between jobs to ensure compliance with Pharma Norm ISO 15378.
The system is bi-directional, which allows the users to back-up and re-check a defective label ensuring the job is 100% perfect. The inspection camera system stops the machine when a fault has been detected and moves the faulty label back to the repair table. 
The machine has an easy-to-use touchscreen and features step-less electronic tension on both unwind and rewind spindles. A web guide with an ultrasonic sensor is fitted as standard and has a built-in splice table with two air-controlled clamps. There are many possible options to the machine: razor blade system, multi-layer label insertion or inkjet head – the printing system can print a report for each roll of labels, according to end-user requirements.
The system can be fitted with cameras from Nikka, AVT, BST, TubeScan or client equipment. The rewinder is equipped with air expansion mandrels with sleeves, easily exchangeable to other sizes.
Interstellar
The Pluto III slitter/rewinder from Soma comes with an integrated unwind unit. According to the company high efficiency is achieved through higher operating speeds, rigid construction and the automatic knife positioning system usually available on higher level machines.
The new generation Venus III slitter/rewinder is the company's high performance machine. The overhead web path between unwind and rewind unit is a design feature that promotes a clean working environment.
The Venus III-T slitter/rewinder is designed for multi-slit and mid-range roll diameter jobs with automatic roll and new core changeover.
The new generation of Venus and Pluto slitter rewinders comes with a range of features that gives the machines added value. The variable knife shaft section permits tangential slitting with lower and upper rotary knives or with razor blades against grooved segment. For more difficult thin substrates it is possible to choose wrap around female knife slitting or razor blade slitting in air.
Its shaft-less unwind with pneumatic chucks, in combination with integrated roll loading through hydraulic tilting arms, ensure easy roll handling and offer high efficiency and operator comfort during job exchange.
Also available on the on the Venus III is a vacuum splicing table with two pneumatic holders and back-lit desk for easy and precise web splicing. The knife/blade positioning assistant represents an efficient solution for slitting tool setting during job exchange. Touch Screen control panel displays working parameters to the operator allowing them to set the knife/blade to the correct position.