Artwork to press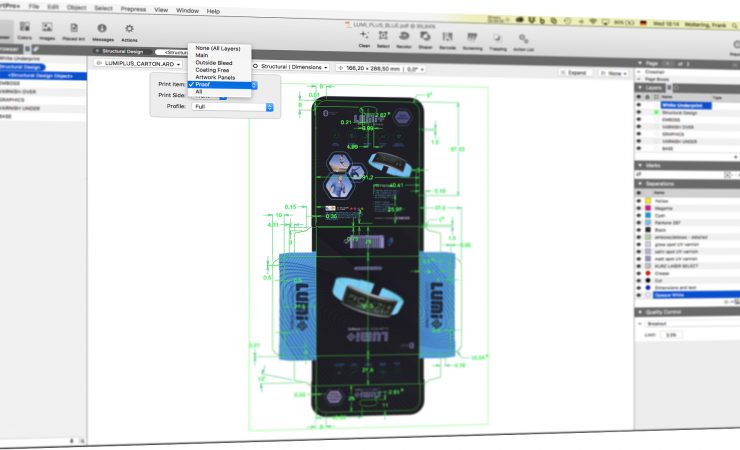 Esko's ArtPro+ uses a single file for different purposes thanks to its structural design intelligence.
All workflow software can take artwork in and output press-ready files but they all offer their own approach. Nessan Cleary reports.
Every printing business is built on its workflow system and the efficiency of that workflow, in feeding files to keep the presses running, is a big factor in the overall success of the business. However, it can be hard to define what a modern workflow is because each converter has its own business model and has to put together a workflow that best suits its needs. For some, the workflow starts with an MIS or web to-print system, while for others it also includes artwork management or even multiple printing methods from digital to offset, as well as the core pre-press functions.
Repeat please
Paul Bates, UK and Ireland sales manager for Hybrid Software, said there are a number of features that distinguish packaging workflows from other types of printing, such as the need for step and repeat in place of imposition. He added, 'With packaging, because of the complex nature of the jobs with things like opaque inks and spot varnish, you have to be a little bit more careful with trapping. You want to be able to auto-trap and then to fine tune it. But if the auto-trap can get you 90% there then you have saved yourself an hour.'
Mr Bates pointed out that there may also be regulatory issues regarding things such as the legibility of the fonts that the preflight system must be able to check. A further issue can be the number of people in the approval chain, which might include the brand owners, their legal team, the design agency, the repro house and, of course, the converter. In addition, the workflow must be able to handle multiple versions where there might be different languages, or minor changes to the artwork, such as a spot colour and some text to denote different flavours of a product. Most workflows use multiple layers for this, which must all be preflighted, approved, trapped, and imposed.
Esko has developed a comprehensive range of workflow software, covering designers, brand owners and converters. Geert de Proost, director of solutions marketing at Esko, explained, 'ArtPro+ is the interactive graphics editor so it requires an operator to take in a design and allows them to edit things like trapping and add items such as barcodes, images and text. Automation Engine is a platform that mainly focuses on routine tasks like trapping, step and repeat, and helps digitise the decision-making process.'
Plug and play
Esko also produces a number of plug-ins for Adobe Illustrator with features such as trapping that allow it to be used for packaging production, which suits designers that are more used to working in Illustrator. Mr De Proost says that customers typically use both, 'Illustrator does 70-80% of the work but the most complex jobs will be done in ArtPro.'
The company has also developed WebCenter, a cloud-based system that gives more of an overview of the complete workflow, and as such is used by brand owners and agencies as well as converters. This starts with defining the specifications of a job and who is doing what and when, so that converters can see the whole workflow for the job rather than just the pre-press aspect.
Mr De Proost explained that one of the advantages of using Esko's software is the ability to check approvals in a 3D view, 'You will see things that you wouldn't see in 2D such as that the barcode might be hidden after the box has been folded and glued.' All the comments and annotations from the approval process can be exported, for example, to an MIS so that a converter could analyse why files are rejected and see if there is a recurring problem that needs to be fixed.
Among the clouds
Hybrid Software has developed the Cloudflow workflow, which can be accessed from any standard web browser so that there is no need to install any further software on the network. The system can be hosted on a cloud server, but Mr Bates says that it is better to install it on an internal server, close to the file server and all the heavy file traffic, which is what most users do. It is a modular system, with customers only paying for the licence to access the modules they need. Amongst the modules are Packzflow for pre-press automation, Proofscope for proofing and collaboration, and Jobs for Job Management. Cloudflow itself uses the Harlequin RIP from Global Graphics mixed with its own workflow technology.
Hybrid also makes a stand-alone PDF editor, Packz, which can optimise PDF files. It offers all the basic functions, including colour management and variable data printing as well as the ability to view 3D files for things such as shrink sleeves wrapped around bottles. It can also be used alongside Cloudflow.
A subscription model is available but Mr Bates said that most customers are better off buying the licence outright. He pointed out that the workflow should be seen as a long-term investment because it will probably need to be integrated with other systems such as an MIS.
Kodak has developed its Prinergy workflow, which supports flexo printing, as well as offset, gravure and digital. It can support different languages and versions of artwork on separate layers, which can be trapped and colour managed when needed.
Kodak recently announced a new product, Prinergy Tools, which is based on Adobe Illustrator and can inspect, trap and process packaging files. Prinergy also includes Maxtone SX, a hybrid screening technology that allows the users to control minimum dot size and transition from FM to AM screening with resolutions supported from 2400 to 4800dpi.
The company also offers Pandora layout software which uses Smart Layout technology that automatically nests folding carton and flexo jobs based on artwork colours to prevent colour take off issues on press. It also allows the end user to edit and fine tune those layouts.
Although Prinergy and Pandora are mainly aimed at converters, Kodak also sells other solutions that are used by brand owners and designers such as InSite Creative Workflow.
Prinect the dots
Heidelberg has been working to extend its Prinect workflow system to include labels and packaging since acquiring Gallus. Prinect is a modular system and some modules, such as Print Business Manager, which is heavily based around the Cerm MIS are already a good fit. However, much of the existing Prinect system was originally designed for sheetfed production rather than roll-fed. That said, Heidelberg does have a Prinect front end for the digital Labelfire 340, and this can also be used to output data for flexo plates. 
The Canadian developer Tilia Labs has created the Phoenix automated planning and imposition software. It uses artificial intelligence and can take into account various parameters such as job specifications, including quantity, dimensions, colours and substrates, as well as presses/print devices, post-press requirements and delivery considerations. It is aimed at various types of printing, ranging from wide format to packaging. The latest version 7.0, released just a few months ago, has gained better support for label printers with the planning now based around creating lanes for web presses. Tilia claims that Phoenix can reduce substrate consumption in minutes, including combining items of differing sizes and shapes in the same lane. Sagen de Jonge, CEO of Tilia Labs, explained, 'For 7.0 we've worked closely with customers and technology partners to identify and refine the requirements that can deliver the next significant step up for narrow-web printing. Label printers' requirements are quite unique, operating with many product versions and short runs. The speed of Phoenix was never in question, but we've focused on adding more versatility for label printers to create their own customised processes, both for regular types of production runs and those combining unique shapes and applications.'
All of these systems are mature proven tools with a wealth of capabilities. But the most important aspect of any modern workflow software is the ease with which it can be integrated with other systems, both in terms of the hardware that you are operating and other types of software such as MIS. This is likely to be the area where we see most developments over the next couple of years, as vendors look to offer more value for money rather than more features.