Trick up your sleeve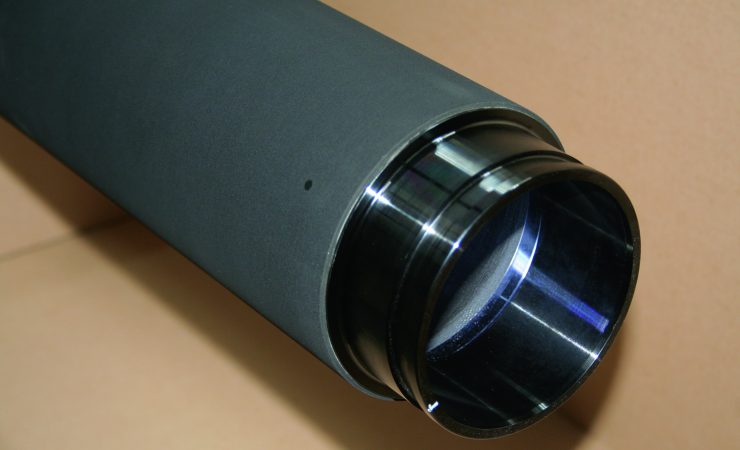 Sleeves today can include add-ons such as mounting lines, notches and end rings
Getting the right balance is a theme which drives through every aspect of the flexo process and sleeves are no different. While sleeves need to be strong and stable, they also need to be lightweight for quick and easy changeovers, and for staff comfort. Michal Lodej reports.
The health and safety of the operators has always been paramount, but now, it is becoming even more important to have easier and more efficient processes, especially looking at the demographic of the flexo industry, the workforce age is rising. Continuous improvement of overall press productivity has a positive impact on profitability, and using sustainable, quality products with a long lifetime increases the return on investment. Products that decrease set-up times or allow increased press speeds improve the efficiency of the operation. Using rotec sleeves and adapters, Flint Group wants to help customers stretch the machinery to its limits, while conserving the human resources. The group already has products such as the rotec Blue Light Sleeve and the rotec Atlas Adapter which can also be upgraded with a barrier layer for superior dimensional stability and/or aluminium end plates or register ringsfor extended product lifetime.
Adapting
Flint Group's latest product, the rotec Eco Bridge, uses a redesigned air supply system for adapters. This technology is now also available on carbon-fibre and ultra-lightweight adapters, as well as the polyurethane type adapter. The result is sleeve mounting is easier for operators and noise pollution is reduced by up to 99%. Faster sleeve mounting also allows an increased number of job changes and, as a consequence, increased productivity. Several customers with inconsistent compressed air systems have seen enormous benefit with the rotec Eco Bridge, which needs up to 90% less compressed air volume and reduced pressures to mount sleeves. Another option is the Smart Family of Sleeves (rotec Smart Sleeve and rotec Smart Premium Sleeve). The sleeve construction is made with new, mechanically durable materials with up to 30% weight savings – ideal for improved operator health and safety.
The base sleeve is also optimised with easy-mount technology for more efficient job set-ups. Several customers have seen the significant benefits of the Smart Family for increasing press speeds by 30% or more, especially with challenging designs with hard edges that tend to bounce. Sleeves that contribute to improved print quality, increased overall press productivity, and reduced costs are a must for all press operations.
Automation rising
The developments in the past few years have shown that flexible printing has become more and more automated, with some of the wider flexo printing machines using robotic systems to change the steel mandrels. Michael Boorman, head of sales at Polywest, said, 'When building sleeves in the 1990s, the challenge was to increase the wall thickness, however thicker sleeves became heavier, and so materials which could provide thickness but make the sleeves lighter had to be used.
'Now, 25 years later, manufacturers are still changing constructions to make the sleeves lighter. Meanwhile machines are being constructed up to 3m wide and therefore sleeves have to be wider, thicker but still light enough for daily handling. The must also include add ons such as mounting lines, notches, end rings and GPS systems in- and outside of the sleeves which are standard today.' Polywest has found that the newest demand for printing at the highest quality is with High Module Carbon Fibre Adapters(HM-CFA); these go hand in hand with the company's sleeve technology. Rossini recently launched the Fastbridge carrier, which complements its existing portfolio of carbon fibre adapters. Due to its strong vibration dampening properties, significantly increased print speeds can be achieved whilst maintaining or even improving print quality.
Fastbridge adapters are currently running at four UK sites with which the company claims are returning impressive results. Damien Leterrier, Axcyl sales and application manager at Trelleborg's printing solutions operations, has been involved in the flexo market for 26 years and his position at this leading flexo sleeve manufacturer allows  him to identify relevant industry trends on a local and global scale. 'The flexo sleeves manufactured at our factory in Mirambeau, France, are used by printers around the world and we carefully monitor their feedback to steer the direction of the innovative work carried out in our extensive research and development facility,' he said. 'At the end of the year we'll be announcing some exciting new products that are designed to even better support end users when they require highly demanding solutions for critical applications. 'One of the results of a major investment in 2017 to significantly increase capacity is that we have been able to double our Fast Track capability. Fast Track was developed as a direct result of the demand by printers for a quicker delivery to reduce time to market. This service, introduced in 2015, has been extremely successful, with companies able to have flexo sleeves delivered to the shopfloor within two weeks of receipt of their order. 'In the printing industry it's essential to be aware of how social, economical, technical and environmental issues may have an impact on your business, particularly if you're selling globally. For instance, the huge response in the UK to the adverse effect of plastics on the environment is resulting in a move towards printing more paper-based products. As a manufacturer, Axcyl takes into account all of these relevant trends.' Earlier this year, Trelleborg entered into an agreement with German manufacturer Inometa that resulted in each selling specified products made by the other in well defined territories. Inometa specialises in the manufacture of carbon fiber cylinders and related products for high speed/demanding applications and this includes high end bridge adapters for flexo applications. 'Trelleborg added to its Axcyl range Inometa's INOflex pneumatic and hydraulic adapters, which are fully endorsed by the main flexo press manufacturers,' said Damien Leterrier. 'This is a huge achievement as the standards and criteria that have to be met are extremely high. With these Inometa products within the Axcyl range, we are able to supply a combination of sleeve and adapter that meets any particular flexo press requirements. We also have access to spares for hydraulic carbon fibre adapters, enabling us to provide maintenance and service.'
Nothing to see here
The modern effect of transparent labels, which ensures that information looks as if it was directly printed on the packaging instead of on a label, is needed by customers across multiple industries. A Smithers Pira report from 2017 concluded that a continuing major trend is to achieve a no-label look and that the label style is spurring brands to invest in clean graphics that can stand out from the packaging.
The perfect no-label look is achieved with a flexo-printed clear on clear label stock – mostly with a thin, high-clarity face material and a clear adhesive carried on a smooth film liner. To ensure a brilliant print result, white inks have to be printed as a background to the actual design, ensuring high opacity of the final design and a smooth laydown of the different ink layers.
The condition of cylinders and sleeves used in this process has a major impact on the final print quality, but it can become an expensive process to replace this equipment regularly, something that may seem unavoidable if increase in demand continues. tesa's Softprint FE FLEX Design aims to solve these issues. The foam of this 380 micron (15 mil) plate mounting tape provides optimal cushioning and resilience properties, resulting in optimised ink laydown even at very high press speeds. 'FE' stands for 'Fast and Easy' and relates to how simple the mount and demount processes are when applying and removing a printing plate from the tape. Aligned for critical sleeve conditions, these tapes known as 'FLEX' are ideal for use on scratched sleeve surfaces or thin-walled sleeves that expand during the mounting process. tesa Softprint FE FLEX Design has been optimised between plate and cylinder with low tack adhesive present on the plate side and strong adhesive on the sleeve side. This leads to a more reliable and secure bond for use on demanding cylinder and sleeve surfaces, as well as resistance to edge lifting and encouraging fast and easy plate mounting and demounting processes.