EFIA debate shows enormity of packaging waste problem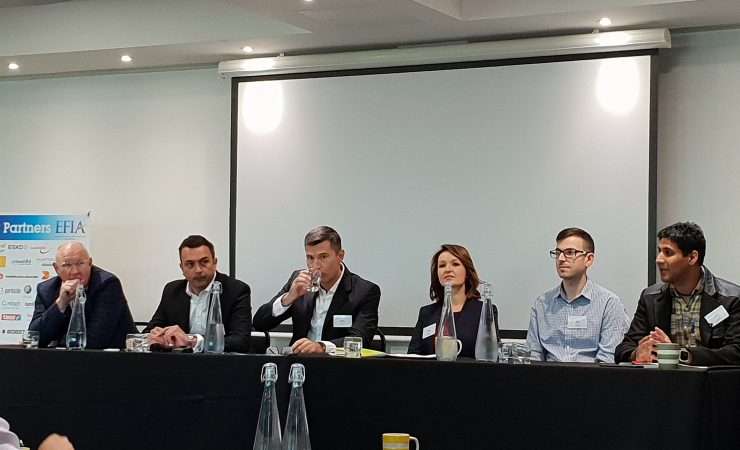 (L-R) Ian Schofield, head of Packaging Iceland, Nick Smith, managing director, Parkside Flexibles, Jason Peckham, UK market director, Smurfit Kappa, Olga Munroe, head of the Retail Institute, Richard McKinlay, head of circular economy, Axion, and Sanjay Patel, founder, Packaging Collective
The European Flexographic Industry Association (EFIA) held its inaugural breakfast meeting at the Hotel Football, in Manchester, on Friday 28 September to discuss sustainability challenges facing the flexographic industry. Michal Lodej reports.
Director of Bobst UK, Neil Jones, opened the event with a call to action for the flexographic industry to come together to create an action plan and strategy to manage the media's 'Blue Planet Effect', which is creating both challenges and opportunities for the sector.
Event chair and founder of the Packaging Collective, Sanjay Patel, spoke passionately about the industry's lack of momentum surrounding sustainability, poor coordination between key stakeholders including manufacturers, media, DEFRA and NGOs and the need for the industry to move the dial on innovation to take the sector forward.
Down with the kids
There was much talk about the need for better education. Starting in primary schools, to stress the importance of recycling and to dispel the many myths floating around. The aim is to end up with a public which is informed in the issues surrounding packaging and pollution. If education is the route to go down, then the industry has a huge mountain to climb. Olga Munroe, head of the Retail Institute, gave attendees some sobering facts. She said, 'Some people take the packaging off of a steak because they think that the packaging will accelerate decay, rather than prevent it. We need the government to help in changing perceptions and to make recycling easier.
'Annually this country creates 11 million tonnes of packaging waste, 2.2 of that is plastic and only 0.8 of that is recycled. Of food waste 70% of it is from households and 60% of that is preventable. There is a public perception that food waste does not have a big effect on the environment. Beef production is one of the biggest contributors to methane gas, and allowing this beef to be thrown away instead of eaten is not only wasteful but disrespectful to life. 'Putting this pressure on just one industry is not fair, how do we tackle an issue on this level? We need to develop a long term strategy for the industry.'
Ian Schofield, head of packaging, Iceland Foods, agreed, 'Education is important and needs to start at primary schools. I was interviewed on Newsround by school kids about plastics, and education is everything, but so is clearing the fog on what is  environmentally friendly for adults working in this industry.'
Making it easy
However, educating the public can only go so far if the recycling infrastructure in place is insufficient. There must be easy ways for people to recycle. Richard McKinlay, head of circular economy, Axion, said, 'People become disheartened when trying to decide what polymer that particular plastic bottle is. It must be subsidised, recycling needs to be done properly and done with a proper business model. Collection and recycling go hand in hand and should be a closed loop.'
Mrs Munroe agreed, 'It has to be a strategy driven from the industry to the government. Many people are interested in sustainability for packaging, but it is difficult when some types of plastic are recycled in some regions but not in others. If taxation is used as a tool to drive recycling then it isn't unreasonable to ask for those revenues to be put back into the recycling infrastructure throughout the UK.'
Mr Patel explained, 'It costs money to install these DRS (deposit return schemes) units and there is currently no ROI model in place for them. There is gap in the funding available for recycling schemes, where is this money going to come from.' Mr Schofield added, 'Iceland has put in its own DRS bins, which give customers 10p back for every plastic bottle, to be spent in Iceland. This is working for us, but for this to go further; someone will have to be able to make money out of it.'
Plastic alternatives
The conversation turned to alternatives to plastics, and if plant based materials could be used, could it be justified to use space for growing crops, for growing packaging instead? Mr Schofield answered, 'With a growing global population, and with millions going hungry, taking up space for growing food, by growing packaging would be absolutely the wrong thing to do. You can not grow crops for packaging, but instead turn waste products into packaging. Converters are really important in this industry change, you print on plastic, but you can print on nonplastics too, we just need to find the best materials. We are training staff to more about the packaging materials used, so they can help educate consumers; we must continue to communicate.'
Jason Peckham, UK market director at Smurfit Kappa, expanded on this the subject, 'Trees are a sustainable product, and while the national media may have turned this issue into a war on plastic, it's actually a war on litter. What this means is we continue to use the right material at the right time and right place. Let's focus on recycling and reusing materials.' Nick Smith , managing director of Parkside Flexibles, backed up this point, 'We have alternatives to plastic for different applications from confectionery to beverages, these can biodegrade to nothing, but we're not here to replace plastic, but to offer brands a choice.'
Broken compass
The magnitude and complexity of this issue was highlighted when an attendee asked the panel what the one target the industry should be aiming for. He got a different answer from each panellist. Each of the answers were however extremely important aims for the industry. Looking at the many different and difficult obstacles the industry has to overcome, changing public behaviour will certainly be the hardest. If you take smoking as an example, everyone knows it is bad for your health and despite, long and expensive anti-smoking advertising campaigns it wasn't until the smoking ban came into effect, forcing the public to reduce if not stop their smoking, that numbers of smokers began to fall significantly.
Even in the issue of pollution, a mere few weeks after that David Attenborough Blue Planet documentary was released, followed by a public out-cry, a sunny bank holiday drew the same public into parks around the country and when they left, those parks were covered in litter. For this reason it could be a better use of time and resources to structure the packaging supply chain in a way where consumers use less packaging, and then recycle this with as little thought and effort as possible.
Debbie Waldron-Hoines, EFIA consultant CEO, concluded after the event, 'Through much healthy debate, the general consensus amongst delegates was that targeting packaging for change is acceptable if supported by consumer education. A requirement for a 'North Star' to lead new strategies, with one voice for the sector, was identified and the Packaging Collective was mentioned as one potential route for this through a partnership with EFIA.
'The event drew to a close with the conclusion that the sector must do more to collaborate, innovate, legislate and educate to ensure the flexographic printing industry continues to keep up with social and market trends in relation to sustainability. We, at EFIA, will do all we can to support our members on this complex issue over the coming months and years.'