Flourishing flexo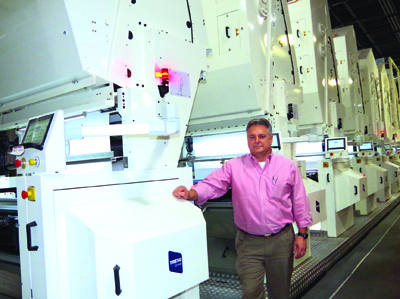 Troy Walls, general manager, Aspen Paper Products 
The flourishing flexography industry across North America has found a surprising new business opportunity for printers. Helen Dugdale looks at the trends appearing state side and at what looks likely to come next.
According to a recent report by Smithers Pira 'The Future of Flexographic Printing Markets to 2023', the North American flexo print industry in 2018 will be worth $50.3 billion and this figure will rise to $52.4 billion by 2023, suggesting the future of the market is looking exceptionally rosy. In contrast the world flexo market will rise from $167.9 billion to reach $188 billion in the same time period.
The report produced by the authority on the packaging, paper and print industry, goes on to say that the global print marketplace is changing rapidly with new consumers, retailers and client demands requiring more variation and lower run lengths. The research highlights the introduction of innovative technologies is opening up new markets and is allowing flexography to become increasingly competitive compared to other styles as the worldwide print industry evolves.
Trends
In terms of trends, the analysis shows the fastest growing sectors will be labels and flexible packaging. There is also a push towards more personalisation, which favour hybrid machines, often combining inkjet and flexographic technologies. These have emerged as a solution to provide the best of both worlds into a single-pass process.
An area of particular focus and growth going forward flagged up in the research is the greater automation on flexo presses, both to improve efficiency and because there are fewer expert operators as many of the skilled workers are reaching retirement age. The aging workforce is a problem that is affecting the print industry the world over.
In a more positive light, Tosh Nishimura, sales executive at Associated Labels and Packaging based in Vancouver, Canada is excited about the finishes coming to labels and packaging, he said, 'New and different coatings that are currently big in 2018 and will continue into 2019 and beyond, include matte and glow hits and cast and cure. At Associated Labels we're well equipped to handle new trends and that's why we created our Flexible Packaging Division to deal with the specialised requirements of specialty packaging and shrink sleeves; including offline lamination for all laminating and slitting requirements.'
Mr Nishimura goes onto to reveal another booming area that may surprise some, 'Since the legalisation of recreational cannabis in America and Canada, the industry is now becoming exceptionally competitive as the cannabis industry begins to explode.'
Cannabis has been legal for medical purposes in Canada since 2002. But it was not until Justin Trudeau committed during the 2015 election to legalising recreational use that the industry there began to seriously grow. As of June 2018, in the USA cannabis was legalised at some level in 30 states with the decision still pending in a further 14 states. The industry has grown from $7.3 billion in 2016 to $24.5 billion in 2018.
According to USA-based Arcview Market Research agency and its research partner BDS Analytics, the legal cannabis industry will see tremendous growth around the globe over the next 10 years. Spending on legal cannabis worldwide is expected to hit $57 billion by 2027 with the recreational market accounting for 67% of the spending and medical cannabis for the remaining 33%.
The demand for cannabis products, both medical marijuana and recreational marijuana is going strong. And the list of cannabis product options is extensive, including: flowers, tablets, pre-roll, cartridges, edibles, gummies, mints, drops, tinctures, topicals, concentrates, extracts, drinks and holiday gift packs.
In many cases flexo is the preferred style which offers the answer to the strict packaging requirements including: child-proof packaging, smell-proof packaging, and dispensary packaging that must meet highly specific state laws and regulations. The cannabis industry across North America could easily offer flexo printers a healthy new business stream if they chose to accept it.
The future
With the summer months now behind us, focus once again can be placed back on the print world and more precisely the coming months in the flexo market. Mark Cisternino, president of Flexographic Technical Association, reveals the industry is feeling buoyant and optimistic as we step into the final quarter of 2018. 'Just recently, Flexographic Technical Association members eagerly evaluated all that's happening, speaking in unison to unfolding trends, strategic directions, factors influencing their business and potential next steps. What we learned in our latest printer flash poll (August 2018) is that flexographers are confident in their positioning, evaluating new opportunities, diversifying applications, building the bottom line and committing to doing all that's necessary to remain viable and valued. They are proving more versatile in the face of continually changing demands and operating conditions. To say they're adept, adaptable and ambitious puts it mildly.'
Mr Nishimura is positive about the future of flexo but also remains realistic, 'The future is looking strong for flexo, however that is until digital printing becomes faster and looks set to take over.'
Mr Cisternino concluded, 'The business climate is intensely competitive; yet healthy, dynamic and thriving – in other words, definitely stable. In fact, many Flexographic Technical Association printer member plants are matching or bettering formal forecasts put out by industry analysts. They are working to fill downtime to the greatest extent possible, taking in more jobs, diversifying their product offerings, weighing new equipment purchases, and looking to attract young talent.'
US invests
To boost output of high-quality paper table top products, Aspen Paper Products has installed a nine-colour Tresu Flexo Innovator printing and coating line at its Kansas City, Missouri, facility. The line already accounts for up to 70% of production at the facility. It features CMYK in the first four positions, followed by spot colour positions, and units to apply seal-coating for waterproofing and grease-resistance, as well as the option to apply reverse-sided coating.
'We specified more stations than we needed to save makeready time, especially when spot colours and ink changes are needed,' said Troy Walls, general manager. 'Idle units can be prepared for the next job while the press is in production. Thanks to the automated ink supply and controls, job changeovers can occur within a few minutes – significantly faster than on our other presses.'