The third way: Soma Engineering focuses on innovation at affordable prices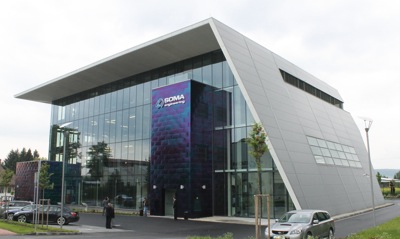 The Soma Globe technology centre
With the opening of its new technology and innovation centre, the Czech manufacturer is making a bid for a larger part of the wide web flexo press market. Neel Madsen attended its recent 'Challenge the Future' conference held at the new Soma Globe in Lanskroun.
Established in 1992 by Ladislav  Verner, Soma Engineering is a family run company with a clear vision of where it fits into the market of mid to wide web press manufacturers.
The combination of ambition and drive, coupled with a highly skilled workforce, has seen the company launch an impressive catalogue of machinery in the last 10 years. Taking advantage of the economic competitiveness of the Czech labour market and its well known engineering prowess means that it can deliver sophisticated presses to rival any of its competitors both in terms of technologyand price.
In the theatre
Last year saw the opening of a dedicated technology and training centre on the company premises in Lanskroun in the eastern part of the country. The Soma Globe is a modern, architecturally striking building, where the manufacturer can show off its products to existing and potential customers, as well as train operators and maintenance staff.
The Globe was officially introduced to the international print community during an open house and conference held at the end of May and attended by 120customers, suppliers and press. The first part of this event took place at nearby Lanskroun Castle and featured presentations from packaging experts, suppliers and Soma itself.
During her welcome speech, sales director, Pavla Kusa said, 'We are taking a proactive approach and seeking out new solutions. The Soma Globe was built with the vision of shaping the future of flexo printing which is our clear mission.'
The company's focus on innovation was emphasised by owner, Ladislav Verner, who said, 'You will only have a chance in this market if you are able to bring thecustomers innovation. Globalisation will be replaced by customisation and the companies that will survive are the ones that can give their customers bespoke solutions to suit their exact needs. We have had to look for original solutions in all areas of our business to get to where we are today.'
Closing the loop
The presentations at the event came from members of Soma's Globe Alliance Team, which is made up of technology suppliers that work closely with the press manufacturer in being able to offer customers the best solutions available.
An interesting collaboration between Color Consulting in Italy, X-rite and QuadTech was presented to the audience. This promises to 'close the loop' in colour management and turn flexo into a consistent repeatable process by eliminating all variables. The new advanced workflow combines the expertise of Color Consulting with X-rite's PantoneLive and QuadTech's inline measurement system.
On the press
The first press demo of the day saw jobs running on the Premia wide web press set up in the Globe, equipped with Polywest carbon fibre adaptors and Onyx+ platemounting sleeves. One was for a brand of French fries, which was printed with Kodak Flexcel NX plates supplied by Reproflex Scandinavia from Denmark. Running at 400 m/min, the job was printed on 20 micron BOPP with Flint FlexiStar MV inks. The job demonstrated how this plate technology, combined with the Kodak Spotless Flexographic Solution, can reduce the number of spot colours used while still producing quality that can compete with gravure.
Steen Madsen, CEO of Reproflex Scandinavia, said, 'We are seeing a definite trend towards reducing jobs to four colours. This means faster changeovers on press with less cleaning involved, less platemounting and tape, and of course, less ink used. The technology we have today can achieve deeper richer colours with just CMYK, something which was just not possible in flexo 10 years ago.' The demo included job setting and exchange with Pantone colour matching as well as presentations of the latest version of Soma's Job Management system.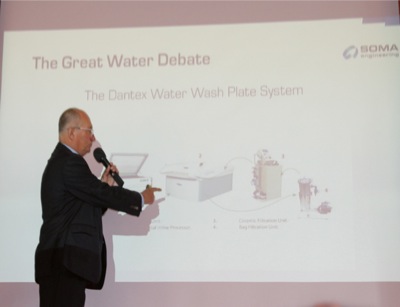 Market development manager, David Stevens
A real alternative 
Newly appointed market development manager, David Stevens, who has many years' experience in the industry having worked for both DuPont and Kodak, has been heading up a new project for Soma. This environmentally  friendly and sustainable print project is a vital part of the company's 'challenge the future' vision and Soma has been working closely with Dantex in the UK to realise this.
The design chosen for this printtrial was a brand of nappies and was demonstrated on the larger 10 colour Imperia 1270 press, running at 300 m/min. Printed in CMYK plus two Pantone colours and white at a resolution of 150 lpi, pre-press was done by Reproflex Scandinavia while the packaging was printed using Dantex's waterwash Aquaflex plates and water-based FlexiWet inks from Chespa (Poland). The substrate selection included a biodegradable 50 micron LDPE, a PLA compostable film and paper, while the mounting tape came from Lohmann and anilox rollers from Apex, Group of Companies. Mr Stevens said, 'We want to challenge the future so everyone can benefit from this technology. Th  Soma vision is that flexo printing will become a totally solvent free process using biodegradable packaging. We created this debate to see if this vision was achievable and we can now demonstrate that it is.'
In the middle
With a firm emphasis on innovation, Soma Engineering is positioning itself squarely in the middle of the market where it believes there is a gap for high quality flexo printing equipment at reasonable prices. Mr Verner said that he was very proud of the fact that the company introduces a new press model every year and that he wants Soma's printing presses to become objects of desire.
At the recent Russian packaging show, RosUpack, the company lift- ed the veil on its latest innovation, a new press aimed at the short run flexo market. The Optima promises to reduce running costs and offer higher productivity. It has a reduced footprint and allows easy access from floor level to all printing units. Potential customers have already booked appointments to see the new press running at the Globe.