The geometry of an anilox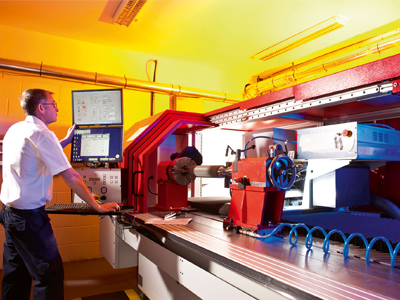 Laser engraving at Sandon Global's facility in Runcorn
Anilox geometry is ever changing, evolving and improving. Today anilox providers offer higher engraving screen values whilst still ensuring they achieve the desired volume to hit the required density/colour values. By Michal Lodej.
The wide range of aniloxes available gives printers a vast amount of choice, however they need to keep in mind the market demands of today and the near future. Versatility is a key feature as the fewer changes in equipment there are, the leaner an operation can be.
By increasing the screen count and improving the cell geometry, printers are able to utilise fewer specifications therefore controlling colour more accurately, reducing the number of anilox specifications in the inventory, managing repeatability in a more controlled manner and having fewer anilox changeovers.
Cell awareness
The traditional 60 degree engraving is still very prominent within the flexo printing and coating markets, but this is continually evolving and there are more cells based on the 60 degree geometry but with stretched or elongated characteristics being used.
Adrian Morton, sales director at Anilox Laser Technology (ALT), said, 'We are seeing a number of clear benefits from the elongated type technology including a reduction in anilox inventory, utilisation of higher screen counts with improved laydown, more tolerant to potential scoring issues, improved running performance at higher speeds and running cleaner over longer periods, more efficient to clean and helping with possible spitting issues in UV.'
Correct cell specification is key to ensuring the flexo process is working efficiently, and as we are seeing ever changing technology within the machines, ink/varnish, plate, tape, material, chamber systems and doctor blades, it is very important to have the geometry available to enable the correct marriage to be made between all the elements involved.
Awareness of the anilox roller and the cell geometry available is key to the printer more so now than ever as we see flexo challenge and in most cases compete well against offset, gravure, digital and screen.
To the max
With MaxFlo+ from Cheshire Anilox Technology, there is no individual closed-up cells but a continuous cell structure which has 50% less land area than 60 degree conventional engravings. According to the company, this offers a more efficient and finer ink distribution to the plate. More ink surface area is in contact with the plate which maximises its inking in a more uniformed way. Engraving depth is shallower than conventional closed cell engravings, which greatly improves ink evacuation from the anilox.
The concept of using channel engravings to improve ink transfer efficiency is not a new one. Channels have been used for many years as an effective means of increasing the ink flow within the anilox and improving transfer efficiency. However ink film consistency and uniformity was always more difficult to control in conventional channel engravings.
The channel provides a constant flow of ink to the plate. No air is trapped as the roller surface re-enters the blade chamber to be re-inked. The channel gives the air and ink an escape route; this results in less agitation of the ink and reduction of foaming. A more consistent, smoother and pinhole free laydown of ink is delivered.
According to Sonia Arcos, technical sales director, one of the main advantages of MaxFlo+ is its versatility. Higher ink release at high line counts increases the anilox's adaptability of covering more print applications with one specification.
She said, 'MaxFlo+ not only improves print quality by enabling the printer to use high line anilox without the loss of colour density, but it is also recommended as a solution to common pressroom problems faced by printers, such as UV ink spitting.
'We are really excited about the new MaxFlo+ engraving range which delivers a significant advance in ink coverage and image definition in flexo printing. We think this is going to be a real breakthrough in high quality flexo printing,' she added.
Different degrees 
While the 60 degree cell may dominate the market, Harper Corporation believes that the 70 degree cell may still change that. Bill Poulson, technical graphic advisor, said, 'This geometry is fairly new to the industry and has not had enough time in the field to show its real worth. In preliminary testing, we have seen that it may be beneficial for heavy coating applications with viscous inks or coatings. It is as compatible for flexo graphics as the 60 degree. We have done side by side testing and have seen that when process printing through the tonal ranges, the numbers coincide closely with that of the 60 degree anilox. If higher volume per line screen are expected, this may help ink transfer efficiencies.'
As well as 60 and 70 degree cells, the company also offers the KatRon elongated hex and the 30 degree hex. The KatRon is similar to the 60 degree hex, but extremely elongated. This elongation yields thinner walls which may affect overall wear of this geometry. The 30 degree hex has a channel which is there by nature in the orientation of that cell. The natural channel helps ink to wet out better as it is being transferred from the anilox to plate. Ink type, viscosity and ink reology can change or affect the way the ink transfers. Mr Poulson added, 'From my experiences with this geometry it works best on coated papers, films, foils and substrates with better hold out. This geometry can and is used to lessen the spitting phenomenon that happens when using UV inks.'
Pamarco's EFlo technology is the company's high performance anilox engraving, developed to meet the increasing demand for the highest quality print. EFlo has an extended 75 degree cell geometry, with its elongated cell walls allowing for increased ink transfer capabilities, compared to the conventional hexagonal cell shape. According to the company, its ability to release a larger amount of ink helps to achieve a higher solid coverage, reduces the chance of cell plugging and is ideal to run within faster press speed environments.
EFlo can improve print quality by enabling printers to use a horizontal line screen count. By increasing the number of cell walls across the cylinder printing of screens, fine type and solids is improved.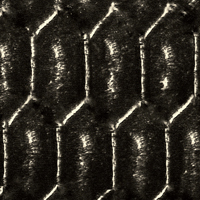 The MaxFlo+ channel engraving from Cheshire Anilox Technology
The company also offers a 60 degree cell and the EFlo UV 75 degree engraving, which was launched in early 2015. EFlo UV is for the most demanding of applications, especially within the narrow web and label market. It has a 75 degree angle, however, what differentiates EFlo UV from the company's other standard cell technologies is its channel linked cell geometry. This precision channel, between the cells, helps eliminates the buildup of pressure within the ink when doctored, which can generate ink spitting. EFlo UV is able to be engraved with finer screens and can maintain higher volumes in comparison to standard cell geometries, which ultimately offers improved print quality and consistency for the converter.  
Keeping it fluid
Over the last two years, Sandon Global has been involved in a research and development programme for the development of what is termed 'digitising flexo', which accelerates four colour process print with extended colour gamut to new levels of print quality. This programme will be launched at drupa 2016 along with GMX the company's latest technology development.
Other products in the Sandon portfolio includes HVP Technology, which was created with tri-axial ratio engravings and can combine good solids and tonal areas on one plate hence achieving increased print latitude and quality from one single anilox. Its cell design combines high line screen counts and high volume without compromising the release characteristics and can transfer ink at speeds in excess of 600 m/min without drop off in optical density.
The company's iPro Technology promises that the very highest graphic definition to be achieved. The cell structure allows printers to harness the vivid colours and increased optical density of HD printing whilst enhancing the ability to reduce dot gains and print fine highlight dots at high speed. iPro uses tri-axial cell ratios to give good ink release at high speeds, preventing ink starvation whilst maintaining high screens for printing fine HD dots.
In June 2015, Sandon launched Fluid Technology as an evolution of the iPro and HVP technologies. It is available in three versions for use in the narrow web, corrugated and flexible packaging markets. Fluid has a semi-channelled cell structure allowing a controlled flow of ink between cells whilst maintaining a strong element of cell control. Like iPro it is capable of HD quality print with low dot gain and vivid HD colours. As with HVP, Fluid allows printers to combine good solids and tonal areas on one plate, which again enables printers to reduce anilox specifications and improve print consistency and press efficiency. For narrow web customers, Fluid UV has the added benefit of reducing ink spitting as well as reducing pin-holing and improving lay.
Anilox suppliers have recognised the importance of reducing anilox specifications as printers face increasingly shorter runs. Having the capability of using the same anilox on a number of different jobs can give a printer an enormous advantage in increasing productivity.