More than just making plates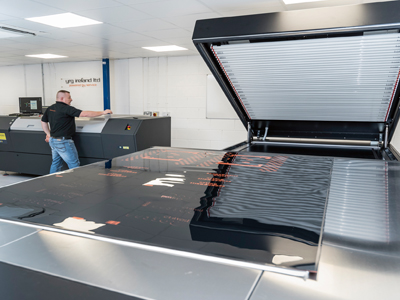 YRG Group has set up a new division in Dublin
The flexographic industry is quite unique in that there are still trade shops offering pre-press and platemaking services. Neel Madsen caught up with a handful of companies to hear about their latest investments and new projects.
There is much more to repro companies than simply producing photopolymer printing plates. Most offer a whole range of pre-press services guiding customers, be they brands, retailers or printers, through the production process. But ultimately, it is the high quality plate that will deliver the best print and focusing too much saving on cost may prove a mistake. Having spoken to a number of pre-press suppliers, I can report that the industry is buoyant with a lot of investment in new equipment, staff and expansion.
Group expansion
Established in 1974, YRG Group today employs a large number of skilled and experienced staff across seven divisions serving printers, brands and design studios throughout the UK and Ireland. Originally set up by a group of visionary chaps in York who wanted to be the best in town, the ongoing commitment to reinvest profits back into the business is a continuation of their ethos and a driving force behind the business to this day.  
The company is the first repro house in the country to achieve the BPIF ISO-12647 colour quality management certification. This ensures all artwork, reprographics, proofing and plates are managed throughout the process to provide absolute consistency of products. 
In addition to the original YRG Headquarters in York, a sleeves site in York, a repro and platemaking site in Kenya and platemaking facility in Cambridge, the company has now added sites at Cottingham and Dublin to the group.
YRG Ireland represents the latest expansion project, set up in response to printer and FMCG customer demand. The new facility is based in Dublin, providing a full range of pre-press technical support services to existing and new clients. Included with the equipment specification for the new facility is a platemaking site that utilises the latest generation digital platemaking systems with a full capability for large format plate production and HD Flexo, all linked and accessed by an Aramis online ordering facility.
The Dublin facility also benefits from Kongsberg plate cutting technology in addition to a full complement of Epson proofers, including high speed proofing of layout sheets and proofing onto clear and metallic substrates.  
YRG Eclipse at Cottingham specialises in packaging mock ups, which can be produced in a food safe environment. This division has recently installed an HP WS6800 digital press and an ABG Digicon finishing line with six print stations.  These latest investments allow YRG to take an initial file and produce a mock up for a flexo print job and then use the same file to plate the job for customers with the repro having already been applied. Furthermore, jobs can be run to specific profiles to match the printer's characteristics.  
The site also boasts an Asahi AWP Flowline, Vianord plate processing, Kongsberg cutting table and a Renzmann distillation unit to recycle all processing solvents.
Managing director Mark Gration said, 'Although the company has grown significantly, we still retain a very flat structure and there is still a real sense of fun and belonging across the YRG Group, which allows us to find opportunities to be innovative and still offer very competitive pricing.'
He concluded, 'YRG will always make incremental improvements wherever we can see an opportunity to do so, but we feel very strongly that there are more exciting and ground breaking advances to come in repro, platemaking and packaging mock ups, and we are all excited to see what is on show at drupa.'
Scottish flavour
Working closely with brands is something Edinburgh-based Reprobrand knows all about. Launched eight years ago, the company was founded by Steven Barron and Fraser Macdonald. It manages and creates packaging artwork for numerous premium brands and FMCG companies, a number of which are major spirits clients, such as The Loch Lomond Group.
Last year Reprobrand and a number of partners embarked on the Single Malt Whisky Wh15 project for Labelexpo. Mr Macdonald explained, 'We wanted to show that we fully understand the process from concept to delivery so the natural product to highlight this was a brand of whisky. We had unique bottles made, liquid ordered and the packaging designed and produced. The project brought together 13 different companies which showcased their various talents.'
Mr Barron added, 'There were a few hiccups along the way but thankfully we have a very close relationship with the Loch Lomond Group and we can't thank them enough for their time and contribution to the project.'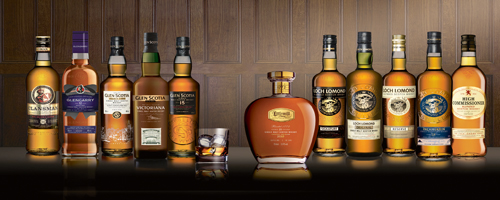 Reprobrand works with many top whisky distilleries
This relationship has been bonded over the last year, which saw Reprobrand create over 500 print-ready artworks for the whisky producer. Mr Barron said, 'We managed 20 brands within a six month period for Loch Lomond. To put that into perspective, the number of SKUs was equivalent to two to three years of work with other whisky clients.'
'Reprobrand worked with our marketing and NPD teams to manage a complete global brands refresh distributing press ready artwork across our supply chain. Their valuable input and dedication to getting each artwork right first time helped the Loch Lomond Group meet distributor deadlines,' said Bill White, group operations director.
During the interview Frank McAtear, business development manager at DS Smith, dropped off some whisky carton samples. He said, 'This industry is very specific and demanding. It's forever looking to add value, looking at innovation and what you can do in terms of print techniques and decoration. What these guys do fits well because you really need that technical, production and print knowledge to do justice to modern packaging.' 
The company has recently movied into new premises in Edinburgh city centre, highlighting the firm's growth. Mr Barron said, 'Our new office space is significantly larger and its situated within the heart of the New Town making access easy for staff and clients. It looks like it's going to be another exciting year.'
Growing nicely
As mentioned, growth is on the cards for many repro houses. Last year, Waldo started on a major expansion programme, which included an extension to the existing building with a full refurbishment of the studio and sales offices as well as new equipment, all due to be completed by the end of 2016.
Based in Louth, in Lincolnshire, the company was formed in 1984 to supply the corrugated industry with hand-engraved rubber stereos. Just over five years ago, Phil Walmsley took over full ownership of the business after Jim Dows retired.
The company now employs 35 staff and has a turnover of £3 million. It supplies both the wide web flexible market and the corrugated sheet plant industry.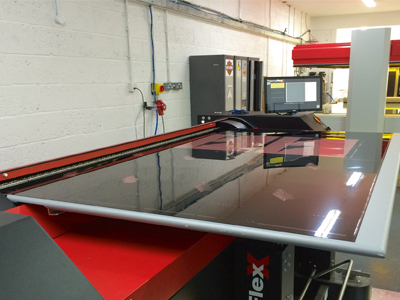 Waldo has installed a large ThermoFlexX imager as part of a major investment programme
Adding to its DuPont platemaking capabilities, recent investments include a Solutex distillation unit and a ThermoFlexX 80-D flexo plate imager, which features two lasers and can potentially image at 12 square metres per hour and a resolution of 5080 ppi.
Waldo is working on projects with Clifton Packaging Group to produce jobs with this new Ultra HD technology and fixed palette. All HD plates are MacDermid LUX ITP, as Mr Walmsley said, 'Although we see great results from plates produced by the lamination process, there are many new plate types in the market place that fit better within our workflow. We have done trials with other plate materials, but we felt that the MacDermid offering gave Clifton a more consistent result.'
Mr Walmsley said he anticipates additional growth in the corrugated sector, especially for the sheet plant business as many of the companies have invested in multi colour machines, but the number of trade shops able to supply them has drastically reduced.
Positive environment
Print Quest Graphics has undergone a large £1 million programme of expansion and modernisation of its premises, along with investments in new platemaking equipment, computer infrastructure and software.
The Skegness-based company was established in 1996 and supplies repro services and plates to its worldwide client base. The last few years have seen continual growth; not only have the premises been extended into the two neighbouring units, the layout has also been completely overhauled and redesigned into one modern, open space so that all departments can work easily together and no divisions are created.
Managing director David Jarvis explained, 'We had to make some staff changes in order to realise the vision I have for Print Quest. It is vital that we have the right people with the right attitude in place – people who are willing to take ownership of their work – because this creates a more positive environment and ultimately affects the quality of the work we deliver. It has made for a much more pleasant workplace for everyone and the open-plan layout of the whole place was very much part of that strategy.'
Managing director David Jarvis has made some fundamental changes to his company
A new studio manager is now in charge of the day-to-day work, which has freed up Mr Jarvis so he can take a step back to oversee the business and concentrate on strategy. 'Before I felt like I was firefighting,' he said. 'Now I'm much more relaxed and all this change has made a massive difference on all levels of the business.'
The plateroom today houses a new Kodak Flexcel NX Wide-C imager and an NX Wide laminator as well two DuPont units, a Cyrel 1000 ECDLF exposure unit and a finisher. Two new high-energy UV output exposure devices are in the process of being installed and a large capacity plate dryer is also a recent investment.
A modern proofing room with D50 lighting and a plate storage room have also been created. Also new to the company are MacDermid plates, which Mr Jarvis describes as excellent. 'We can achieve much finer detail with the MacDermid plate and it offers excellent ink transfer.'
The entire operation has been kitted out with a new suite of computer equipment, powered by a new server. The company's bespoke MIS is also being further developed to accommodate the growth. The pre-press department runs Esko Automation Engine including Studio Visualizer and DeskPack, and MaxColor, MaxPro and SmartScreen from Graphic Republik. 
A lot of investment in a short space of time with significant capacity added. 'We actually have capacity to produce much more than we do, but for me, it is not about volume,' said Mr Jarvis. 'I'm not into selling on price or competing for business. We are all about quality. And the fact that we are not running at full capacity means that no one is trying to rush work through and getting stressed. This in turn gives a much calmer working environment.'
Steady growth 
To accommodate its continual growth, Qualiflex Ltd in Ilkeston, Derbyshire, has recently added two new pieces of DuPont platemaking equipment to its inventory bought through neighbouring Litho Supplies. The company was first established in 2004 by Colin Eastwood and his business partners, when they set up a small office in Nottingham on the site of Oversolve, a carrier bag printer which formed part of the customer base.
Having started out originally just doing artwork and design, they soon moved into making plates, 'and since then we have just kept growing,' said Mr Eastwood. 'At the moment we are going from strength to strength, but it is hard work and it is a very competitive industry.'
A restructuring of the business saw the company move into new premises in 2009 and then a few years later taking the next step by venturing into digital platemaking. During this period the number of staff has grown to the 12.
'When we invested in our Esko CDI Spark 4835 four years ago, it really changed the business,' said Mr Eastwood admitting that going from using film to producing digital plates was a bit of a culture shock at first. 'It took a little while to get our heads round it, but the work we could do was great and things really began to evolve, and we have just kept growing from there. The support we have received along the way from our suppliers, including DuPont and Litho Supplies as well as Asahi Photoproducts, has played a big part in this achievement.' 
The new investment comprises a DuPont Cyrel 1000 ECDLF, which exposes, dries, post-exposes and finishes photopolymer plates up to a format of 900 x 1200 mm with an accompanying Cyrel 1000 P processor. These are replacing older DuPont equipment. Mr Eastwood said, 'We chose the DuPont machines, not just because we are existing customers and I have personally worked with their platemaking machines for many years even before Qualiflex, but also because having spoken to people in the industry, they come highly recommended and are viewed as the best we can get.'
'The choice of this equipment and the installation was a natural progression for Qualiflex in order for them to supply the new markets they are now targeting,' said Ron Littlemore, Litho Supplies.
Production director Lee Marsden with the new equipment installed recently at Qualiflex

The family business turned over close to £1 million last year and is set to go beyond that this year. It is HD Flexo certified, operates a full in house design and artwork studio, and services customers in the UK, Europe and further afield with plates of which about 10% go abroad. It offers large format proofing produced on two Epson Stylus wide format printers, full fingerprinting service and technical support.
Mr Eastwood explained that there are more investments being planned for the next three to five year, including Automation Engine 16 and a new CDI. He concluded, 'We know where we have got to get to in the next few years in order to stay competitive and reach the level we are aiming at and to continue to service our customers.' 
Latest technology
Victory Graphics has a long history and was (re)established in 2007 in Slough, where the sole focus was on coating plates for varnish applications. In 2013, the company expanded into flexo plate production, and a full repro house service was set up. In late 2014, the two business areas were consolidated under one roof in Portsmouth.
The repro house activities are trading under the name Victory Repro, and covers the complete range of flexo print from corrugated to labels. Equipment includes a large format 50 x 80 inch Trendsetter with latest processor/dryer/light finisher and a JM Heaford mounter. Managing director Karl Pampus said, 'It was important to get latest technology in, even for standard LAMS plates. From the start, it has been our intention to position us in the segment of high quality plates and support. We have already helped corrugated customers to achieve results on their existing presses that go way beyond what they could do before.'
Investment in the latest technology was the next logical step. Mr Pampus said, 'Based on technological arguments (one to one reproduction of image pixels onto the plate together with the resolution and flexibility in the surface structuring) and print results that we saw, we opted for Kodak NX.' The company decided to acquire a Flexcel NX Wide Imager as one of its target markets is corrugated pre- and post-print. This was installed in March this year and is located in a cleanroom installed for that purpose. Mr Pampus commented, 'Already we have seen significant interest from quality oriented printers and have achieved fantastic results in corrugated and general flexo. In particular, the use of the advanced pattern of the Digicap surface structuring for higher density whites was evident from the very first trial.' 
He continued, 'Our aim is to utilise the skills, experience and dedication of the team to get the most out of the NX technology for our clients. We can see that corrugated print is pushed towards higher quality printing on lower quality stock, and this is an area where we want to assist printers. The benefits of NX are particular its wider colour gamut, smoother transitions and fading, higher densities and lower dot gains. All of this allows increased use of fixed colour printing which we want to explore with our clients.'
The company today has a revenue in excess of £2 million and employs 12 staff.
All things considered
'It can't be denied that some see flexo as a commodity, thinking the only difference between suppliers is price. While price is obviously important, there are many other considerations that have to be in place before price is relevant. Quality has always been important, as has delivery, but customer service is probably the most important,' said Tim Warner, technical director at MPH Limited. 
Based in Harwich, MPH Limited was established in 1982 in a shed on local farm, when the original directors took redundancy from NorPrint (now SatoUK). There have been many changes since then, all the time embracing new technology to increase speed, quality and capacity.
'Working as smaller business units within the company has certainly helped create very good relationships with customers as well as identifying, and controlling, costs, quality and delivery issues,' continued Mr Warner.
Recent investments include OpenColor software from GMG. Mr Warner said, 'Predicting the result on press has always been important and it has got easier having invested in OpenColor. Using the 'mini-wedge' makes it possible to gather profile information without doing a bespoke profiling exercise.'
The customer base is very varied. There are many narrow to medium web printers (typically labels and small packaging). To complement the flexo platemaking, the company also make Stork and Gallus stencils, often for people with their own in-house platemaking. The company is still running a film image setter, which it describes as a great help for screen making. There are still a number of customers who make their own plates from film.
'We have always made proofs and mock-ups,' said Mr Warner. 'These can be machine proofs or digitally printed, fully functional or for photographic and promotional purposes. Our history of building working models has given us the opportunity to develop packaging products from scratch. A recent example I can tell you about was the 'Come Fry With Me' project. The brief was to create a lidded box for three sizes (sample, regular and large) of gourmet chips that wouldn't leak and needed no gluing.'
He concluded, 'In the end, the most important part of MPH is the people who work here. Most organisations have, or could buy, access to the hardware, but the staff at MPH has the experience to back it up.'
MPH has been around for a long time and seen many twists and turns in the market. Some printers start small and grow before eventually putting in their own plate kit to become more self-sufficient. Others make a decision to buy in plates, leaving them to concentrate on producing print.
Going round
'We are a team who work alongside our customers by delivering, to help them along the way in the packaging industry. We are proud to say, that most of our new business is a result of recommendations from our existing client base,' said Scott Buckley, technical director at Pulse Media. He continued, 'We provide a wide range of services and benefits for businesses who are looking to streamline their packaging printing, and brand management.' 
With over 50 employees and still growing, Pulse Media is based in Stockport from where it provides a range of pre-press services including design, mock ups and digital 3D renders, artwork and repro, brand management, plates and In The Round (ITR) sleeves.
The markets that the company serves vary, from designers and printers to manufacturers and brand owners. This diversity of customers means that it is involved in every element of packaging, from the initial artwork brief to the final product and everything in between.
Pulse works with hundreds of printers all over Europe. By providing colour calibrated contract proofs to brands and printers, it is able to manage expectations from the earliest point in the process and not at the last minute on press.
'More printers are looking at flexo plates produced 'in the round' so as to avoid joins on designs. This plate technology, although more expensive than conventional plate, is very cost effective from a production efficiency view point,' said Mr Buckley. The company has successfully converted many gravure jobs to flexo print using a combination of Kodak Direct Engraving and NX plates. 
Pulse installed Kodak's Direct Engraving System for the production of elastomer in the round sleeves in December last year. The specially formulated elastomer media is engraved by a diode laser and washed with water after engraving. 'Screens can be engraved up to 175 lpi and provide a serious alternative to gravure. The longer lifespan of our Kodak ITR compared to photopolymer ITR sleeves are ideal for use with all ink types, even the aggressive chemistry within gravure coatings and varnishes,' said Mr Buckley.
He said, 'Pulse Media is always looking at new technologies, processes and software. We benefit from meeting a lot of people within the print and packaging industry, which means we are always hearing of new possibilities. Although major manufacturers try to keep their innovations very close to their chests, there are rumours about some flexo plate manufacturers moving to waterwash rather than solvent plates. This obviously has a positive environmental impact on our industry.'
Blue is the colour
Innovation is the continuing in flexo in the battle to increase print quality to compete with gravure and litho standards. There are also moves to simplify the process to cut cost and increase speed to market.
For the past two years, Reproflex 3 and anilox engraving specialists, Sandon Global, have worked in partnership to develop a four colour extended gamut. The result is Project Blue, which the two companies are set to launch at drupa in cooperation with press manufacturer, Windmöller & Hölscher.
The companies describe Project Blue as 'representing a gear change in flexo by allowing printers to get closer than ever to the results offered in gravure and offset litho by improving flexo print quality to unprecedented standards. In addition, the innovation is simplifying the printing process, increasing consistency and offering customers substantial press efficiency improvements.'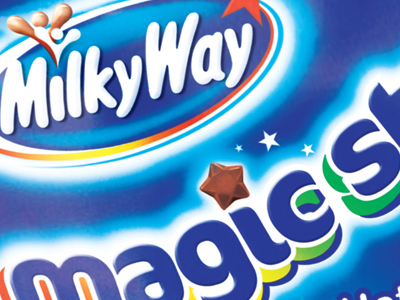 Project Blue from Reproflex 3 helped Roberts Mart win awards
Comprising a combination of processes, the new project recently supported Roberts Mart & Co Ltd in taking double gold at the EFIA Print Awards 2016 for the entry 'Milky Way Magic Stars Hot Chocolate'. This won the two categories Use of Flexo for Brands and Technical Innovation, Printer with the judges describing the print result as 'a flawless, fixed palette four colour job with amazing colour vibrancy.'
'Brands are constantly looking to innovate their packaging offer to consumers, and shelf impact is critical in that journey. That's what Project Blue is primarily all about, creating the most vibrant reproduction possible from flexo print,' said Benedict Moore, marketing manager at R3. He continued, 'The award wins go some way to giving the project a significant status in flexo, but we think the best is yet to come when we reveal the true power of this innovation during drupa with W&H.'
Trevor Lowes, R3 joint managing director, commented, 'In my 34 years in the flexo industry, I have never come across results like this. We are absolutely delighted that Project Blue is set to be launched officially at drupa. We are also incredibly thankful to Sandon for developing it with us, as well as W&H for demonstrating it at the show. We can't wait to reveal the results.'