Green shoots but slow growth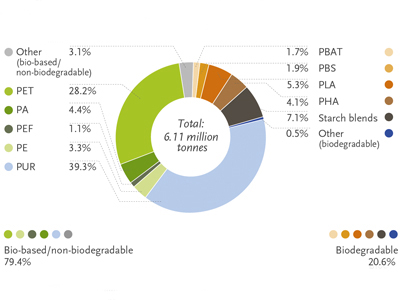 Market share of different types of bioplastics (supplied by the Nova Institute in conjuntion with European Bioplastics)
A combination of low oil prices, altered priorities at government level and unclear terms of reference is in danger of holding back the bio alternative to fossil-based plastics. Des King reports from last year's European Bioplastics Conference.
The worldwide production of bioplastics grew by 5% last year to reach 4.2 m tonnes, of which almost 40% is taken up by the packaging industry; the split between bio-based 'drop-ins' that replicate their fossil-fuel derived alternatives (viz. bio PE and PET) and compostables (viz. PLA) running at about two-thirds to one-third. Whilst forward growth is predicted by the Nova Institute in conjunction with European Bioplastics to increase by almost 50% over the next five years to an estimated 6.1 m tonnes – with over 2.5 m tonnes going to packaging applications – the bulk of that uplift will not be achieved until the turn of the decade. It is growth that needs to be seen in the context of an oil-based plastics packaging that amounts to 76 m tonnes per annum.
Notwithstanding the positive support of a number of high profile brand owners such as Coca-Cola, Danone, Heinz and most recently Mars; the encouragement of NGOs such as the WWF and the Ellen MacArthur Foundation; and the constant stream of innovation and development in terms of biopolymer technology the sector clearly has a long way to go before it represents a viable alternative to its longer-established fossil-fuel counterpart.
Not necessarily so, says European Bioplastics chairman Francois de Bie, at the trade associations' conference in Berlin, 29-30 November 2016, who in addition to the packaging industry cites an increase in the uptake of bioplastics materials in many other sectors, including consumer goods (0.9 m tonnes); the automotive and transport sector (0.6 m tonnes) and the construction and building sector (0.5 m tonnes), as evidence of growing traction being achieved.
'The data illustrates an important trend, driven by changing consumer demands, to make plastic products more resource efficient and to reduce greenhouse gas emissions and the dependency on fossil resources,' explained Mr de Bie. 'This trend is the result of substantial investments in research and development by the many innovative small and large companies that concentrate their strengths on the development of bio-based products designed with the circular economy in mind.'
Arrested development
Despite the ethical and the sometimes geopolitical forces in favour of a switch from an oil to an agrarian derivative, there are diffuse factors combining to hold back the adoption of bioplastics. Not least amongst these is the current low price of the oil barrel itself; averaging not much above $40 throughout last year and predicted not to rise much above $50-70 over the coming months. However committed to sustainability some brand owners may be, right now there is no commercial advantage in going green.
Only representing about 5% of the oil barrel, fluctuations in price can arguably be managed. A more significant deterrent, however, may be a growing question mark over the forward deployment of arable land to the farming of renewable crops for biobased production in preference to food. With the world's population on course to pass the 9 billion mark by 2050 it is an argument that could gain traction.
The food versus feedstock debate has long been a contentious issue; not least in determining the actual amount of land used or available. The bioplastics sector assesses that current production will only take up 0.02% of available resource in 2021 – and that indeed the entire bio-economy only accounts for 3% of all arable land not going to food production.
Nevertheless, the head of the EU's sustainable production, products and consumption unit Hugo-Maria Schally appears to be suggesting that is still too much, 'EU policy is clear that for every use we want to make of biomass for energy or bioplastics it should not be in competition with food production. We're not dealing with bioplastics in isolation; we're dealing with it in terms of the overall society.'
Not surprisingly, such qualified comments are a cause for some concern within the bioplastics industry. According to Kristy-Barbara Lange, the EU's reticence to commit wholeheartedly to bioplastics might in part be due to its earlier less than satisfactory involvement with the bio-fuels sector, she said, 'They need to have this huge calculation in their heads when considering the industrial use of biomass, but there is still land available; it obviously depends on how to make best use of it.'
US-based PLA (polylactide) producer NatureWorks warns of the detrimental effect such caution might have on future investment. 'There's a desire to support biobased but I think we get mixed signals from policy-makers in general,' said director of public affairs Steve Davies. 'What is needed from any government is a clear strategic indication of support. Mixed signals is what makes the industry reluctant to invest; it's what makes oftentimes the industry here invent in Europe but go commercialise elsewhere like Asia.'
Mixed messaging
Running parallel to the way in which the biobased sector might justifiably be struggling to interpret the mixed messaging emanating out of Brussels, an equal disconnect may be hampering the readiness of their prospective customer base to switch across from oil-based plastics. According to research conducted by University of Applied Sciences & Arts amongst German consumers, the whole issue of bioplastics is characterised by low awareness or else false perceptions.
Of those whose opinions were canvassed, 56.7% of respondents professed to never having heard of bioplastics at all. In many ways just as concerning was that of the 7.1% who claimed full understanding of what the sector had to offer, over two-thirds were under the firm impression that all bioplastics were compostable. 'Consumer expectations are skewed, largely because of the appellation bio', concludes the research.
Recommendations to simplify the messaging; better manage expectations; provide greater transparency; and focus on the benefits in comparison to oil-based plastics, are strongly endorsed by Erwin Wink, chairman of the Holland Bioplastics trade association, albeit with one important and arguably hopeful caveat. 'I can quite believe that most consumers don't have much of an idea of what bioplastics are. But likewise they have no clue about what fossil-based plastics are either. Tell them that a transparent PET bottle is made out of crude, black oil and they'll glaze over.'
Communication with brand owners likewise needs to be more forthright and clear cut, said Braskem's Life Cycle Assessment specialist Yuki Hamilton O. Kabe, 'I think the main obstacle might be mis-information. There is a misconception as to what is green, what is sustainable. Also, when we talk about packaging we tend to mostly think about the end of life impact; we forget about the benefits in their actual usage. it's about time that we stopped making decisions based on emotions and pre-conceived ideas; instead we have to mature and base decisions on scientific fact and arguments.'
'Consider, for example, a multi-layer flexible pack with barrier / MAP properties etc for beef. Our studies have shown that the total cost of the pack (viz. not only the cost of manufacture but also its environmental impact) would be around 150 times less than the the value that it has protected during its lifetime. To have 1kg of beef you would have approx. 14kgs of CO² during its life-cycle, as well as hundreds of cubic litres of water consumed. When the pack protects the meat it's also protecting all the resources that went into its production. So we would get a true cost of around $9 per kg more than it would cost if we considered all the environmental impact.' 
Conference highlights
The bioplastics sector's impressive track record in polymer development and innovation was endorsed by a number of presentations made at the conference with especial reference to the flexible packaging sector incl. the following:
• The Spanish non-profit research association AIMPLAS introduced a multi-layer PLA / PVOH (incl. biodegradable ties and natural wax coating) MAP solution developed by a consortium of 10 European manufacturers for cheese and fresh pasta products. Compliant to industry standard EN 13432, by optimising thickness of the five separate layers reduces overall cost by 25 %.
• Mars is the latest high profile brand owner to dip a toe into the bioplastics sector, and has promptly been awarded the industry's annual award for innovation in respect of the potato starch waste and PLA blend adopted for its 'Snickers' chocolate bar.
The result of a four-year development project involving the Dutch-based Rodenburg Biopolymers; film producers Taghleef Industries; and converters Mondi Consumer Goods Packaging, the substrate has been introduced seamlessly onto Mars' existing PP lines with all the same performance characteristics. It did, however, present initial challenges that were successfully overcome due to the biobased film's tendency to shrink under heat generated during the gravure printing process habitually used for this volume-selling product. With a view to easing pressure on land occupancy, at least two companies are developing polymer effectively from thick if not thin air. NatureWorks has invested $1m in a fermentation plant to derive feedstock from methane which with the appropriate industry partnerships could achieve commercialisation within 5 years.
Meanwhile, the Dutch-based next generation clean chemical production platform developer Photanol has confirmed it can produce lactic acid and additional biomass media by allowing the cyanobacteria to grow in conjunction with sunlight and CO² via a basic photosynthesis process – and that it claims can be between 10 – 15 % more cost-effective than PLA derived through the traditional sugar cane route. Demonstrating PLA's versatility, Corbion has used it as a replacement for PP cones traditionally used to protect rubber trees during their formative growing phase. Whereas the rubber industry in Thailand has traditionally experienced irreparable damage to the root system of a significant proportion of young trees when the protective cone is removed, the PLA alternative simply composts post-use.
Corbion has also confirmed that the 75,000 tonne capacity PLA plant it is building in Thailand as part of its joint venture with Total is on track to come on stream in 2018. 
The European Bioplastics Conference 2017 will be held in Berlin during 28-29 November.
Read the full issue online here.