Finishing touches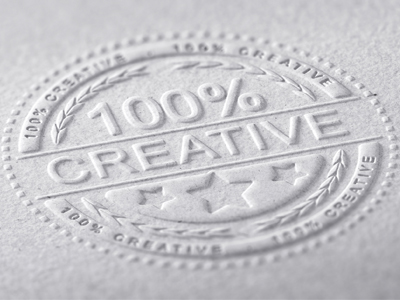 Embossing is a technique which can add value to packaging
Dotting the Is and crossing the Ts is essential in a flexo print run to deliver a product that will satisfy the customer. Finishing options come in many different forms, so Michal Lodej takes a look at what is available out there.
There are a number of different techniques available to flexo printers to add some finishing touches to their print such as cutting, coding and marking, or even embellishments with foiling applications.
The majority of these applications have the purpose of adding value to the print in some way or another, and something that brands today are very keen on is product differentiation. This is usually the preserve of a digital printer, or now, a hybrid press using inkjet heads. However, laser marking manufacturer Datalase has a product which can allow any flexo press to add late stage product differentiation, without the expense of an inkjet unit.
The technology enables high-speed, fast turnaround printing which is ideal for packaging and product customisation and personalisation. It allows printing of variable information to enable real-time marketing to maximise brand owner and consumer value. The system is inkless at the point of printing, thus removing the need for consumables in the production environment at the point of fulfilment.
Although the process is inkless, it does require a laser reactive coating to be applied to the substrate for the system to work. The coating can be applied like any ink or varnish, across the whole design or just in a small area. Working with a web inspection system the laser can detect where the coating is to mark it with any design or text required by the customer.
Datalase was acquired by Japanese company Sato, provider of Auto-ID solutions, at the beginning of 2017, following a strategic partnership between the companies since October 2015. 
It was said at the time that the acquisition will allow DataLase's technology to be used within Sato's products to deliver financial savings, environmental benefits and enhanced marketing capabilities for end users. The applications for track and trace solutions are expected to provide benefits for customers in numerous high-volume, fast-moving industries. 
Although currently the technology is only marking in black, there are plans for the company to produce and release a colour version in 2018.
Lasers can be used to die-cut intricate designs in packaging and labels
Lasers seem to feature heavily in finishing as they are also good for cutting intricate designs on labels and packaging. Grafotronic will soon be launching an updated version of the DCL2 which is a fully modular digital finishing machine. The machine includes a new laser die-cutting module which was developed in cooperation with Spartanics. The whole concept is future proofed which means that each module works independently and the machine is fully upgradeable with any modules that are released in the future. 
Checking it twice
Grafotronic also supplies inspection machines and will be showing three new modules at the upcoming Labelexpo Europe show in Brussels this autumn.
The company's new Pharma2 is a 100% re-inspection machine for, as the name suggests, pharmaceutical and security labels. The compact machine has a high speed linear servo buffer that allows re-inspection at 105m/min. Inkjet numbering with separate inspection system and automatic set up of tensions and slitting systems makes the machine one of the most high tech in the industry.
Two new HI2 machines for 100% inspection and high speed slitting will also be shown. A new high speed version capable of running at 500m/min has been designed to meet the increasing demand of film and sleeve converting. 
ABG will also showcase a variety of its fleyeVision inspection systems at Labelexpo. 'Our FleyeLink Workflow manager creates a roll map of defects that can be doctored in a final process to eradicate substandard labels,' said Tony Bell, ABG's sales director. 
'Using a barcode printer for closure labels on the end of the turret, the small rolls with faults can be identified and then run quickly through a small rewinder that highlights where the errors are, ready to be doctored. It's a very efficient way of getting product through the finishing department quickly to the end user, completely safe in the knowledge that all rolls are of the highest quality.'
Hot stuff
Hotfoils and holograms are useful effects for businesses to give a high value or even luxurious look to their products, and to add security features to packaging. Both technologies offer brand owners the ability to shape their brand image as well as to attract customers on the point of sales.
Newfoil Machines manufactures roll-fed hot foil stamping machines, embossing and converting machines. The company's embossing die set can be used in any print/cut station on its 500 series or servo range of machines and can be heated for use with standard hot foil.
The die set enables printers to adjust the tool and counter force in an "x – y" or rotational direction allowing the tool to be moved in to register with a pre-printed web, whilst keeping alignment between the tool and counter force.
Pantec GS Systems has a wide range of products for embellishments such as hot foiling, embossing and stamping. The company's Swift unit is an add on for printing presses to save foil, register holograms and apply patches. The system is designed to be movable to any printing station on the rail of narrow web printing presses. Therefore, high performance foil saving and insetting is available anywhere in the press. 
The unit has a high stepping frequency by using vacuum buffers which move the foil up to 20 times per second, allowing a resulting web speed of 120 m/min. Even with short label repeat lengths, high printing speeds can be achieved, where traditional mechanical savers cannot.
Read the full September issue of FlexoTech here. Subscribe to the magazine for free – register your details here.