Plating it up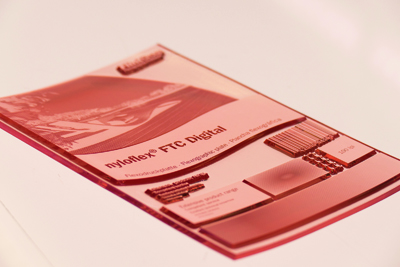 nyloflex® FTC Digital
Flint's nyloflex FTC Digital plate for corrugated applications
Optimising colour transfer, improving cost efficiency and the ability to print on a wide variety of substrates as well as sustainability are just some of the demands on the humble flexo plate. Manufacturers explain to Neel Madsen how they meet the many challenges.
Photopolymer plates first became commercially available in the mid-1970s. Their introduction encouraged the development of more delicate screens due to the higher stability of the plate compared to the vulcanised rubber plates that had been used up until then. The main trends today are flat-top dots built into the plate with fewer processing steps, water-washable plates for reduced environmental impact and plates for extended gamut printing (or fixed palette) for cost savings and consistency.
A balancing act
Finding the balance between quality and cost is one of the main challenges for repro houses and printers today, according to Friedrich von Rechteren, vice president sales EMEA and global marketing of Flint Group Flexographic Products. He said, 'We are addressing this challenge by continuous innovation and products, such as our nyloflex flat-top dot plate with texturised surface for the flexible packaging and the corrugated market segment.' 
The nyloflex FTF Digital is a flat-top dot plate with the same processing features as any standard digital plate, which means no additional equipment, processing steps or consumable items are needed. The special, textured plate surface has been developed to eliminate the need for surface screening and provide an even ink laydown and increased solid ink density. 
Meanwhile the nyloflex FTC Digital for corrugated post-print provides reduction in fluting on various corrugated boards. For the finest highlights, the plate is aimed at precisely reproducing very fine text and codes, offering excellent ink transfer and smooth solids with an even ink laydown, to allow high and consistent print quality on a variety of substrates. 
Soon to be launched, the nyloflex FTP Digital is specifically designed for absorbent substrates and water-based inks. The new printing plate promises to provide customers in pre-print, beverage cartons or flexible paper packaging, with the benefits of flat top dots with enhanced ink laydown and improved solid ink density on fibre substrates. 
'Inherent flat-top dot plates will see the most future growth, as they provide the benefits of flat-top dot geometry without adding steps to the workflow – a significant reduction in complexity and increased efficiency in the pre-press and platemaking process, while offering the highest print quality,' concluded Mr von Rechteren. 'We do expect that inherent flat-top dot plates will represent more than 50% of overall flexographic plate usage by 2020 across market segments.'
Positive difference
Brought to market in 2015, the Flenex FW plate from Fujifilm has quickly been adopted by a number of pre-press companies and printers. This is a water-washable plate, which can be ready in less than 40 minutes due to faster exposure and washout times. With up to 200lpi and a 1% process dot, it contains a special rubber-based compound described as offering 'a number of inherent advantages over other elastomeric materials.'
The first in the UK, MPH signed up at drupa 2016. As well as citing fast production times and reduced environmental impact as deciding factors, director Brian Cawdron said, 'Fujifilm has some really innovative technology which allows a flat-top dot effect to be achieved very simply. This results in noticeably cleaner and brighter print results.'
Ticketmedia, in Brighton, also chose the plate for the benefits it could bring to the business, which specialises in printing advertising on the reverse of tickets and receipts. Managing director Jeremy Burbidge said, 'Since the installation, between 25 and 30% of our customers have already noted a positive difference in the print quality, so we're delighted to see that the flat-top dot is delivering the high standard expected.'
Italian label printer, La Prensa in Milan, started using the plate early in 2017. 'We had a long wish  list of things that we wanted to see in a new plate system,' said CEO Emanuele Delfino. 'Optimal colour transfer and high-quality print were non-negotiable, and we wanted a plate that combined those benefits with a fast processing system and reduced chemical use. Flenex plates wash clean in water and a simple detergent, which means we have dramatically reduced chemical consumption and waste, and have reduced the unpleasant fumes in our factory to near zero, which has greatly improved the working environment for our staff.'

Gateway Packaging in Tennessee chose the AWP plate and matching processor from Asahi
Water solutions
'There are a number of trends that challenge plate makers today,' noted Dr Dieter Niederstadt, technical marketing manager, Asahi Photoproducts. 'One is sustainability, so plates need to be able to quickly come up to colour, and maintain quality and registration throughout the run to eliminate unnecessary waste. Plus, more are moving to alternative plate processing workflows to eliminate the need for solvents.'
Asahi focuses on water-washable plate solutions and offers these for use with all ink types, addressing a broad array of applications. The AWP-DEF/DEW product range features its Clean Transfer Technology specifically engineered to transfer all remaining ink to the print substrate as the photopolymer plates have a lower surface energy. The technology also supports fixed colour palette printing.
Dr Niederstadt explained, 'The key here is the ability of our Clean Transfer Technology to drive press uptime. We've seen cases where uptime has improved from 25 to 50% and more. We see companies using our technology operating at 33% higher OEE – and that can mean a 33% increase in profitable turnover.' 
He continued to list other major challenges, such as the huge demand in the corrugated market, which is largely driven by growth in ecommerce and the desire to make shipping containers more attractive. The other driver is the increased use of corrugated materials for in-store displays and shelf-ready packaging. These also require high quality with flute marks as unobtrusive as possible. 
To that end, the company will be introducing a new AFP-APC plate, the first corrugated plate with built-in Clean Transfer Technology. Dr Niederstadt said, 'In addition to exceptional performance in gradation areas, these plates achieve high ink density in solid areas due to excellent ink transfer and dramatically reduce flute marks. Kiss-touch printing reduces crushing of corrugated board with no sacrifice in quality.'
'We also expect to see overall growth in flexo printing as quality and efficiency continue to improve, making flexo more competitive with offset, gravure and digital printing technologies,' he said, and concluded, 'We are working hard to continually add products to our water-washable line of plate products with a reduced CO2 footprint and sustainable development in balance with the environment.'
Matching requirements
MacDermid Graphics Solutions offers flat-top dot plates for labels, flexible packaging, folding cartons and corrugated. 'There are multiple reasons for using this type of plate,' said the company's applications development expert, Ronnie Scogin. 'Flat-top dots offer increased impression latitude and print consistency. In addition, with LUX In-The-Plate technology, you get near 1:1 imaging and an optimised dot structure, which gives better wear characteristics. It has been relayed by our customers that LUX plates 'even-out' the skill level of press operators.'
He explained that each market segment has its own set of challenges, which require the use of different durometer plates. Soft durometer is used for corrugated, medium for folding carton and narrow web, while flexible packaging use the hardest durometer. 
The corrugated market requirements for an extremely soft plate is driven by the construction of the print media itself – balancing print performance with packaging strength requirements. By using a softer durometer, the plate is able conform to the texture of the substrate and print a smoother solid without crushing the structure of the corrugated board. 
MacDermid's Digital MAF features an optimised dot profile that is the key attribute to minimising fluting in corrugated applications. This is offered in various thick gauges down to a 0.112 inch. Additional variations of Digital MAF will become available aimed at handling lower quality or higher recycle content board types.
Label and folding carton printers have traditionally used a medium durometer plate. Mr Scogin said, 'Plates for this market must be capable  of printing very high quality graphics and print cleanly for long periods of time.' The LUX ITP M has been designed to be very low tack, so that dust and debris are no longer a factor. The durometer is a little firmer than most medium plates, so it can also be optimised for wide web application as well.
'For flexible film applications, most wide web printers need a plate that is harder to ensure the very best dot reproduction on the substrate. A plate that is too soft for the application can print with slur or excessive dot gain,' explained Mr Scogin. LUX ITP 60 was the first flat-top dot in-the-plate product to market and it won the FTA Technical Innovation Award in 2016.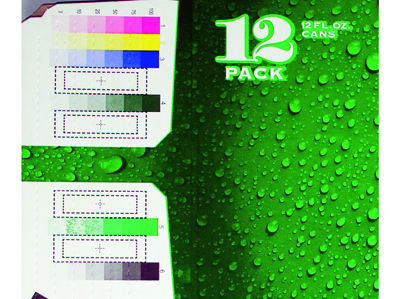 MacDermid LUX ITP M print sample
Making it easy
'Platemaking challenges vary depending on whether it is a plateroom or a pressroom environment, but we do notice several common themes' said Balaji Srinivasan, marketing manager, DuPont Advanced Printing EMEA. 'These include the need for exact reproduction of increasingly complex colours and designs, high speed plate production, flexibility to accommodate unexpected design change requests, a trend towards higher image resolution and the need for a stable plate that prints consistent, high quality results across a variety of substrates.'
With a flat-top dot built into the plate, DuPont's new Cyrel Easy products are available for all sectors, and for both solvent and Cyrel Fast thermal workflows. Mr Srinivasan said, 'Cyrel Easy plates are based on a completely new photopolymer chemistry that results in higher ink transfer and colour saturation. These plates come up to colour faster on press. Further, since no additional investment is needed, investment costs are lower and the elimination of these steps also results in improved productivity.' 
X-Label, part of the All4Labels global packaging group, is one user. Christopher Grosser, head of pre-press, commented, 'We were very pleasantly surprised by the print results of the new Cyrel Easy EFX plate. It achieves higher ink transfer and rich areas of solid colour. A welcome side-effect was a significant reduction in the 'clouding' that we used to get from time to time. The EFX plate conformed to the ISO Coated v2 offset printing standard and the results were absolutely comparable. Consequently, orders that could have been executed in the past only in offset print, have now been successfully converted to flexo print to our customer's best satisfaction.' 
Speaking about the future, Jan-Peter Scharfenberg, technical manager DuPont Advanced Printing EMEA, said, 'We believe that most of the workflow solutions will remain, as they offer the most flexibility not only for converters but also especially for trade shops seeking for tailored solutions. Having said that, we see the highest growth potential in flat-top dot plates that don't require any additional workflow iterations.'
Overcoming limitations
Kodak's Flexcel NX plates are available for all types of flexo printing and come as part of a turnkey system that incorporates all the platemaking steps. The technology has stimulated the interest in fixed colour palette (FCP) printing using a fixed set of four-colour process inks, according to Emma Schlotthauer, director, marketing and communications, flexographic packaging division. 'With the correct optimisation, it is now truly possible to overcome the traditional limitations of process colour inconsistencies, insufficient ink transfer, poor registration and restricted colour gamut,' she said.
One printing company, which has been promoting the benefits of FCP to leading UK supermarkets since 2016, is Reflex Group in the UK. Technical director Ben Cox said the company took the initiative after questioning retailers' established practice of printing labels for meat, fish and poultry in eight or nine colours, with up to three spot colours.
'Given the nature of the products, it didn't really make sense,' he explained. 'There are probably 100 product lines for each of beef, pork, lamb and chicken, plus regional variants such as Welsh, Irish and Scottish. On top of that, each meat has its own colour label. It all makes for a huge number of plate and colour changes, and that's before you add in factors such as artwork arriving late, or the twice-yearly label redesigns retailers go for in a competitive market.'
Reflex decided that moving this type of labelling to FCP offered win/win benefits to all parties. 'Of course, FCP takes cost out of the process, but the real benefits come from greater efficiencies. Turnaround is much faster; retailers and packers can order today and we can deliver tomorrow. That's the basis of our proposition; efficiency gains rather than pure cost savings.'
However, Reflex's supermarket clients needed convincing that the results with FCP matched what they already had. Mr Cox said, 'One client visited us multiple times to see the proof, but once convinced they bought into it wholeheartedly.'
He concluded, 'Flexcel NX has never let us down; it gives us superb consistency,' adding that each year Reflex benchmarks NX against other plates. 'Whenever a new plate or screening technology comes on the market, we test it, but so far the technology is unchallenged.'