Flexible friends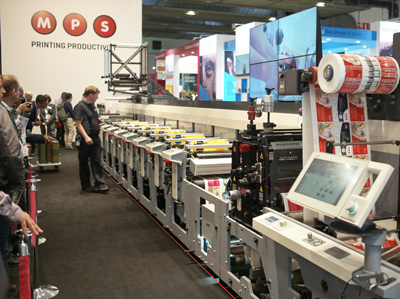 MPS sells this EF430 narrow web flexo press, seen here at Label Expo 2017
The narrow web sector continues to evolve as press vendors add in automation while taking out costs. Nessan Cleary runs through the latest kit available on the market.
Narrow web flexo presses are extremely flexible, able to handle many different substrates from pressure sensitive labels to unsupported films and cartonboard. We still think of them as being label presses but that is not always true, with an increasing number of wider presses available. Some of these are sold as dual purpose for labelling and packaging but there are others that are designed specifically for packaging applications. 
There are a number of ongoing trends, a general increase in the degree of automation available, mostly driven by the declining run lengths with converters struggling to maintain profit margins. In part this is because many brands are turning more to versioning and including specific marketing campaigns in their packaging designs. But many converters also have an eye on the developing digital presses, which have little in the way of makereadies and can handle shorter run work quite efficiently.
Most presses have some servo-controlled functions but the degree varies depending on the perceived markets for each press. As a general rule, servos offer a greater degree of control that is necessary for working with flexible films, but they also push up the cost, which is harder to justify for label applications. That said, servos are extremely useful for automating register and colour settings.
It is also becoming apparent that many press vendors are looking to streamline their manufacturing processes in order to be more competitive. It is a tricky balance because they want to be able to offer more automation and functionality to converters in developed markets, while also growing sales in emerging markets.
Taking a shorter path
Another very noticeable trend amongst narrow web presses is for short web paths – typically just a few metres. John Hopkins, Gallus sales executive at Heidelberg UK, said that customers are very keen to reduce waste as much as possible, pointing out, 'The substrate costs have just gone up this January so that's a big driver.'

Mark Andy Performance series narrow web flexo press
Gallus has pulled off a neat trick, managing to retain its own separate identity, whilst at the same time becoming fully integrated into Heidelberg. The new LabelMaster series represents both a more advanced and a simpler approach to narrow web flexo, mainly by using Heidelberg's approach of over-engineering the heavy metal mechanical parts to deliver a robust and reliable press with less need for additional and expensive options. Gallus has also picked up another Heidelberg trait in studying how operators move around a press and ensuring that everything is in exactly the right place. Mr Hopkins added, 'The LabelMaster is built on speed and efficiency, getting the cylinders in or out and the job set up. Everything is in the right place so it's faster and easier to do.'
There is a choice of three different versions of the LabelMaster – Basic, Plus and Advanced – but the main aspect is that it allows Gallus to address several markets with a single design, which helps to keep down the manufacturing costs. All three versions share the same chassis and electronics and offer the same level of automation. The difference between them is the degree of flexibility, starting with the Basic which offers fixed processes. With the Plus you have a choice of where to fix the units as Mr Hopkins explained, 'With the Plus you can add screen, hot foil and other embellishments. So if you know that you want screen units on stations one or two or on seven or eight, then you would set it up like that.' The Advanced, which replaces the Gallus EMS, allows you to change the processes as needed.
Back to basics
Nilpeter launched its new FA Line at the last Labelexpo show. Sales director for Nilpeter UK, John Hammond, said, 'On these machines we have gone back to basics and asked what does a customer actually want rather than need.' The result is a single, relatively basic press design but with optional  packages so that customers can tailor their press to their exact needs, whether that is straightforward label stock, unsupported film or packaging. This means that they only have to pay for those features that they need but can easily buy additional packages as the market changes. There is a choice of 370mm and 450mm, running at up to 200m/min. They handle films and labels from 15 to 250 microns as well as carton up to 350 microns.
Focus Label Machinery sells two series of flexo presses, the Proflex and E-Flex. The Proflex is designed as a cost-effective label press that is also capable of printing films and cartons. It comes in two versions: the E version is driven by a mechanical line shaft aimed at entry level markets; the SE version is more automated with a servo on each print station. 
The E-Flex is a 330mm wide press that is fully servo driven. It is a modular platform complete with a rail system for adding further options. It can be configured with up to ten colours and a choice of infrared or UV drying and is mainly aimed at labels, cartons and some packaging.
Performance driven
Mark Andy has developed the Performance series of flexo presses, including the P3, P5 and P7. The most recent addition is the P4, which as with all the Performance series, is available in 250mm, 350mm and 430mm widths. It is servo-driven but can support traditional tooling to make it easier for customers with older, mechanical presses to update to it. The P4 runs at up to 230m/min and is primarily meant to handle paper and pressure sensitive labels. 
The Performance range also includes the P3, which has a direct drive train and can handle film labels as well as general label stocks. The P5 is a general purpose narrow web press that can produce bottle wraps, shrink sleeves and unsupported films as well as light cartons and wine labels. The top of the range is the P7, which is also available in 508mm and 558mm widths. It is highly automated with multiple servo functions.

Nilpeter's All New FA has an integrated tablet for controlling the press
Edale mainly sells two main narrow web presses, both of which can be highly automated with the optional AIIR package that we covered in last the issue. The FL5 is available in two versions, for cartonboard and for flexible packaging. They run at up to 200m/min across a web width of 570mm.
The FL3 is aimed more at the entry level label market. However, Edale too is looking to streamline manufacturing  costs so that the FL3 has gained a lot of the previously optional features as it is simply easier to produce presses with a more or less standardised configuration. Thus the FL3 now comes with all the stepper motors and servos necessary to run the AIIR automation software. Sales and marketing director Darren Pickford said, 'We are trying to standardise the basic press unit and then customise from there. We are trying not to push the price up on the FL3 because it's quite a competitive market.'
Mr Pickford said that the standard FL3 can cope with 12-54 micron boards, he noted, 'We have a good range of tension settings.' He said that the press can handle most substrates, pointing out that 'once you have automated the tension, pressure and registration settings, you might as well do it for all substrates.'
MPS produces two series of narrow web presses. The EB has a 368mm web width, can run up to 165mm and is aimed at label production. It can be configured with up to 10 print stations and features MPS's iSet technology to ensure that all the impression, print and anilox settings work together. 
The EF series can handle a wider range of substrates including film, carton board and shrink sleeves. It is available in 340mm, 430mm and 520mm widths with a choice of plate rolls or print sleeves. It is highly automated and can run at up to 200m/min.
X marks the spot
Omet has developed the XFlex range, which includes the X4, X5 and X6 presses as well as the entry-level iFlex. The X4 has a small foot print with a short web path and uses twin servo motors on each printing unit. The X5 is fully servo-driven with automatic pre-register and register control systems that are designed for both labels and packaging. Both of these come in 370mm and 440mm widths. The X6 has a choice of 340mm, 430mm and 530mm and can handle a wide range of substrates from 12 micron films to light carton. It runs at 200m/min and can include silkscreen as well as flexo units. 

Federico D'Annunzio, strategic product marketing director for Bobst
Bobst makes a number of narrow web printers through its Firenze division, covering both labels and packaging. Federico D'Annunzio, strategic products marketing director for Bobst, explained, 'Our customers are doing more flexible packaging and they are interchanging a lot. The M1 is for labels, M5 does labels and packaging. The M6 is for packaging but could do labels. The M8 is purely for packaging.' There is also an M3, available in 370mm and 530mm widths, able to run up to 180m/min and designed to handle difficult substrates such as unsupported films.
Bobst introduced the new M8 at Labelexpo Europe 2017 and Mr D'Annunzio said, 'The M8 should target both label printers who already had an M6 and now want to go wider and faster. The M8 is a new design but it also has better performance with double speed and wider widths.' There is a version for handling carton up to 600g, which has a different set of tension rollers. 
Bobst also has a new M5X, which has a standardised configuration for either eight or ten colours; this allows Bobst to produce this model quicker and therefore more cost-effectively.
So, in conclusion, flexo may be a mature technology but it should be obvious that the narrow web sector is continuing to evolve to handle a broader range of substrates and applications. The presses are becoming more automated and easier to operate, while at the same time the press vendors are looking for ways to rein in costs in what is still a highly competitive market.