LED your business to the future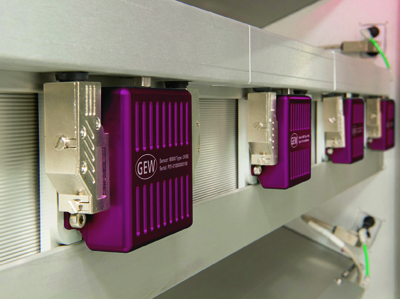 GEW's mUVm system monitors the UV output
Energy curing systems employ UV, UV LED or electron beam technology to 'dry' the ink. Neel Madsen looks the choices on the market and their benefits.
Curing with mercury lamps that emit ultraviolet (UV) light enables printers to produce brighter, high gloss colours, run the printing presses faster and convert the printed product without delay. The print itself is of high quality and has a resistant finish. The process also offers improved adhesion to some substrates, while the curing equipment itself takes up little space and requires no extraction of solvent fumes or water vapour, thus creating a safer working environment.
Photoinitiators in the ink are activated by the UV light to start a chemical process that hardens the liquid into a hard ink film. This creates heat that has to be managed especially if printing on heat-sensitive substrates. The main challenge, however, is seen in relation to food packaging where the potential risk of ink components migrating into the foodstuff causes concern.
In contrast, UV LED curing emits very little heat and does not require warming up before use or cooling down afterwards. It is seen by many as the solution to the issues around conventional UV, but the initial cost of LED systems and the inks may seem high compared. However, UV LED also offers a more sustainable approach with much lower energy consumption and longer lamp life.
Electron beam (EB) curing is a sustainable alternative. The process uses no photoinitiators, has no odour, emits no heat and offers a consistent depth of cure. Lamp life has been shown to be extremely long without degrading over time.
Checking results
To ensure a consistent full cure of the ink and thereby produce safer food packaging, it is important to monitor the process. GEW has launched a system for real-time UV monitoring and recording, the mUVm. This consists of calibrated sensors positioned along the length of the lamp, which continuously measure the UV intensity during the production run. The benefits include correct UV output, no risk of under-cured products, elimination of waste and safety for food packaging.
The user interface displays the UV output of the lamps on the Rhino Control system where alarms can be set to warn when the output falls below or exceeds the set parameters. The system sends live encrypted performance data to GEW, which means that a UV curing certificate for every batch can be produced along with regular system performance reports.
For curing, the company's established ArcLED concept means that printers can switch between mercury arc UV and UV LED curing by swapping the cassette that contains the lamp or LEDs as needed, while the housing and connections remain.
Last year, Abbey Labels in Suffolk installed an MPS flexo press with such a system installed. Managing director Barry Pettit said, 'When specifying the press, we looked at what other benefits it could offer besides the normal options. MPS offered us the opportunity to be the first company in Europe to incorporate the GEW ArcLED LED UV curing system onto the EF340 press. This was an opportunity that we simply couldn't overlook.'
He continued, 'We would seek to ensure that our clients would not notice any difference in ink colour or image quality when compared to a previous print supplied or existing jobs that come through the business. They will however be safe in the knowledge that their labels are being produced in the most energy efficient and environmentally friendly manner possible.'
LED future
'The jury is out on UV versus LEDUV and the winner will depend very much on the relative cost of inks and energy in each market,' commented Simon Mitchell, joint managing director of IST (UK). 'We believe that LED-based technology and the elimination of lamps is the future, but just like with the adoption of electric cars, there are 'progressive' and 'reticent' buyers.'
The company offers the hybrid MBS Hot Swap system, which allows users to run both UV and UV LED on one press, using interchangeable cartridges but a common housing. Mr Mitchell explained that the benefit of IST's LEDcure is that it eliminates up to 60% of the energy of a traditional UV system. There is no warming up or cooling time; it is simply on or off.
Furthermore it focuses its cure on the print itself, laterally and vertically, so minimises waste energy. Combined with the IST XL8 booster it has up to 30% higher output than conventional LED systems.

Phoseon is expanding its facility to keep up  with demand
He said, 'We believe that as LED volumes increase ink prices will come down. It is the narrower curing range (350-420nm and 385nm as standard with LEDcure) that restricts the type of photoinitiators that can be used.'
'LEDcure systems can be specified on a new press or retrofitted quickly and easily at the print factory on an existing press. The anticipated life of a LEDcure system is 20,000 hours but individual arrays rather than whole units can be replaced so investment is really quite low risk. We are getting more and more enquiries about LED and expect many customers to convert in the coming months.'
Expansion
US-based Phoseon Technology focuses on the manufacture of UV LED systems and has shipped more than 100,000 lamps used for applications ranging from packaging solutions for consumer goods to disinfection of laboratory samples.
Jennifer Heathcote, global director of business development – curing, spoke ahead of the company's participation in the RadTech Conference 2018. She said, 'UV LED flexo excels in areas that are in high demand today and require superior process control to stay ahead of the competition, from printing on prime PS labels to shrink film to low migration flexible packaging. UV LED is now the preferred and superior technology for flexo printing, but not all systems are the same. It's critical that OEMs and converters select the right system for their application.'
Having exceeded 25% growth annually for the past five years, the company is now set to increase its headquarters by more than 50%, adding more space for manufacturing, design and its new Life Sciences division. 'The positive investment atmosphere for corporations in the US and the continuing need for innovative LED solutions demanded by the markets we serve, have created the need for further expansion of our Hillsboro, Oregon, facility,' said Bill Cortelyou, president and CEO.
'Phoseon is encouraged by the progress and market presence we've attained over the past 16 years moving us forward while strengthening our leadership position,' added CFO Chris O'Leary. 'With a strong balance sheet, we will continue to invest heavily in research and development to enable high-value solutions to lead this market transition.'
High intensity
AMS Spectral UV, which is now owned by Baldwin Technology, also specialises in UV LED systems. Most recently, it introduced the Blade Series UV LED curing module for narrow web presses, which features segment control, as well as PWM control (pulse width modulation) to ensure steady intensity regardless of printing speed. It is water cooled and can produce up to 50W/cm2 of curing intensity.
President Steve Metcalf said, 'Our Blade technology provides affordable next-generation curing power through an innovative design that incorporates optics, addressable format control and power into a compact package that can easily be fitted to a wide variety applications in the label industry, where space can be a constraint. Power is expandable to 50 Watts and can be upgraded at any time as curing applications change and as new inks are brought to market.'
Packaging printer ACM in Italy is an early adopter of UV LED. The company first retrofitted an AMS LED system to an existing sevencolour 530mm Omet VaryFlex F1 press in December 2014, replacing a traditional mercury-based UV system. This was followed last year with the commissioning of a Bobst M5 narrow web flexo press also with UV LED, whilst the transformation was completed by having a one-year-old Omet VaryFlex V2 press retrofitted with the same curing technology.
The Italian company went one step further by using low migration UV LED inks on the presses. Antonio La Franceschina, co-owner and managing director, commented, 'With low migration UV LED we can demonstrate that our products are not only of the highest quality, but also the safest on the market.'
Beaming light
ebeam Technologies has partnered with Sci-Tech Daresbury Laboratory to offer industry the opportunity to test the potential of electron beams for a wide variety of applications. An EBLab has been installed here as an electron beam test and validation facility, and the cooperation with the government-funded body gives access to a network of experts in electron beam system design and their applications.
Highlighting the increased awareness of brands regarding sustainability in the entire supply chain, Elsa Callini, business development manager at ebeam Technologies, said, 'We've all heard of 'green' technology, but we predict that in 2018 more and more of us will become aware of emerging 'blue' technologies, such as electron beam curing, which enables print manufacturers to increase throughput, efficiency and sustainability to realise benefits to the bottom line and the brand image at the same time.'