Smurfit Kappa duo complete 8500km cycle ride for Ukraine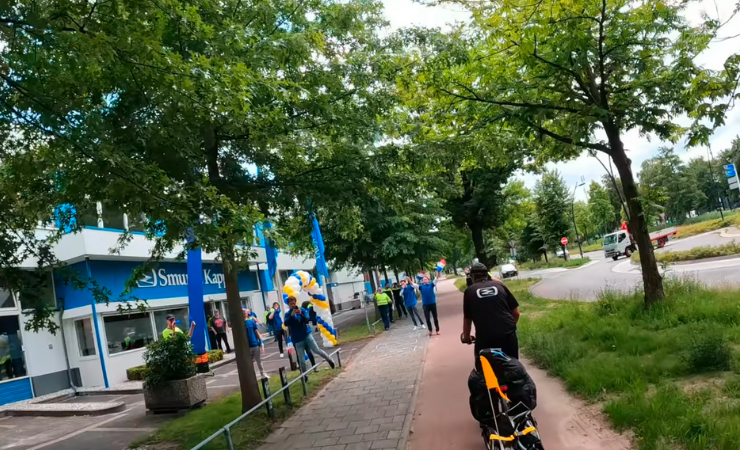 The challenge, which lasted approximately 100 days, was completed by Philippe Rechoulet and José Luis Tani Stanghellini
Two Smurfit Kappa employees completed a mammoth charity cycle across Europe to raise €105,000 for Ukraine.
Two pair finished a gruelling 8500km cycle for charity, starting from Gibraltar in Spain, crossing ten different countries before finishing in Nordkapp, which is the most northerly point of Norway.
The challenge, which lasted approximately 100 days and ran from May to August, was completed by Philippe Rechoulet, from France, and José Luis Tani Stanghellini, from Italy, who visited 36 Smurfit Kappa sites along the way.
The purpose of the cycle was not only to provide further support to Ukrainian communities impacted by the war, but also to raise awareness of climate change and the benefits of an active lifestyle.
CEO of Smurfit Kappa Europe, Saverio Mayer, said, 'This ambitious fundraiser, that was devised by the guys themselves, is testament to the good-hearted and caring nature of our employees here at Smurfit Kappa. Giving back to the community is something that we care about deeply, and the Nordkapp Objective Project is one of many initiatives we have in place across the globe to provide support where it is needed. I am so proud of Philippe and José's awe-inspiring achievement.'
Mr Rechoulet said, 'To have been part of this project has been one of the best moments of my professional career. There were so many special moments including receiving such great support and motivation from the Smurfit Kappa plants that we passed along the way.'
Mr Stanghellini added, 'I think that it is important to give back where you can. A project like this is at the core of what Smurfit Kappa does and it was great to be able to contribute to such a worthy cause and memorable experience.'
Smurfit Kappa matched the €52,500 raised by the cyclists bringing the total sum to €105,000 which will be donated to Médicins Sans Frontiéres in Poland.