KFlex takes centre stage at Omet open day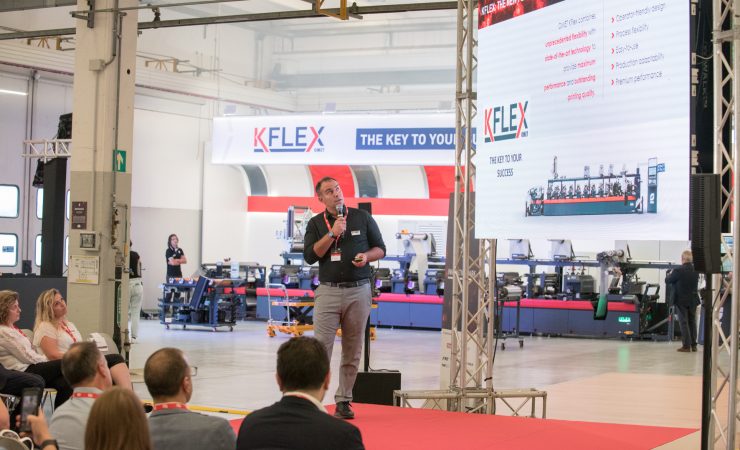 The KFlex being launched at Omet's new site in Molteno
Omet launched the new KFlex flexo printing press at its recent open house event in Northern Italy. The event, which took place on 24 June, saw more than 150 visitors from around the world visit the company's new 1500sqm Innovation Park.
The company says that the KFlex, which can print at speeds up to 200m/min, boasts an ergonomic and flexible design and is capable of being reconfigured at any time by the printer.
It can produce applications including self-adhesive labels, wet-glue labels, multi-layer labels, shrink sleeves, lids, and more. In terms of potential markets, Omet is targeting the wine and spirits, food and beverage, household, industrial, healthcare and cosmetics industries.
The KFlex can print onto a range of media including paper and film face stock, unsupported paper and film, light carton, aluminium and laminates. Its added value capabilities include cold foil and lamination, embossing, coating, hot foil, peel and seal options.
Meanwhile, Omet's new headquarters and associated Innovation Park, located in Molteno, are intended to help the company achieve future growth. The company claims that the new premises represents a formal reordering of Omet's activities in and around Lecco, with the company's former headquarters becoming the focal point for its tissue converting activities, and the buildings in Molteno largely dedicated to labels and packaging.
Covering 34,000sqm, the company's new headquarters include 17,000sqm of production space, 4000sqm for offices, and 5,000sqm for the Innovation Park and R&D activities. Within the Innovation Park, a 1,500sqm showroom with four press lines, with the park as a whole serving as a place to bring customers and showcase the company's technologies, as well as provide a place where Omet can develop, innovate and collaborate with supply chain partners to respond to future market challenges and needs.
Speaking at the open day, Omet managing director Antonio Bartesaghi highlighted how the company has increased its turnover more than 100% over the last 10 years, from €60 million in 2011 to €135 million in 2021. He explained that The Innovation Park will act as a catalyst for further growth, supported by developments such as Omet's Galileo customer service division and NOVA remote support platform. Ribes Tech will also contribute growth by progressing its development of photovoltaic powered batteryless tags and smart labels. This company was founded by and is co-owned by Omet and former researchers from the Italian Institute of Technology (IIT).