Father and son take on 200-mile cycling challenge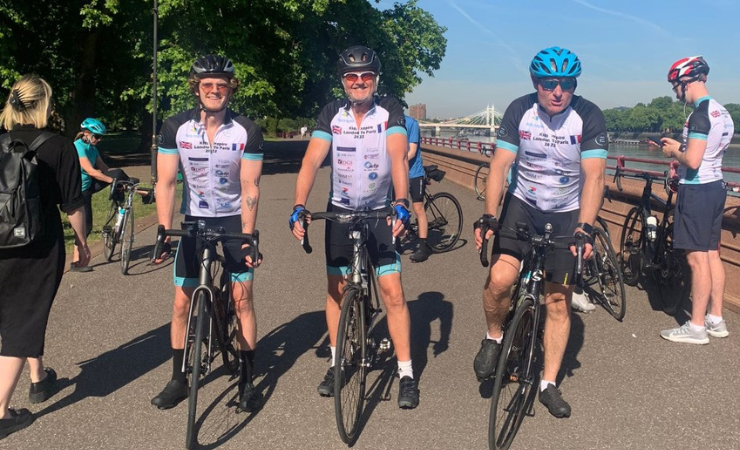 Harry, Steve and Dave start the cycling challenge
The managing director of Baker Labels tackled a 200mile three-day cycling challenge from London to Paris for children's charity Kids Inspire.
Steve Baker and his eldest son Harry Baker managed to raise £45,000 for the charity with the help of long-time friend Dave Walsh.
The pair was also joined by a team of enthusiastic fundraisers and the group set off from Battersea Park on 16 June. Over the course of the next three days, temperatures hit record highs of 38 degrees.
Steve said, 'This was a serious challenge and I'll admit I was a bit worried on the first day after hitting the hills of the South Downs that it would be a challenge too far.'
Harry, who heads up sales operations at flexible packaging firm BakPac, completed the Essex to Amsterdam for the same charity last year. Both events were organised by Chapeau Events.
Head of fundraising and communications, Paula Ashfield, said, 'We're happy to welcome both Steve and Harry back. London to Paris in 200miles is a mammoth cycling challenge and the heat makes it a very tough ride.'
The team arrived at the Eiffel Tower together having first cycled in convoy around the Arc de Triomph. After three days on the road, in blistering temperatures, the finish line was a very welcome site.
Steve added, 'Finishing with a circuit around the Arc de Triomph with encouraging honking horns from Parisian commuters was a real highlight, along with completing the course alongside Hazza – making memories.'
All riders had a commitment to raise £1500 each and were encouraged to seek donations and sponsorship through JustGiving.
Mr Walsh had a different idea and offered to work at production company Baker Labels for six weeks in return for a donation to Kids Inspire.
Bakers Self Adhesive Labels has remained a family business since it was established in 1973 by Roy and Marian Baker. Steve Baker joined his parents straight from school at the age of 16 and succeeded his father as managing director in 2000.
Kids Inspire provide mental health and trauma recovery support for children, young people and their families.
To donate click here.