Athena completes Flexcel NX certification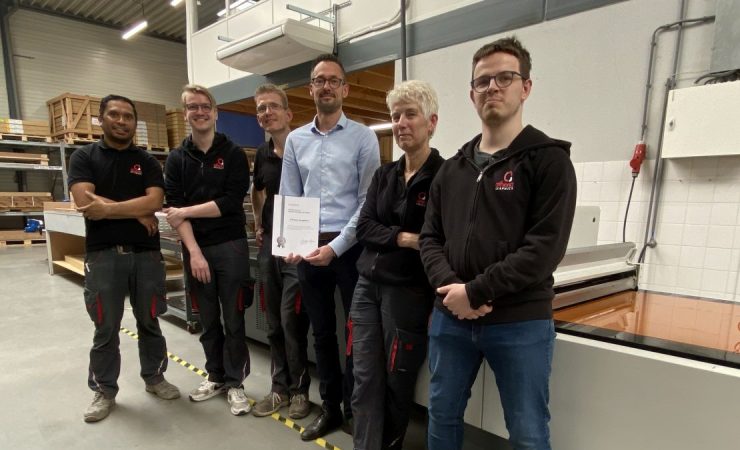 Members of the Athena Graphics team celebrate their certification
Athena Graphics, the Belgian prepress specialist based in Roeselare, has successfully completed Miraclon's Certification Programme for Kodak Flexcel NX Plates.
The programme evaluates the ability of companies using Kodak Flexcel NX systems to meet international standards. Miraclon says that it also, 'represents a feature set that drives industry-leading efficiency, repeatability, and quality in plate production,' whilst being supported 'with comprehensive data measurement and analysis.'
Marcel Weeren, the operations manager at Athena Graphics, commented, 'This certification confirms our ongoing commitment to provide consistently high-quality service and products to customers, while also serving as an added motivation for our internal team to continue their good work. For us, the certification benchmark is a minimum level of production standards that our highly trained team are always aiming to deliver even better on.
'The two-way relationship and sharing of knowledge with Miraclon helps to optimize our production processes, especially during the certification auditing period. This is not a one-time exercise where we pull out all the stops, but rather an ongoing relationship to ensure our processes are always above industry standards.'