Mark Andy hits a six in South Africa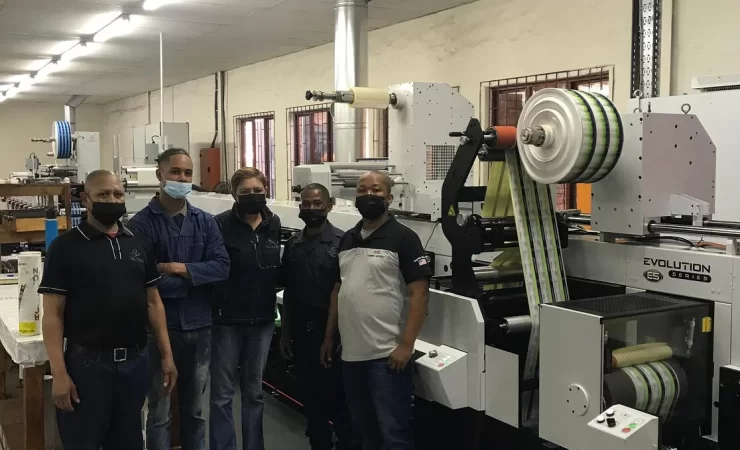 Members of the Label Leaders team welcome the new E5 to Western Cape
Label Leaders, a South African company based roughly halfway between Cape Town and Port Elizabeth, has installed a Mark Andy Evolution Series E5 flexo press, the sixth machine it has purchased from the American manufacturer. 
The installation was carried out by Sarepco, which has represented Mark Andy in southern and central Africa for more than 30 years and delivered all five previous Mark Andy machines. Label Leaders produces products for three main market sectors: retail, dairy and wine, and the E5 will bring additional capacity and allow for shorter delivery times whilst also providing the quality and reliability needed in each of the three sectors. 
Theo Raubenheimer and his sister Rene Koen, co-owners of Label Leaders, commented, 'Our philosophy is based on establishing close relationships with all business partners, both customers and suppliers, and Mark Andy has been a strategic partner since our parents first started the company. Our values have not changed since we started. We focus on high quality products and service. Developing close working relationships allows us to make strategic decisions faster, and as a privately-owned company, our flexibility is appreciated by our partners.'
Mr Raubenheimer first laid eyes on the Evolutions series at Labelexpo 2019. 'It attracted us from the start with its short make-ready time, high speed and simplicity of operation,' he explained. The new press is equipped with eight flexo printing units and the new QCDC die-cutter. 'As it's a Mark Andy, we can use the plates, cylinders, and dies that we had already, which allows us to optimise costs and streamline the machinery park,' Mr Raubenheimer added.
Speaking for Mark Andy, executive vice president Tom Cavalco said, 'We're happy that Label Leaders' management follow the same principles that we do at Mark Andy. This close working partnership began in the 1980s and we are proud that the Raubenheimer family continues to invest in Mark Andy technology. I'd like to add a special word of thanks to Sarepco who have been with us for 35 years and have been fundamental to Label Leaders' success.'