PureFlexo support expands for spot colours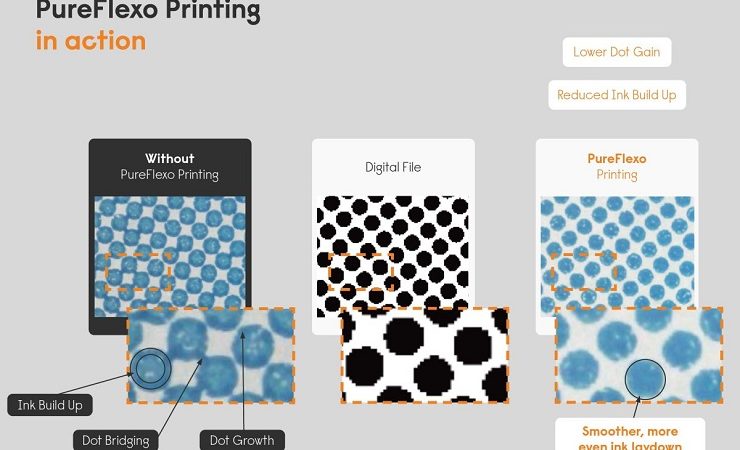 Miraclon has launched spot colour support within its PureFlexo Printing system to control unwanted ink spread and allows for greater latitude on press.
Introduced in 2021 PureFlexo Printing was initially launched for process colours. Delivered as a new feature set for the Kodak Flexcel NX Print Suite for flexible packaging the launch, according to the company, enables flexible packaging printers to expand the cost-saving benefits of PureFlexo printing to higher volume anilox applications.
'PureFlexo Printing is enabled by unique multi-functional plate surface patterns designed to precisely control ink flow during printing. The rigorously tested and patented technology set now includes surface patterns with edge effects specifically designed to manage the ink flow characteristics of spot colour inks,' said John Anderson, director of advanced printing applications at Miraclon. 'When higher anilox volumes are used for traditional larger pigment-based spot colours, it usually results in the use of harder tapes, higher impression, and other common printing practices to adjust to the higher anilox volumes. These practices often produce undesirable print effects such as halo, dirty print, and TEV (trailing edge void), while the higher ink volumes also have greater drying needs, causing slowdown in the flexographic printing process to increase drying capacity. PureFlexo Printing addresses all these typical issues to ensure better uptime and consistency on press.'
'Spot colour support for PureFlexo Printing is an important addition to any trade shop or converter's toolset to maximise productivity in the press room,' added Grant Blewett, chief commercial officer at Miraclon. 'As businesses are continuously looking at improving efficiency to increase their financial bottom line while also minimising their environmental impact, many customers are already experiencing the benefits that PureFlexo Printing delivers. The savings soon add up when the reduction of just one unscheduled press stop per day on a press can deliver up to €60,000 or $65,000 in savings per year. The addition of its use for spot colours will now further support their business growth.'
Spot colour support for PureFlexo Printing is included in a subscription to the KODAK FLEXCEL NX Print Suite for Flexible Packaging, a fully integrated platform designed to provide tailored solutions for specific applications.