Olympus bought by All4Labels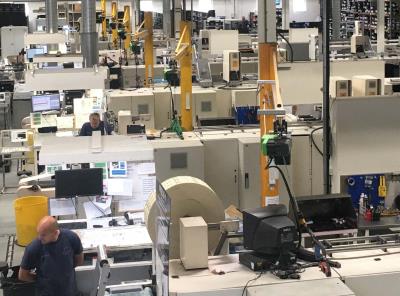 The Olympus Print Group shop floor
All4Labels Global Packaging Group, a Triton Fund V portfolio company has acquired Leeds-based Olympus Print Group, which becomes the groups first UK subsidiary.
 The company offers label solutions for a range of markets with a focus on the personal care as well as wine & spirits, and beer industry.
The former owners will become co-shareholders of the All4Labels Group and will continue to manage the business.
'This transaction represents a new milestone for All4Labels as we will get access to the important and dynamic UK market with a strong partner who can cater existing and future customers with high-quality label solutions. The acquisition marks the beginning of our strategy to build a leading business unit in the United Kingdom through investments in organic and acquisitive growth. Along with our leadership team, I look forward to working with the Olympus Print Group team on our joint growth and success for many years to come,' highlighted Adrian Tippenhauer, CEO All4Labels.
Steve Cartwright, director at Olympus Print Group, stated, 'After 28 years of building the Olympus brand, we are proud of our reputation for technical expertise, high quality and strong focus on customer service. The decision to join a partnership with a global, like-minded and innovative packaging group was made easy as All4Labels shares the same strong values as Olympus Print Group. The full senior management team and employees look forward to working with All4Labels in the future.'
The new partnership with Olympus Print Group illustrates the fifth successful acquisition by the All4Labels Group within the last twelve months. The transaction is subject to customary closing conditions.