Daymark Labels increases flexo capacity with Evolution Series E5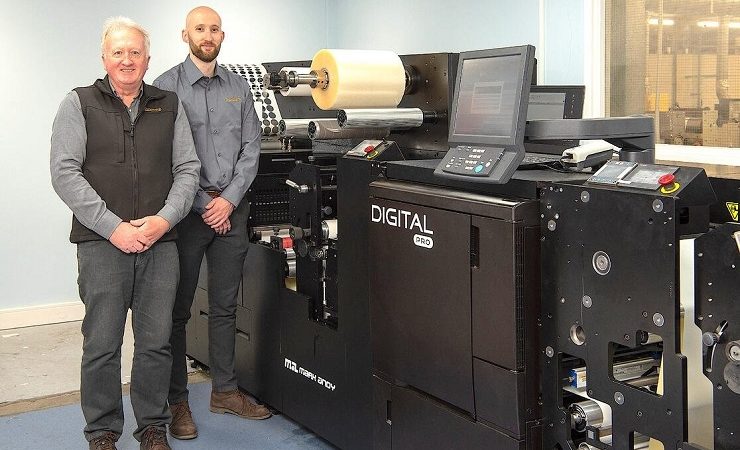 Jon Bird, company founder (l) with his son Jon Bird, managing director
West Midlands-based narrow web converter, Daymark Labels, has extended its print capacity with a Mark Andy Evolution Series 5 press along with a Digital Pro 3.
The Evolution Series E5 features the latest Mark Andy servo platform for entry-level flexo. It has 330mm web width, eight flexo print units, and is the first to be installed in the UK fitted with GEW's LeoLED/UV curing technology. Specification also includes a web cleaner, overhead rail with turn bar unit, delam/relam, double die stations and a sheeter/conveyor.
Described by general manager Kevan Palmer as 'the perfect operator's press' for its ease of set-up and production, he said, Its print quality and speed have both exceeded expectations, and significantly, allowed Daymark to bring outwork back in-house with improved customer service.'
Daymark Labels began by specialising in short run work including foil-stamping 1000 labels at a time. The company moved into flexo in the 1980s and later into letterpress with three 340mm presses that are still producing good quality work.
Knowing that the company needed to upgrade its flexo capacity and commit to digital for the first time, it was the combination of what Mark Andy had to offer on both fronts that tipped the balance.
Jon Bird, business development manager, explained, 'We were ideally looking for a single source supply for both print technologies, and with its reputation in the market for customer support, and a comparison of its product portfolio with other press manufacturers, we decided the way ahead for us was with Mark Andy, and I'm pleased to say that, so far, we are well pleased with our decision on the presses and the level of back-up!'