Fifth Labelmaster for Nordvalls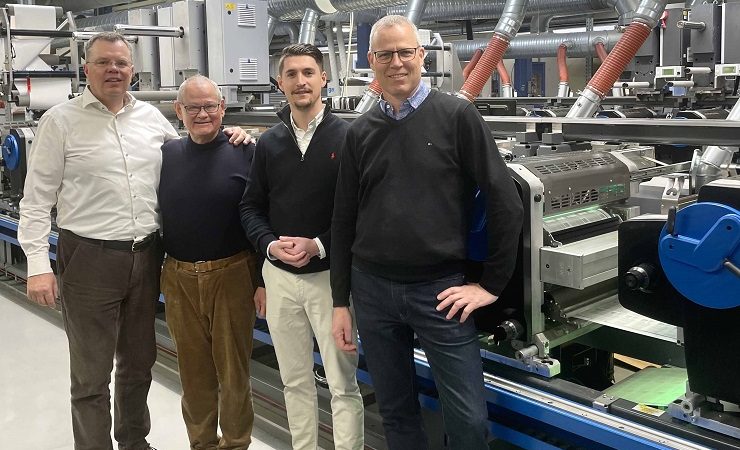 Patrik Jenemark, managing director Nordvalls, Ferdinand Rüesch, anchor shareholder Heidelberg, and senior vice president global key accounts Gallus; Lion Schneider market region manager at Gallus, Rickard Rafstedt account manager.
Nordvalls Scandinavian adhesive label provider, has ordered its fifth Gallus Labelmaster 440 Advanced, a 10-colour flexo press with two screen printing stations.
As part of a five-year plan with the goal of upgrading and to drive increased press consistency, Nordvall's sees its fifth Lablemaster installed in five years.
The decision to choose the press came down to three key competitive advantages – press flexibility, high print quality and increased efficiency savings – all enabling minimized down-time.
The increase in press flexibility will be delivered by the Labelmaster's modular design, enabling Nordvalls to configure the press to its exact needs today, but with the option to add equipment in the future. The Labelmaster's superior register control system will deliver its ultra-high print quality, and its intuitive press design with light-weight gearless cylinders, will enable its market leading 'quick set-up time'.
Patrik Jenemark, managing director, Nordvalls commented, 'In terms of press efficiency, we expected to make savings of around 7% with our existing Gallus Labelmasters, but we're actually achieving closer to 10%. In combination with other benefits, this gain has contributed to dramatic improvements in productivity, customer satisfaction, profitability and, importantly, a reduction in waste.
'Our story with Gallus is one of an enduring and extremely valuable customer/supplier relationship,' continues Mr Jenemark. 'In 2016, we met with Ferdi Rüesch and his team to outline our vision and business objectives, and together, we made short- and long-term plans as to necessary press installs to manage our expected growth. Key to this process is Gallus' partnership approach, which often sees them scaling back our technology aspirations, suggesting press choices that better fit our needs and saving us money.'
With food and beverage jobs representing 50% of work for Nordvalls, the new Gallus Labelmaster will be installed at its Sjöbo based facility in April 2022. It will be used to support business growth from existing customers as well as jobs from its sister companies.