Middle East showroom planned by Comexi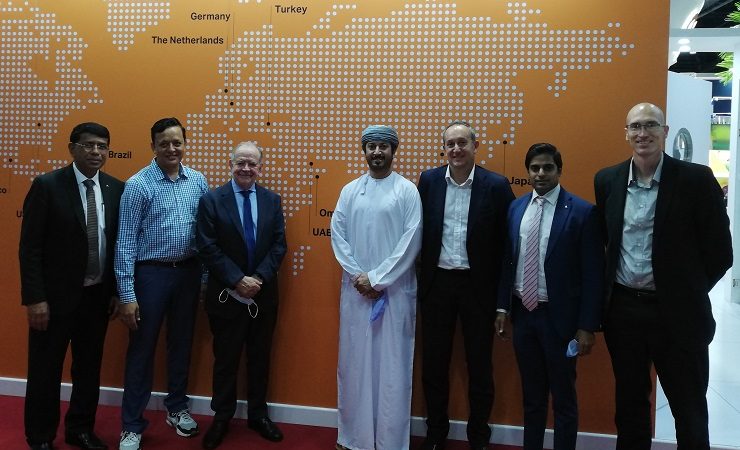 Comexi, RMEA & Madayn Plastic
Comexi has reached an agreement with Madayn Plastic Company to set up a showroom in the Omani company's facility in Sohar.
The showroom will feature a Comexi F2 ML flexographic press, a Comexi ML2 Evolution laminator, as well as a Reifenhäuser Blown Film. The Omani company has decided to venture into the flexible  packaging sector with Reifenhäuser and Comexi, with the intention of investing a large percentage of the Sultanate's market share.
Companies in the Middle East that are interested in Comexi's technology will be able to view the flexographic press and the laminator.
'This is a very important operation for us,' explained Oriol Rabert, Comexi area manager, 'Having a showroom in Oman will help us to demonstrate the full potential of our flexographic printers and laminators. This project, led by RMEA, reinforces the successful relationship between Reifenhäuser and Comexi, which has been a great success in India, for many years, and now extends to the Middle East.'
The Comexi F2 ML printing machine is the ideal response to market demands, in reference to large format jobs, such as those of the polyethylene market for wrap around, hygiene, as well as the majority of pet food sizes. The F2 ML incorporates evry GeniusTech solution to assist printers with the main challenges they currently face such as job length reduction and an increased number of job changes. As a result of solutions, such as the fast, accurate, and automatic job setup with GeniusPrint, the high print quality provided by GeniusDrive, the absence of bouncing with GeniusRun, and the increased drying performance of GeniusDry, this machine is able to deliver the top-level performances that these markets require.
The Comexi ML2 Evolution laminator is a highly and extremely versatile machine. It can be configured not only to laminate two or more materials with water-based, solvent-based or solventless adhesives, but as a coating machine, as a gravure or flexo printing unit -at register or full covering-, so a real all-in-one machine.