Okil-Sato installs sixth MPS press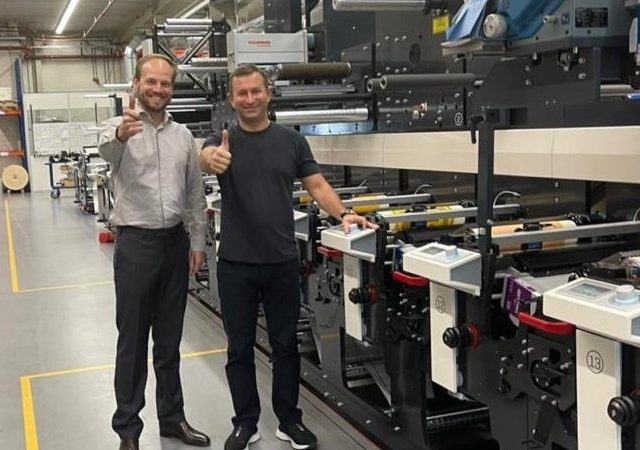 Niels van Groenendaal of MPS alongside Denis Okulov, CEO of Okil-Sato
Russian company Okil-Sato has invested in a 14-colour EFA 430, the sixth press it has bought from MPS. The fully automated multi-substrate machine, which is equipped with various converting and embellishment options, was installed in St Petersburg in November of last year. 
Okil-Sato was founded in 1995 and currently holds a 15% share of the Russian self-adhesive labels and flexible packaging market. The firm invested in the press in order to increase its capacity for printing high quality self-adhesive labels.
The press itself is a multifunctional flexo printing press equipped with MPS' 'state of the art' technology for efficient production runs and quick change of printing jobs. It has been developed specifically for printing on polymer rolls, paper, self-adhesive materials, aluminium foil, thin monofilms and even light cardboard. Its design, described as robust and reliable, ensures stable registration, and any deviations in the printing and finishing process are automatically monitored and corrected.
It also comes with the proprietary Automated Print Control system (APC), which automatically sets the desired pressure settings (anilox to plate, plate to substrate). The functionality of all EFA presses also includes MPS patented Crisp.Dot technology with a non-driven counter-pressure roller, which provides friction-free print momentum and minimal dot gain, AutoTeach for quick and automatic pre-register for new repeat size or web path, Job Memory to save all job settings and quickly load them during similar orders, iStop for job changes with minimal waste, an intuitive iControl interface, and a Quick Change Die for quick die cut changes.
There are now more than MPS 50 printing presses currently operating within Russia.