Comexi S1 DT slitter installed at Wipak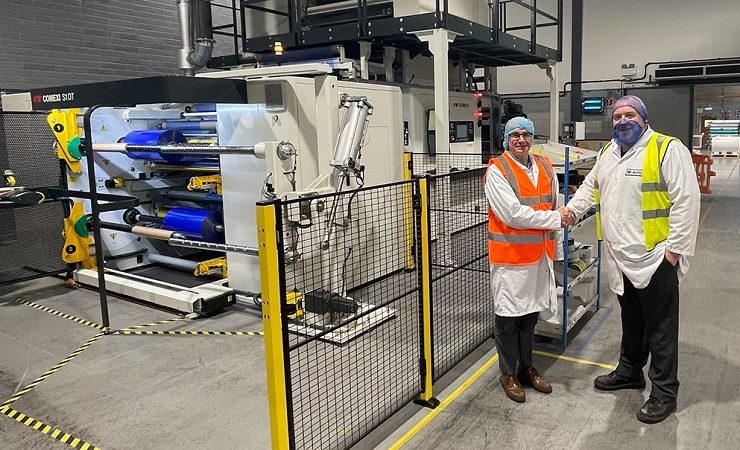 Tim Hilton (l), Packsupport, and Andrew Newbold, managing director, Wipak UK
Wipak UK has purchased a Comexi S1 DT slitter with double-sided laser scoring to allow the company to develop its sustainable packaging portfolio.
The Comexi S1 DT allows for a high degree of customisation, as well as many automated options, such as splicing tables, automatic reel unloading, video camera inspection, and label robotisation of finished reels, thus fully guaranteeing complete system control and an exceptional increase in productivity.
The unit installed at Wipak includes Comexi's laser module. This system allows a wide range of converting options such as easy open, micro-perforations, windows and resealable tabs.
Ramon Jonama, the Comexi area manager for the United Kingdom, said, 'This technology not only allows for saving costs regarding the addition of labels, but simultaneously makes the perforation laser on both sides of the film. This results in cost reduction, plastic savings, and increased productivity.'
The S1 DT slitter, which is already in operation at Wipak UK's site in Welshpool, Wales, is one of the few machines installed around the world that can perform these sophisticated applications.
Andrew Newbold, Wipak UK's managing director, commented, 'The inclusion of this machine in Wipak's largest project investment in the United Kingdom, which was announced in 2020, is key to the production of packaging that has a low carbon footprint, contains recycled content and is  kerbside recyclable.'
The Comexi S1 DT components such as cores, knives, laser heads, photocells are self-calibrating, allowing the operator the ability to load the reel into the machine and deliver finished reels, with minimal intervention.
The turreted version of the Comexi S1 DT is capable of performing jobs which require a large number of output reels, and is also able to work with the thickest materials used in the flexible packaging market, including aluminium, wax, and other special or complex materials.