Arc Labels installs AccurioLabel 230 from Focus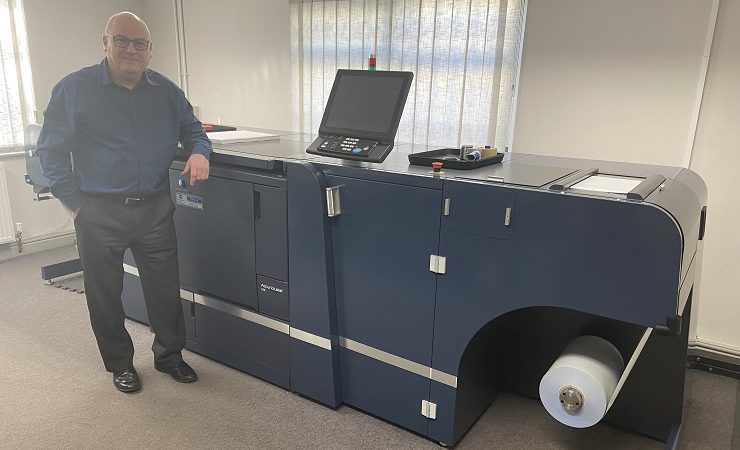 Allan Ford of Arc Labels with the new investment
Yorkshire based label printer Arc Labels has installed an AccurioLabel 230 digital toner press, manufactured by Konica Minolta and sold through Focus Label Machinery.
The new press, which has been designed specifically for label printers who are looking to dip their toe into the digital market, or who already offer digital technology such as inkjet but require an alternative, will run alongside Arc Label's existing Focus flexo presses and Newfoil hot foil presses. The company plans to use the technology to help it branch out into producing a broader range of labels 'across a wide range of market sectors and applications.'
The AccurioLabel 230 is able to print at speeds up to 23.4m/min and at resolutions up to 1200 x 1200dpi, quality that Focus says 'competes favourably against other high-end digital presses which cost three to four times the price.' It is capable of handling standard 330mm coated paper, uncoated paper and polypropylene label materials with no special pre-coating.  
Allan Ford, a director at Arc Labels, commented on the new equipment. 'The new press comes with Konica Minolta's own Label Impose software,' he said, 'which optimises the use of media by automating jobs, such as impositioning and step-and-repeat, as well as support for variable data printing. It works on a simple drag-and-drop principle – where the one-up, print-ready PDF file is simply placed into the software, which then performs the necessary functions.
'This is complemented by a Konica Minolta Miyro Auto Scan Spectrophotometer, which gives us the ability to accurately profile and calibrate colours in around four minutes. This technology enables significant savings in time and waste. We find the AccurioLabel 230 very simple to operate, allowing us to be in full production within one or two days after delivery.'
Focus' technical sales manager Anthony Cotton added, 'Our partnership with Konica Minolta brings together the product excellence and support of this highly respected manufacturer, along with our own considerable printing and finishing industry expertise. This partnership continues to open up exciting new avenues for our UK customers, looking for an affordable way to provide production digital print services alongside traditional label print solutions.
'Arc Labels is a perfect example of such a customer. We have built a strong relationship with them over many years and we are delighted that they have again chosen to partner with Focus in this latest venture.'