Mark Andy aids Evolution in Alicante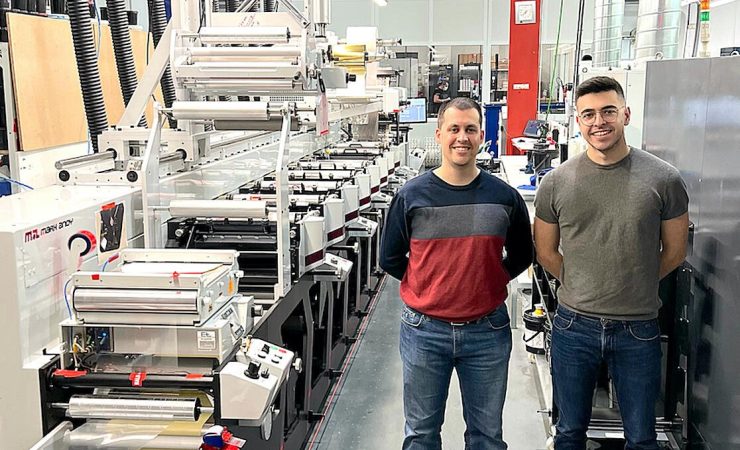 Adhesivas believes that Mark Andy's technology provides it with an advantage over competitors.
Adhesivas, a family-run business based in Alicante, Spain, has installed a Mark Andy Evolution E5 flexo press. The 330mm E5, which boasts eight flexo printing stations and is equipped with UV curing, joins an existing Mark Andy P5 at Adhesivas' production facility.
The Evolution line, which was first introduced at Labelexpo Brussels 2019, is marketed as 'a perfect complement' to Mark Andy's existing Performance Series. Adhesivas' model is a modular press built around the fully servo driven P7 platform, its configuration can be adapted to fit current working circumstances and be modified later if necessary. It incorporates Mark Andy's QCDC (quick change die cassette), automatic registration and pre-registration functions and, with no drive shaft, servo control of unwind and rewind tension.
José Luis Iváñez, the founder and president of Adhesivas, commented, 'We chose the Evolution because we believe it is the ideal press to satisfy our existing demand and offers the necessary flexibility to explore new markets. We have a responsibility to our customers, so it is vital that the new equipment complements our current technical skills and knowledge. The new E5 will help us develop products for specific markets and, as it is our second 330mm press, it also offers additional capacity.'
Adhesivas, which has been producing labels for the Spanish market since 1980, employs 42 people and boasts a 4300sqm production facility. Mr Iváñez says that Mark Andy's technology provides the company with an advantage over its competitors. 'We are seen as a flexible company and our clients appreciate the fact that our size makes us accessible,' he concluded. 'They like to deal directly with people who have the knowledge and experience. There is no typical job here – every day and every shift are different and that is our strong point.'