Reflex adds next Nilpeter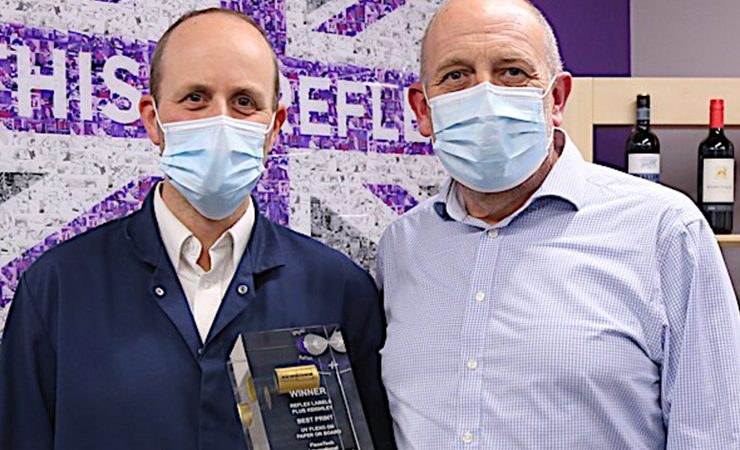 Nilpeter's Nick Hughes (left) with Shaun Hanson (right), Reflex Label Plus Keighley site manager
UK printer Reflex Label Plus has installed its second Nilpeter FA-Line, with an FA-22 now operational at its Keighley site close to Leeds.
Built around the printing press operator, with an intuitive user interface and fully mobile print controls, the Nilpeter FA-Line has been engineered to provide, 'maximum stability, the tightest register tolerance, and excellent printing results on multiple substrates.' The 22in-wide flexo press has a top mechanical speed of 200m/min and a maximum print width of 560mm. Nilpeter's FA-Line permits printers to scale and customise their press from standard to advanced, with value-adding units, and application and automation Packages, according to application needs and budget. Reflex's FA-22 has been specified fully loaded.
Shaun Hanson, manager of the Reflex Label Plus Keighley site, said, 'We decided to invest in another Nilpeter press because of our previous positive experience with the company, and its reputation for world-class customer service.
'Nilpeter did not disappoint. The team supported us at every stage of the purchase journey. From outlining our specific needs right at the beginning, to liaising with the four other machinery suppliers involved in the project, to see it through to fruition. The time and attention taken by the team at Nilpeter meant that installation was easy and stress-free, with any challenges handled quickly and professionally by its engineers.
Mr Hanson continued, 'The press quality is second to none, and this, coupled with the excellent follow-up training means that we have already produced some of the most technologically advanced labels in the world. This machine has been built to last and will be serving us for many years to come – I'm excited to see what more we can achieve.'