Etiket Schiller joins Optimum Group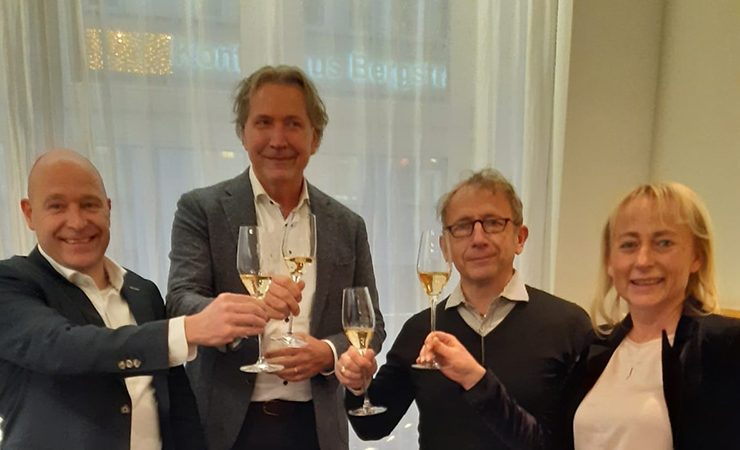 Pictured (from left): Marc van Rijswijk, CFO Optimum Group; Andre Prophitius, Optimum Group Germany MD; Gunther Schiller and Susanne Daiber, Etiket Schiller directors
Self-adhesive label specialist Etiket Schiller has become the latest company to join Optimum Group.
Optimum Group is a Northern European label printing group with operations in the Netherlands, Belgium, Denmark and Germany, and now totals 17 member companies. Etiket Schiller is a label printer based in Germany, with its headquarters in Plüderhausen. Its available processes include flexo, digital, offset, screen and combination printing. Etiket Schiller joins Optimum Group's German platform, and is the 11th successful acquisition by the group since 2018.
The addition of Etiket Schiller is noted to fit well within the European growth ambitions of Optimum Group, significantly expanding the group's presence in Germany, and its capability to produce labels and packaging in various formats. Following the takeover, the current management of Etiket Schiller will remain in place within the organisation.
Optimum Group Germany managing director Andre Prophitius commented, 'With the acquisition of Etiket Schiller, our German part of the group will be further strengthened by creative and technical capabilities that we did not already have. Etiket Schiller has a strong commercial and technical profile, and an impressive customer base. We look forward to working with the owners who are all continuing in their existing roles.'
For Etiket Schiller, being part of Optimum Group will mean it is better able to serve its customers through increased capacity, a wider range of self-adhesive labels and flexible packaging options, and greater delivery reliability as part of an international printing group.
In a joint statement, Etiket Schiller directors Gunther Schiller and Susanne Daiber said, 'Etiket Schiller has developed well in recent years in which we have achieved significant growth, based on a strong and dedicated team of employees and by investing in inhouse produced sustainable labelling solutions.'
Optimum Group CEO Ruud Zantman concluded, 'Following the acquisition of HT Labelprint and SC Etiketten, we are excited to take this further step in Germany, and welcome Etiket Schiller to the group.'