Reganta invests further in flexo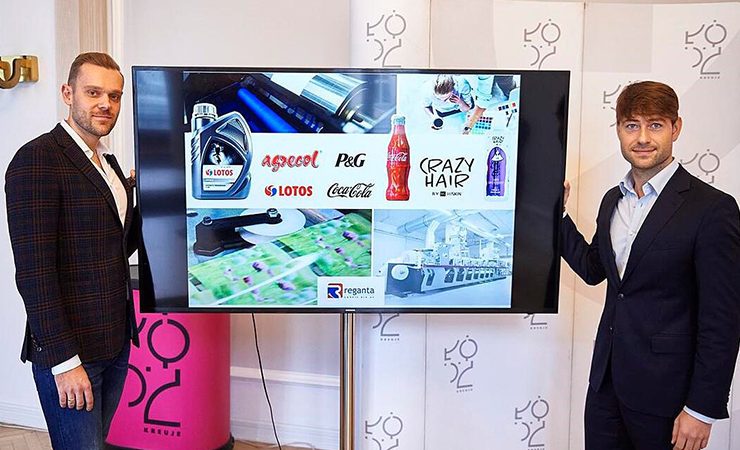 Reganta Szlasca owner and president Igor Szlaski (left) and Adam Pustelnk (right), vice president of Lodz city
Poland-based printing company Reganta Szlasca is to deepen its relationship with Mark Andy, through the addition of two further flexo presses at its facility in Lodz.
Founded in 2013, Reganta has always relied on Mark Andy flexo press technology to support the business. Currently, it has four Mark Andy 430mm-wide Performance Series P7 presses, and two 330mm Performance Series P5 models, along with a Performance Series P3 and a Scout. These will be joined by two further Mark Andy flexo presses, to be installed in early 2022.
Reganta owner Igor Szlaski explained, 'Currently we're one of the most innovative printing companies in Poland, supplying major local and international brands. Having carefully watched the market trends, we now offer out-of-the-box solutions supported by the most modern technology. Mark Andy has been a close partner in our development over the years, with its solutions the foundation on which we have built our production equipment.
'Soon we shall be adding two of Mark Andy's latest machines, which will significantly increase our capacity and performance as well as further improve the quality of labels produced here at Reganta. This latest round of investment will also allow us to expand in the European market and create new jobs. In the first quarter of 2022 we plan to employ an additional 50 full-time employees.'
Tom Cavalco, executive vice president at Mark Andy, said, 'We're proud to support Reganta at such an important time in the company's history and help to shape its future growth. We believe our innovative presses, which will be delivered in the first months of 2022, will enable further dynamic development of the company, and we wish them well.'