Installation milestone for MPS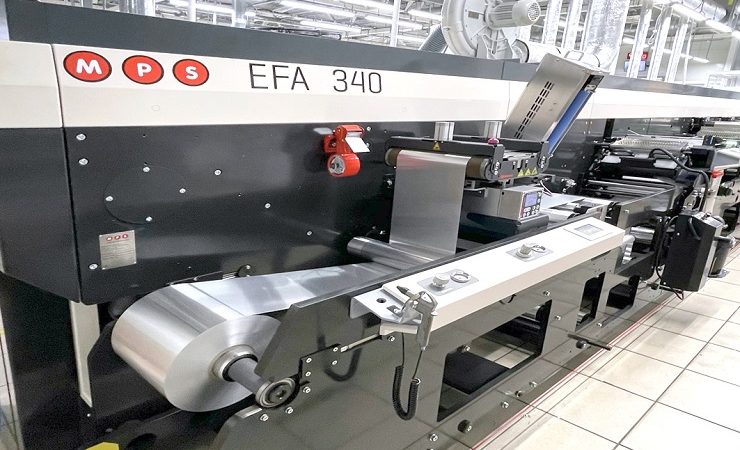 Russian converter, MILK Packaging, has added a third and fourth MPS EFA flexo press to its food packaging production facility, marking the 50th MPS flexo press installed in Russia.
A 3-colour EFA 430 and an 8-colour EFA 340, joining two other MPS flexo presses already in use at the food packaging production facility.
The MILK Packing Factory, located in the Tula Region, Russia produces, sells, and ships foil packaging products worldwide for over 450 customers and ships to over 20 countries.
The 3-colour EFA 430 will be used for printing on aluminium blister foil at the company's new plant, and the 8-colour EFA 340 will be used to expand production of various aluminium and plastic die cut sealing lids as well as other food packaging.
Both machines include proprietary APC (Automated Print Control) systems which automatically sets and controls printing parameters. These intelligent machines also feature MPS E-Sleeve precision technology, slide-out ink drawers, high-power UV-dryers for high-speed printing, corona treaters, dual sided web cleaners and special rollers to correct irregularities in the edges of the foil.
'The decision to upgrade our production with two new presses was made for several reasons,' said Sergey Kochetov, commercial director of MILK Packing Factory. 'We purchased the 3-colour EFA 430 press for a new blister foil plant that we are opening this year. The second 8-colour EFA 340 machine addresses the high-volume print queue due to the increase of foil orders for the food industry.
'We have been producing packaging for over 20 years. During that period, we have evaluated dozens of printing presses made by both local and foreign manufacturers. Our experts over the years have determined the most suitable printing equipment based on their experience are the presses from MPS. They have proven to be of the highest quality. They are dependable, and most importantly, highly productive presses. At the moment, almost all of our printing equipment is manufactured by MPS.'