Omnicell ups pharma capacity with MPS EXL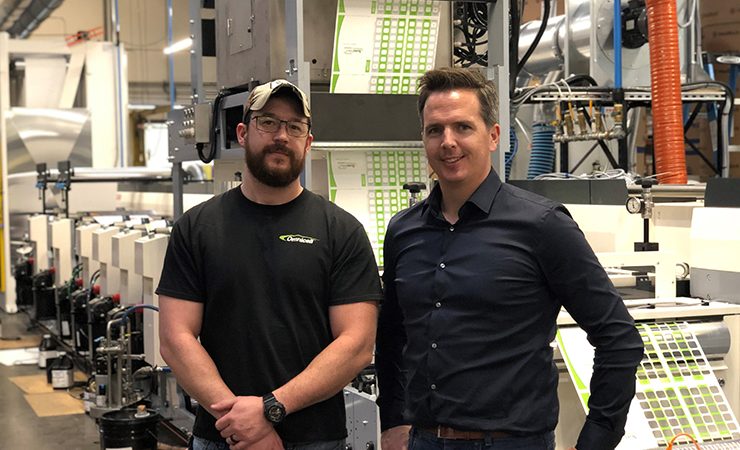 Chris Hayes (left), Omnicell, and Harm-Jan de Jong (right), vice president at MPS Systems North America in front of the MPS EXL-Packaging press installed in St. Petersburg, Florida
Florida-based Omnicell has invested in an MPS EXL-Packaging 680 flexo press, in pursuit of increased pharmaceutical blister packaging production.
Founded in 1992, Omnicell specialises in high volume blister packaging, and produces various single and multi-pill packaging products for use in autonomous pharmacy machines. To ramp up production to meet the demands of the medicine packaging market, Omnicell began searching for a new flexo press option for its St. Petersburg location.
For Chris Hayes, manufacturing engineer and leader of the new press initiative, in tandem with the Omnicell board, there was only one goal: increase productivity whilst maintaining quality standards. As an example, any new equipment needed to produce at top speeds for heat seal card applications and cold seal card applications.
After rigorous OEM testing and evaluation, Omnicell made the decision to purchase an MPS EXL-Packaging 680 flexo press to achieve its goal of increased production. Omnicell's MPS EXL-Packaging press is equipped to produce complex blister packaging in a single pass. It includes several OEM niche equipment, including hot air dryers, automatic unwinders, inspection technology and a stacker.
Manufactured for blister packaging production up to widths of 26in, EXL-Packaging platform produces at speeds over 150m/min. For MPS, Omnicell's machine marks a record press length at 36m (118ft).
According to Mr Hayes, the new press can, 'do anything and everything that all other presses at the facility can do, combined. It prints better, has quicker changeovers, is fully automated, modular and easy to maintain. Our MPS press is incredible.'
He continued, 'The speed is almost intimidating, but the MPS field service engineer proved the press can run at record speeds for long runs, with no complications; he trained our operators to do the same and we began hitting our production goals easily thanks to him and the MPS service team.'
Additionally, the MPS EXL-Packaging press at Omnicell has been installed with remote support access, allowing MPS technicians to login and provide remote support, software updates, troubleshooting, and more, directly to the press.
Mr Hayes said, 'I'd recommend MPS to any converter looking to increase capacity. The press technology, service and the whole MPS experience has been incredible. Watching the speed of the machine, the quality of the print and witnessing the variety of applications possible, I know we made the right choice choosing MPS as our press partner.'