Rotoflex machines support increased sales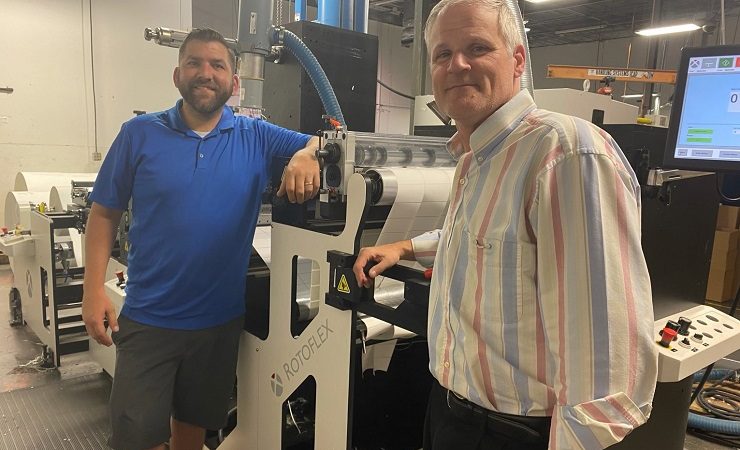 Abbott Label, US-based wholesale label manufacturer, has acquired a Rotoflex DLI-440 die-cutting platform and two Rotoflex VSI horizontal slitter and rewinder machines, in response to record-breaking sales.
With 20% growth in the last year and approximately 50 new employees added to the workforce, business has never been more promising, sparking the need to invest in new machines to the production floor.
The DLI was placed in the company's Atlanta facility along with one VSI dedicated to reinforcing the new volume created by the cutter, while the second VSI will support production in California that has grown from 1 to 1.7 million dollars a month. These machines join a family of approximately 20 Mark Andy units throughout Abbott Label production facilities.
'We use the largest press manufacturer in the world, Mark Andy, we use the largest die manufacturer in the world, Rotometrics, and we use the largest material manufacturers in the world with UPM Raflatac and Avery Dennison. It takes great ingredients to bake a great cake, and we bring in all the great ingredients to service our customers. Quality's a given. We know our prices are competitive, and then our goal is out-service everybody. Everything we do is based on service. That is how we train our people and hold them accountable. A company is only as good as its people, so we invest in great benefits and training,' said company president John Abbott.
Speed has always been at the core of Abbott Label's operation, and one of the biggest strengths of Rotoflex equipment. The DLI-440 has been running non-stop at 229m/min since it hit the production floor. Daniel Campbell, production manager at Abbott Label, explained, 'Speed equals throughput, throughput equals money. You know, fast setups, fast tear downs and fast run speeds. That's how I was trained. That's how I train these guys. And we run these machines as fast as they go. And that's probably my favourite part.'
Abbott Label focuses on digital, flexo, and stock labels, and supports customers across the entire United States with four plants located in Texas, California, Georgia, and Illinois.