Lemorau chooses Vetaphone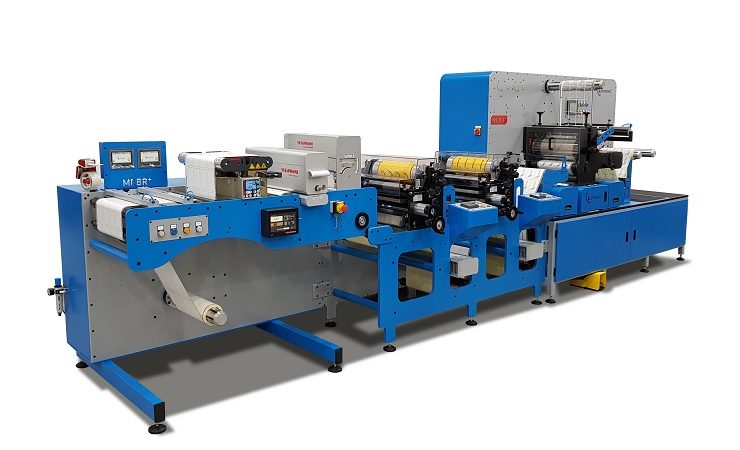 Vetaphone Web Cleaner and Corona Treater fitted to Lemorau's MEBR modular flexo print and finishing line
Manufacturer of narrow web label technology, Lemorau, has chosen Vetaphone as its corona treatment and web cleaning partner for its portfolio of machines.
The company builds simple core cutters, slitter/rewinders, inspection machines, die-cutters, and more recently, machines for inline printing and finishing.
Founded by Raul Teixera and a partner in 1987 in Porto on Portugal's Atlantic coast, its early years saw the company flat-bed machines before moving into rotary technology for diecutting, blank separation and slitter/rewinders for the domestic Portuguese market, and it was not until the company exhibited at Labelexpo Europe in 2013 that its technology became known to and readily accepted by a wider international market.
Lemorau then developed semi-rotary machines and continued to improve and refine the mechanical and electronic aspects of its machines.  Launching its new line at an Open House in 2019, Lemorau fitted a Vetaphone Web Cleaner and Corona Treater to its new demonstration line, and sold three machines.
With the need for web treatment came the introduction to Vetaphone. Sales & marketing manager, Natália Lopes explained, 'We had known of the company by reputation from the early 2000s and knew that it was the go-to choice of most narrow web press manufacturers and converters, so when the time came to choose a supplier, it was very much a 'no brainer' for us!'
'We have to ensure the web is in the best condition possible for printing and varnishing and need to match the quality of the ancillary equipment we fit to that of our own.  So, either the customer requests Vetaphone because it's the market leader, or we recommend it for the same reason. Our customer feedback has always been good, so we know we're doing things right,' she said.
While the base configuration of the new customisable line remains the same, but undergoes continual development and improvement, Lemorau offers a list of optional equipment that includes flexo and screen printing, hot and cold foiling, embossing, automatic slitting-knife positioning, an easy strip waste rewinder, and turret rewinding, amongst others – and those others include web cleaning and surface treatment
Vetaphone's area sales manager for Iberia Karsten Koch commented, 'We're at the very beginning of our working partnership with Lemorau and can foresee exciting times ahead with its plans to develop a product range that is already well known and appreciated by the narrow web sector.  Vetaphone is looking forward to playing a significant part in Lemorau's future development because we see a strong synergy between our respective companies.'