GEW partners with PM Trading for South Korea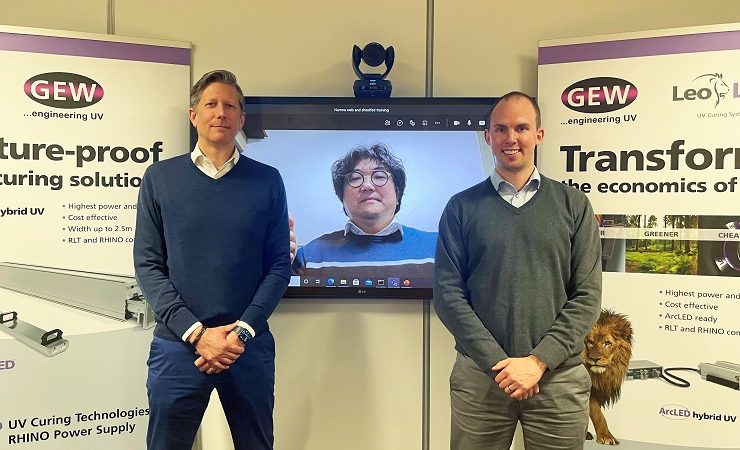 (L-R) Marcus Greenbrook of GEW, Mr. Ki-Chan Han (Charlie) of PM Trading Co., and Robert Rae of GEW
UV curing systems manufacturer GEW will be represented for sales and service in South Korea by the long-established RMGT distributor for the country, PM Trading Co.
PM Trading is situated in Paju Book City, a bustling hub for printing and publishing companies in Gyeonggi-do province, South Korea. Situated about one hour's drive from downtown Seoul, the city is home to over 12,000,000 inhabitants and represents the ideal head office location for PM Trading.
Ki-Chan Han, managing director and COO, commented, 'PM Trading has represented the Ryobi brand (now RMGT) in Korea since 1967 and so we are greatly experienced in the sales and service of UV LED curing systems. After all, it was Ryobi who introduced UV LED curing to the offset printing world in 2008. This depth of UV experience coupled with our many connections in the printing business, makes us ideally placed to represent GEW in Korea.'
Robert Rae, managing director of sales at GEW, added, 'Narrow web flexographic printing is a small but growing portion of the label market in Korea, where GEW is very well known. But in recent years GEW has significantly expanded its UV product portfolio into sheetfed offset and more specialist industrial printing and coating. This partnership with PM Trading will allow us to professionally support existing customers in Korea, but also to expand our reach into sheetfed offset printing. We are especially excited to accelerate the uptake of UV LED in Korea as GEW is now one of the largest global suppliers of this exciting new technology.
'We recognise that reliability and fast service are of paramount importance in the Korean market. All GEW UV systems are now monitored 24/7 by our IoT Remote Monitoring service. This means customers in Korea can now rely on GEW and PM Trading to provide the highest quality UV systems available but with the fast, local service response that Korean customers demand.'
Marcus Greenbrook, director of international sales at GEW, added, 'I look forward to working closely with Charlie and the team at PM, to further develop the great potential in South Korea. As soon as the current travel restrictions are eased, we will take the opportunity to visit many customers across the country.'