Nilpeter FA lands in Kazakhstan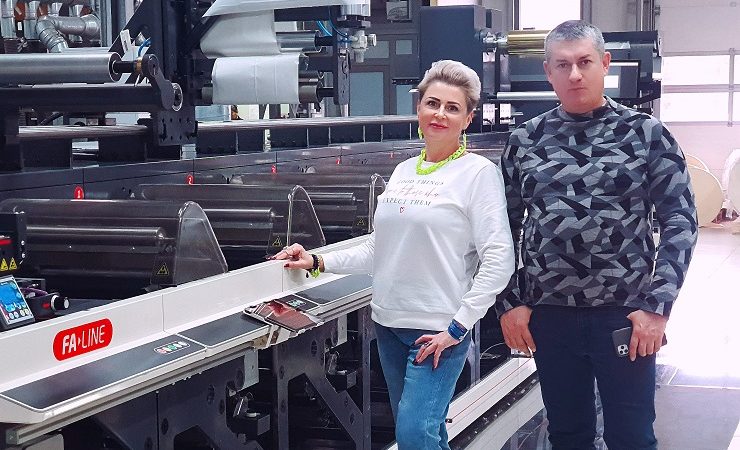 Inkas LLC general account manager, Oksana Tashimbetova, and director, Ivan Pivovarov, pose with the new Nilpeter FA-17
Kazakhstani printer Inkas LLC has purchased a 9-colour FA-17 from Nilpeter, the first of its kind to be installed in the country.
The 9-colour FA-17 installed at Inkas is fitted with Nilpeter's Advanced Automation, Registration, and Film Application Packages, and completed with features such as UV-curing and cooling technology, rail system, turn bar for filmic material, de- and re-lamination equipment, UV-lamination, rotary die-cutting with GAP-master, an embossing cassette, back-side slitting for edge trimming, automatic matrix removal, video inspection, and more.
'We're striving to improve quality, expand our product range, and remain leaders in our industry. The market keeps moving, and we received requests for products that could not be produced on our existing equipment, with queues building, negatively affecting deadlines,' said Ivan Pivovarov, director, Inkas LLC.
He continued, 'The FA-Line's optimal price-to-quality ratio, and good selection of additional options, were decisive factors. With the new Nilpeter flexo printing press we are planning to produce new types of products that we could not produce before, and we hope the business will grow rapidly.'
Inkas LLC was founded in 2002 and has since established itself as a leading print company in Kazakhstan, cooperating with the companies at home and abroad, in the market for flexible packaging of food and non-food products.
In addition to flexographic printing of all kinds of labels, Inkas LLC produces receipt tape for all types of cash register devices, paper rolls for fax machines, printers, teletypes and ATMs, and thermal labels with bar code for retail scales and printers.
'We have more than 140 employees with a lot of practical experience, operate 24-hours a day, and print all kinds of jobs – food, pharmacy, textile or household chemicals. More than 5000 customers from Kazakhstan and other CIS countries trust us, and we work hard to bring happiness to them, as well as the people who use goods packed with our labels and flexible packaging,' Mr Pivovarov added.
'Nilpeter is delighted and highly appreciative that Inkas LLC has decided to invest in our FA-17, which, as stated earlier, is the first of its kind in Kazakhstan. Inkas LLC is a very important player in the market, and we are proud to announce the cooperation between our companies. The project was established in October 2019, and was spearheaded by our new agent for Russia and CIS, company Prima Scelta,' said Dan Wissing, area sales manager, Nilpeter A/S.