Vista Labels selects the REFLEX 330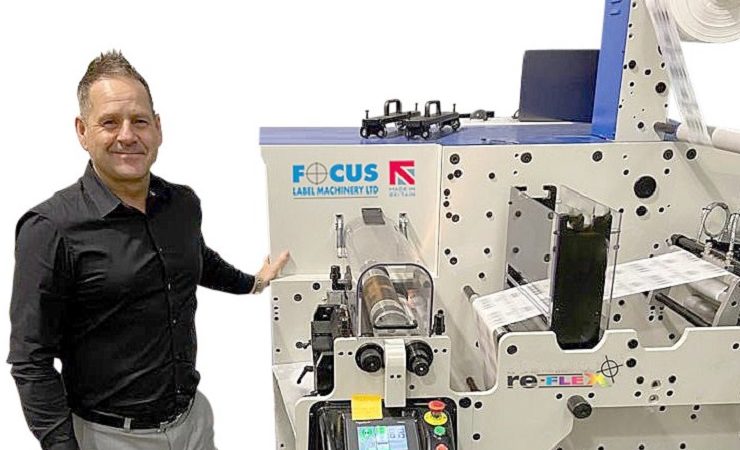 Vista Labels production manager, Mark Allman
Cheshire-based label printer Vista Labels has installed a new REFLEX 330 flexo press from Focus Label Machinery for high volume printing of polythene pallet-wraps.
The REFLEX 330 is a 13" wide, single colour press is equipped with quick change print cassette system, die-cutting, slitting, rewinding and infra-red drying.  The press is capable of printing and converting single colour/blank labels on a wide range of substrates at speeds up to 120m/min.
The REFLEX 330 was purchased in order to increase production capacity and improve print quality on the PE materials, where heat sensitivity is a major consideration. The ultra-efficient infra-red drying unit is combined with forced cold air, allowing faster drying speeds without heat build-up, whilst the removable print cassette can be removed from the press in just a few seconds, allowing very fast job changes and clean ups.
Vista Labels production manager, Mark Allman commented, 'For a long time, we have been aware of the quality of Focus equipment and were very impressed with the production speed of the Reflex press during print trials, particularly on such a tricky substrate. We looked at other options, but in the end – it was an easy decision to purchase the Focus press.
Focus sales manager, Antony Cotton added, 'Vista were looking for a solution for a particular application and we worked closely with them to produce a high speed press – with a short web path, ultra-efficient drying & tension control systems, suitable for unsupported polythene film. Vista Labels is a well-known, well respected UK label printer and we are very pleased to supply this latest addition to their impressive production facility.'